Hate to spoil the ending, but here's what you need to know about Kindle 2.
The second edition of Amazon's amzn best-selling electronic reader looks better, reads better and addresses the first Kindle's (metaphorically speaking) torn pages. Still, most of the improvements are marginal enough that owners of the original Kindle ought not feel compelled to upgrade, especially at a pricey $359.
In a turbulent economy, first-time buyers may balk, too. Still, Kindle 2 represents the finest e-book reader you can buy, even if at times it leaves you wanting more. Color is years away. But why, in this day and age, no touch-screen?
Amazon began shipping the new Kindle on Monday, a day before it said it would. I've been curling up with one for a couple of weeks.
You can schlep a library of 1,500 books (plus newspapers, magazines and blogs) in a contraption that weighs less than a paperback. The built-in wireless store that lets you sample, purchase and download content in less than a minute is what distances the Kindle from e-book rivals such as Sony. The technology, which Amazon calls Whispernet, is built on top of Sprint's fast EV-DO network.
More than 240,000 books are for sale in the Kindle Store, including most best sellers, typically for under $10. Newspapers fetch $5.99 to $14.99 monthly; magazines, $1.25 to $3.49 per month.
The new model boasts easier, if still imperfect, navigation, and it has a slimmer and more attractive design, though it only comes in white. The first Kindle included a flimsy cover. This one doesn't, though for $30, you can get a leather cover that has a hinge to ensure it won't slide off. Let's dive in:
•Design. At slightly more than a third of an inch thick, Kindle 2 is a lot thinner and a tad taller than the original. One annoying drawback to the first Kindle was the way I kept inadvertently hitting the "next page" buttons on either edge of the display.
That's no longer a problem. Buttons on the new Kindle are smaller and less obtrusive.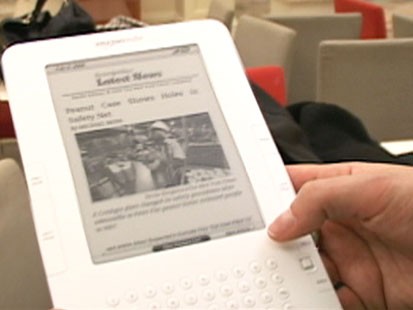 Gone, too, is the rubber scroll wheel. Kindle 2 has a small five-way controller that is way better, if not perfect. Moving the cursor to any word in the text summons a dictionary definition at the bottom of the screen. There's also a keyboard for typing in search terms or adding notes to a book; I found it a little more difficult to type on than its predecessor.
The original Kindle had separate power and wireless buttons. Kindle 2 loses the wireless switch, a potential nuisance for fliers. To read on a plane, you'll have to remember to turn the unit on, turn wireless off through a menu setting, then power down again before takeoff.
Amazon says it increased the battery life on Kindle 2 by about 25%, meaning you can read for four or five days on a charge with wireless turned on, and two weeks with wireless turned off. Alas, the battery is no longer removable.
There's also more internal storage (the original held about 200 books). You could add storage on the first Kindle by inserting an optional SD memory card; there's no such slot on Kindle 2.
•Reading experience. Using electronic ink technology, the first Kindle did a fine job replicating reading on paper. But the crisp 6-inch electronic display of the Kindle 2 is a bit better, with 16 shades of gray, vs. four.
I sometimes read on my iPhone (using programs such as Stanza and Classics). The iPhone lets you read in the dark, something you cannot do on Kindle. But while reading eBooks on an iPhone is OK, the battery doesn't last near long enough. And, of course, you quickly appreciate the larger Kindle display.
I've been reading Stephen King's UR (the novella is a Kindle exclusive), The Yankee Years by Joe Torre and Tom Verducci, and articles in The New Yorker magazine, a worthy addition to Kindle's stable of subscriptions. For now, because of production issues, not all cartoons that appear in print make it onto the Kindle. And some fiction in the print edition has been withheld because of author rights.
As before, you can adjust text size. The lack of color means Kindle isn't ideal for illustrated books.
Amazon says the pages turn an average of 20% faster than on the original. While difficult to detect side by side with an older Kindle, page refresh on the new device never felt like an issue.
The new device also boasts an "experimental" feature, the ability to vocalize text. I don't expect a lot of people to use it. The computerized voice is no substitute for an audio book read by an actor. But not all books have audio versions, and Kindle can even read aloud your own documents.
You can share books on up to five Kindles with the same account, and through another new feature, keep them in sync. You cannot share magazine subscriptions across devices.
The book on Kindle 2 is mostly positive. If only it were a bit less expensive.
E-mail: ebaig@usatoday.com