For some stars of the silver screen, it seems Hollywood is just not enough.
They might have the red-carpet life and all of its accoutrement, but at the end of a champagne and caviar kind of day, there's still just one more place that they want their stars to shine: the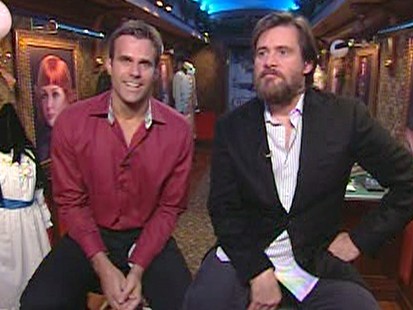 " target="external">Internet.
Though the luminaries themselves may not always be the ones tapping away on keyboards, a growing class of celebrities is carving out new personas and new ways to reach fans online.
For some, it's a place to explore who they might have been had fame not come a-knockin'. For others, it's like a direct line into their creative unconscious.
Below, check out some of the stars cultivating Web identities.
Jim Carrey
Funnyman Jim Carrey is known for his bugged-out expressions and crazy comedies. But his new Web site is the actor's most mind-twisting performance yet.
Launched earlier this month, jimcarrey.com is a dark and bizarre, yet creatively rich trip into the actor's life.
The Web site's home page features a picture of the actor resting his chin on his hands over what appears to be an open book. But his face is surrounded by a Tim Burton-esque, freakishly fantastical scene.
Slices of toast burned to resemble the face of Jesus pop out of a scowling hedge. Figures of men flashing cameras flicker around tufts of Carrey's hair. A bird with the actor's head tweets random cheers and shout-outs (and links to -- what else? -- the actor's Twitter page).
Along the bottom, the menu directs viewers to his biography, the latest news, and film and TV accomplishments. But anywhere a viewer's mouse lands might take them to another hidden pocket of the actor's online existence.
A multi-colored hot air balloon floating beneath the moon zooms viewers to a Sistine Chapel-like scene of Carrey as Michelangelo's Adam. Click on the actor's eye and brace yourself for an up-close-and-personal look at the actor's dilated pupil and every eyelash.
Though the site is young, it's already attracted the attention it deserves.
The weekend it launched, Carrey tweeted: "WOW guys! you overwhelmed my website today! i'm jacking up the band width asap! wasn't expecting so much love! SSSSS'NICE!! :)}"
Alicia Silverstone