Early digital picture frames were remarkably simple electronics. A generic manual might be encapsulated in the directive, "Move the memory card from your digital camera to the frame's memory card shot and turn on the frame."
In fact, the devices were so appliance-like that it soon became difficult to distinguish them. After they mastered video playback, the main point of technical differentiation became screen size.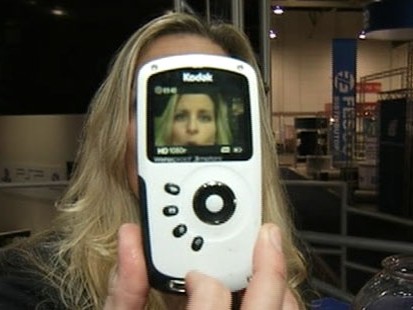 According to NPD's Consumer Tracking Service, consumers have spent $531.4 million on
digital photo frames
between March 2009 and April 2010, down 29 percent from the 12 months prior.
Ceiva, one of the earliest companies to offer digital picture frames, long ago gave them the ability to download pictures remotely. It works well, but requires a subscription.
Since then, a few other frames emerged that could access Wi-Fi networks, but they tended to be from small brands, hard to use, and expensive. Early reviews also cited bugs and a lack of reliability.
But Kodak seems to have avoided these pitfalls with Pulse, a 7-inch frame that can tap into a number of online services and receive pictures via e-mail.
Frame Receives Photos from E-Mail, Facebook, Kodak Gallery
The 7-inch Pulse is a bit on the small size as modern frames go, but has the 4x3 aspect ratio that is still best for photos as opposed to widescreen video.
A discreet Kodak logo is nearly invisible on the modern plastic border below the display
The Pulse can accept USB drives and SD cards via ports under a hinged door on its left side, but the key element of the frame is that it is network-savvy.
Connecting to a wireless network is very easy if you have a router that supports Wi-Fi Protected Setup. After that, photos can be added in a number of ways.
You can designate that the frame pull down photos from a Facebook or Kodak Gallery account, you can upload them directly to a website for administering the Kodak Pulse, or you (or your authorized friends and family) can e-mail them to the frame at an address you specify. The frame even has the ability to display only the photos from a particular sender.
Pulse Represents Blend of Social and Simplicity
However, you may need to wait a while after they are sent. An initial group of 26 medium-resolution photos took well over a day to make their way to the frame via e-mail, whereas those uploaded via the Kodak Pulse site were available almost instantly.
And neither the frame nor the website seems to have any way to randomize the order of photos. The frame does offer a limited choice of transitions from one image to the next, including the standard dissolve and a multi-picture mode and a repetitive moderate "pan and zoom" effect.
Still, the Pulse represents a smooth blend of social and simplicity; it wouldn't be surprising to see Kodak take the product family to larger sizes, which would be a boon to its multi-picture mode.
Its integrated service helps it stand out even as a rush of inexpensive slate devices and e-readers plan to wed stationary digital picture frame capabilities with the portability and some of the Internet access capabilities of the iPad.
Ross Rubin (@rossrubin on Twitter) is executive director of industry analysis at The NPD Group (@npdtech on Twitter). He blogs at The NPD Group Blog as well as his own blog, Out of the Box.