As the summer winds down, back-to-school shopping heats up. But don't let your favorite student head back to college unprepared.
Take a look at the list below of this year's must-have gadgets for the aspiring academic.
Epson Stylus NX420
With schools cutting back on free- or low-cost printing, and the price of good-quality printers coming down, it's time to put one of these on the list of dorm room items that roommates can share.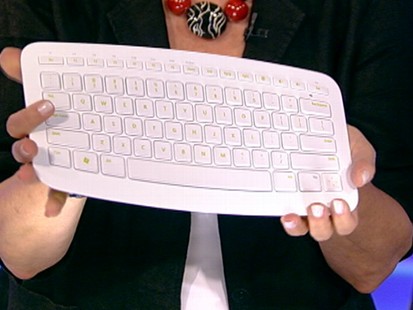 The Epson Stylus NX420 has built-in wireless-n, which means everyone in the suite can use it without having to be physically connected to it.
Since this printer uses individual ink cartridges, only the needed color needs to be replaced. With all those research papers, students will be using up plenty of black ink, making it easy for everyone who's sharing to kick in for a cartridge every now and then.
Price: $65
E-Readers Head to College Campuses
Apple iPad
The iPad goes off to college this year. Its size and functionality make it the perfect device to carry from class to class, for note-taking, scheduling and textbook reading. During downtimes, it can also be used to update Facebook, catch up on TV shows via Netflix and keep in touch with family, and friends from home.
Since most college campuses offer free Wi-Fi, the Wi-Fi-only version should suffice.
Price: Wi-FI 16 GB $499/64 GB $699, 3G 16 GB $629
Barnes & Noble's Nook E-Reader
The price war between the companies that make e-readers makes it much easier for students who want to try their hands at reading their textbooks electronically. Many companies are also renting textbooks to students, which means that there's no need to lug heavy books around campus -- nor pay an often high price for them.
The Nook lets you lend books to friends for free, and it recently unveiled a Wi-Fi Nook for $149, in addition to lowering the price of the 3G Nook from $259 to $199.
Amazon Kindle
Like the Nook, Amazon is now selling the Kindle at two price points: one with an always-on, no-monthly-fee 3G connection for $189, and one with only Wi-Fi for $139.
The Kindle comes in a variety of sizes and gives readers access to more than 650,000 books, in addition to a wide range of magazines, newspapers and blogs.
The 6-inch version weighs 8.7 ounces and is one-third of an inch thick. The 3G-enabled device lets readers download books quickly without a Wi-Fi connection, and it can store up to 3,500 titles.
New Device Helps Users Remember Their Cell Phones
Samsung Captivate
The Samsung Captivate is a superthin smartphone, powered by Google's Android 2.1 platform.
It features a 4-inch Super Amoled (Active-matrix organic light-emitting diod) screen and a 1GHz processor. With a fast processor, bright screen and great social-networking features, it's one of the best Android phones available on the AT&T wireless network. It's also great for those who don't want an iPhone.
The Captivate is available for $199.99 with a two-year contract.
Zomm
This gadget, created by a mom, wirelessly connects to your mobile phone via Bluetooth and alerts you when you are more than 30 feet away from your phone,.
It's a perfect device for those prone to leaving the dorm without their cell phones. It has a speakerphone function that lets you answer a call and talk hands-free, in case your phone rings and it's in a hard-to-reach place, like the backseat of the car.
Another key feature for college campuses is its personal safety alarm. If you feel unsafe, simply activate it and an alarm will sound. If you don't turn it off, it will automatically call 911 for help.
Price: $70
Microsoft Arc Keyboard
Who wants to sit up straight and confined at a dorm room desk?
The Microsoft Arc Keyboard lets you sit and work wherever you want to. It features 2.4 GHz wireless technology and a portable and storable Nano transceiver, so it's easy to take your Arc Keyboard with you to the library or a friend's room to study together.
Price: $60
Microsoft Mobile Mouse 3500 Studio Series
Accessories and personalization are key, especially when it comes to technology. Mice no longer have to be boring black blobs that sit next to the laptop. Companies are making them in fun, fanciful colors to match your technology, dorm room, even your personality.
These Microsoft Mice have BlueTrack Technology that lets you track on virtually any surface. These mice will do the trick even in a crowded study space.
Price: $30
Built Laptop and iPad Bags
Technology meets fashion with Built's Laptop Tote and Portfolio Bags. They're made of neoprene for extra protection and durability, and you're sure to find one that goes with any wardrobe.
Many of them have exterior pockets, perfect for storing accessories or folders, and the removable padded shoulder strap makes it comfortable to carry. And ... they're washable.
Price: $45-$70