When Microsoft first unveiled its controller-free, next-generation add-on to the Xbox 360 video gaming system at last year's Electronic Entertainment Expo (E3), many were skeptical. Could Kinect really deliver on the promise of technology we'd only seen and read about in science fiction, literally putting the player in the game and allowing their movements and voice to control the action?
Now that Kinect has hit store shelves across the country, we have our answer and it's a big, booming "yes"!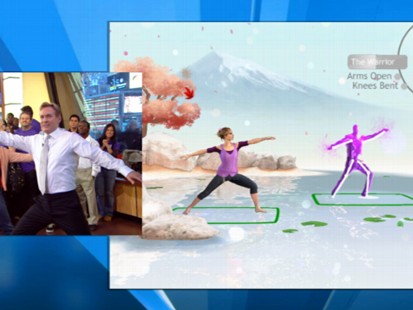 From the beginning of the device setup, to the last game we tested, there was no doubt that
Kinect offers its users a wholly unique and very active experience
unlike anything out there today. No sitting on the couch and waving (or "waggling") a controller. Kinect demands that players stand up and jump into the action.
How Does Kinect Work?
Retailing for about $150, Kinect is packed with state-of-the-art technology. Motion detection, voice recognition, microphones and cameras come together to allow players to interact with their existing Xbox 360s through movement and speech.
Unlike the Nintendo Wii or the Sony Move (a new Playstation 3 controller that is similar to the Wii remote), Kinect titles are designed to work without the need of a controller. Just stand in front of the device and play!
To get an idea of the variety of experiences and kinds of activities players will get out of Kinect, here's a quick look at a few of the 17 launch titles we had a chance to try out:
Kinect Adventures: A series of mini-games that get players up and moving and show off what Kinect can do (and therefore … you!). Race down a river in a large raft, avoiding obstacles and jumping ravines. Or take a ride on a pseudo-roller coaster, jumping, contorting and - at times - flailing to smack passing coins and score points. Kinect Adventures is included in the Kinect bundle, and is likely the game Xboxers will be playing with friends and family.
Joy Ride: A cartoonish racing game for up to two players. Simply extend your hands as if you're holding a steering wheel and drive. Players can execute stunts by leaning left, right, forward or back and get a boost by pulling back on the steering wheel to charge up some speed, and pushing forward to be propelled at high speeds.
Your Shape: Fitness Evolved: This is the Kinect title people will be talking about. While fitness games have been around for a while, nothing out there pulls you into the experience like Your Shape: Fitness Evolved. Users can participate in fitness classes in tai chi and cardio boxing, play games meant to get their heart pumping or workout with a virtual, personal trainer.
Designed to Do More Than Games
In addition to the ability to play and interact with games through voice and motion control, the Xbox 360 dashboard (the interface used to select the games, movies, music and features the user wants to access) now includes the "Kinect Hub," which is accessed by waving at Kinect or commanding the Xbox to access it.
There's a little bit of magic that occurs when Kinect uses its facial-recognition technology to identify and log the user in to their Xbox Live account. It acts as a beautiful reminder that you're not in Kansas anymore.
Once in the Kinect Hub, users can access whatever they see by simply using their hand as they would a computer mouse, or by speaking the word "Xbox" and naming the feature they want to select. Although the offerings are somewhat thin at launch, Microsoft hopes to expand the Hub to include more dashboard features in the future.
Kinect Isn't Perfect
But though the Kinect is accessible, reasonably priced and packed with oodles of high-tech features, it still is not without its flaws. One potentially major hurdle for consumers could be that Kinect requires a good amount of space to play or, more accurately, to play well.
Games like Kinect Adventures are very active and players will need the room to move from side to side, jump up and down and wave their arms. When playing with a second player, this becomes even more evident.
While the technology is relatively accurate, it's not perfect and players will need to adjust to how a game reads their gestures. It's not a steep learning curve, at least not among the launch titles we were provided, but it underlies the reality that as close as we are, we're not quite there yet.
Perhaps the biggest obstacle standing in the way of Kinect's dominance of living rooms across the country is going to be software. There are only so many dance and fitness games the market will bear before developers need to create games targeting core gamers. Coming up with innovative games that don't require a button could be tough and selling games is how the industry makes its money.
If it works, Microsoft could finish the revolution that Nintendo started, stealing market share from their competitors, capturing a new audience and swelling the gaming ranks by pushing gaming further into the mainstream instead of the shadows.
Kinect isn't going to replace the controlled gaming that the vast majority of Xbox 360 games require, the so-called "hardcore" gamers love and the source of the industry's wealth. But it does have the power to draw in a new audience and translate gaming into a language that anyone can understand.