Whether you root for the Steelers or the Cards, you're sure to be a fan of these Super Bowl-ready sensations.
Everything from sweatshirts to silverware to new ways to snag tickets to the big game.
Hoodies for Your Beer
Customizable with the the name of your college/frat/favorite pastry/etc., this gray hoodie sports a vertical "coozie" pouch to safely cradle even opened beers -- great, until your laid-back get-together inevitably turns into a crazy handstand party.
These hoodies are perfect to help football super fans enable their game day drinking. They are available at BeerHoodie.com.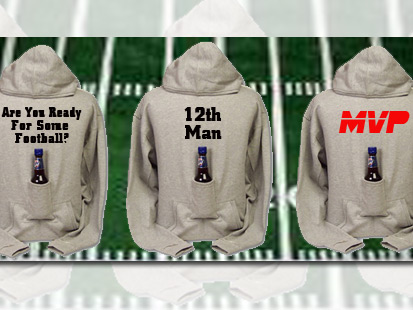 The Dip-Friendly Bowl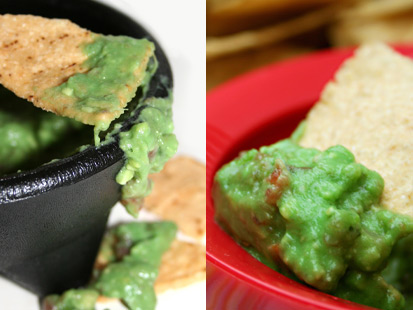 Modestly purported to be "an insane product that's revolutionized the bowl," CB's arsenal of variously sized durable plastic bowls feature a concave wave-like rim that pushes the straggling last remains of food back onto your dip-vessel, meaning you'll no longer suffer the ignominy of spilling con queso onto your own naked hint of limes. Stop denying yourself gloriously smothered chips by heading to CaliBowl.com.
Calling All Fans!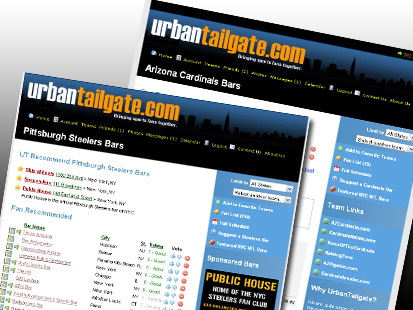 Super Bowl XLIII is just a couple of days away and if you're not sure where to watch, check out UrbanTailgate.com. The site has a comprehensive list of Steelers bars throughout the country with more than a 100 spots. They also have a Cardinals page but with just a few bars less than the Steelers. If you're not in Phoenix, the 'Burgh or Tampa to watch the game this site will help you find the perfect bar for you.
Designed to bring fans together for game-day meet-ups, UT could do for sports watchers what Craigslist has done for "adventurous couples" and sour-smelling couches. The service debuted last fall by leading a few diehard Bears fans to the UES' Gael Pub -- a weekly gathering that eventually blew up to include 180 sausage-y Ditka lovers. But UT goes beyond football: Regardless of the sport, it's equipped to develop the community.
Join up and input your favorite squad(s), and you can check your team's page to see what bar everyone's headed to -- and receive a weekly e-mail update that'll inform you if your crew's upgrading to a spot with bigger TVs/hotter waitresses/a more generous love tester. Granted, just because some guy shares your mutual love of Gonzaga doesn't mean you necessarily want to hang with him, and with that in mind, UT offers a "friends" feature.
This allows you to choose viewing mates based on even stricter criteria -- like depth of Gonzaga knowledge, hilarity of Gonzaga-related banter, and the good sense to keep his fingers out of your bean dip. If no one's featuring your team's games, Urban Tailgate will proactively call and try to convince one of their contacts to turn their bar into your temporary home.
And You Thought the Spork Was Cool...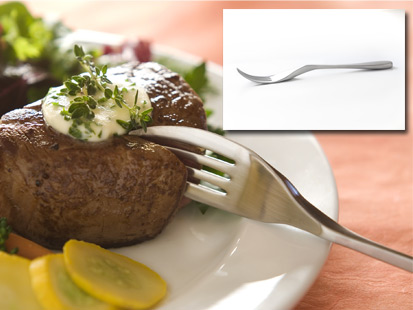 You'd assume BBQ season's biggest dilemma (eating standing up and holding a plate in one hand) would've been solved by an effective dual-purpose utensil -- but how are you supposed to cut your delicately charred T-bone with a spork? Here to uni-handedly slice up your eats is the "knork."
The ingeniously designed knork is basically a fork and knife fused into one, but with no inner-cheek-imperiling sharp or serrated edges. The product of years of Bondo-modded forks and CAD schematics, its functionality is gained through 1) beveled edges capable of tearing through most comestibles, 2) a precisely rounded curvature that provides a pizza-cutter-efficient rocking motion, and 3) a wide thumb platform that lets you apply the pressure necessary to hack up your eats without jeopardizing your means of running away from home.
When properly aligned and rocked, the thing slides through pretty much anything, from vegetables to chicken to steaks, although you'll have to get through your Jawbreakers the old-fashioned way: quickly, and with extensive oral surgery.
In addition to the original heavy-duty stainless steel number in three finishes, knorks also come in two party-friendly plastic models, one washable and one disposable -- thus addressing BBQ season's second biggest dilemma: operating complicated dishwashers when you've spent the afternoon doing bat races.
Seems like there's no way it'd work, but it does. Pick 'em up at knork.net
Scoring Stadium Seats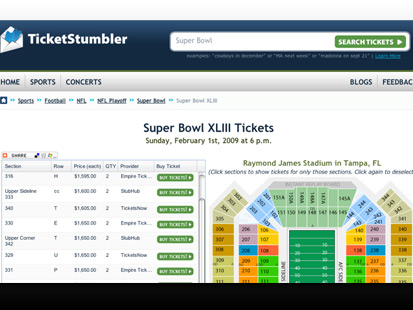 Aggregator services have sprung up to facilitate many of life's most pressing needs, but what good is that when you can't see the PawSox? Complete yourself, with TicketStumbler.
Based in Boston, TS is a sports ticket search engine and comparison site, created by a financial analyst and a former Afghanistan-based soldier who worked in Psy-Ops and on the military's super-secret Intranet, Prodigy 3.0 (now with 2400 baud dial-up!).
So, you know you're getting the best shake, they're relentlessly hammering out partnerships with the largest sports ticket marketers and brokers, including StubHub, RazorGator, Ticket City, Ticket Network, and the leviathan that is ... Barry's Tickets. The site currently supports major pro (NFL, NBA, MLB) and college (basketball and football) sports, plus regional affairs, like the National Hockey League (or as it's known colloquially, "Canadian Friend Finder").
Down the Road, TS plans to add more sports, vendors, and stadium maps, plus concerts and theater events; they'll also expand coverage to California, so you'll have something to do during the 6-hour layover some sweet travel aggregator scored you at LAX.
Start your ticket search engines at TicketStumbler.com.