As Tropical Storm Danny strengthens in the Atlantic Ocean, forecasters say it could become Hurricane Danny late Friday off the coast of North Carolina.
As it moves north, the National Hurricane Center said people in the Carolinas and up the Atlantic Coast to New England should monitor the storm's progress. A tropical storm watch may be issued for parts of the area later Thursday.
Forecasters said the storm is poorly organized and lop-sided, with the heaviest storms and wind to the east of its center. Maximum sustained winds Thursday afternoon were reported at 50 mph.
At 5:00 p.m. ET, the storm was centered less than 550 miles south of Cape Hatteras, N.C., and about 295 miles northeast of Nassau, Bahamas, drifting to the west at just 2 mph, though the speed was expected to increase.
"This general motion is expected to continue today ... with a turn toward the north and an increase in forward speed forecast on Friday," the hurricane center said in a statement. "Slow strengthening is expected."
Tropical Storm Danny to Run Parallel to East Coast
The hurricane center uses a dozen different computer models to forecast the path of a storm, combining them to create the forecast map it then makes public. The computer models show the storm likely turning northeastward as the weekend comes, running parallel to the East Coast.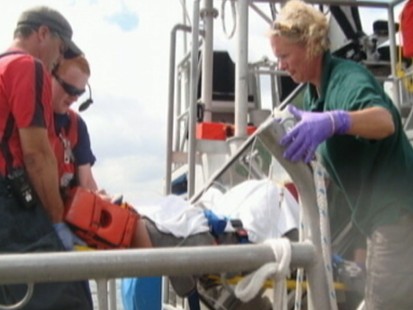 Danny will be too far east to affect the Carolinas and the southeast coast with anything more than rough surf (5- to 10-foot waves) and 1/2 to 1 inch of rain in extreme eastern North Carolina Friday.
The Northeast will experience the effects from Danny later Friday as the surf increases. From Maryland to New York, rain is expected to develop, but not in association with Danny.
Danny's main impact on the Northeast will be from 9:00 a.m. Saturday through early morning Sunday, mostly from Long Island to Maine.
Cape Cod will likely experience near-hurricane conditions Saturday evening, where Danny is expected to pass the closest.
Rough Surf Expected Along Northeast Coast
The storm is not currently forecast to make landfall in the U.S. But rough surf (5- to 15-foot waves) and 2 to 6 inches of rain are expected along the northeast coast from Long Island to Maine.
Late Saturday to early Sunday, as Danny heads to Nova Scotia, Canada, it will become an extra-tropical low, still capable of strong winds and heavy rain.
ABC News' Gerard McNiff contributed to this report.