At least it's not snowing anymore. The unusually-harsh winter of 2010 is giving way to spring -- which brings the problems of rain, flooding, and in some places, tornadoes.
Today a cold front swung from the Southeast toward the Eastern Seaboard, causing tornadoes in Arkansas late Wednesday, including one that tracked across much of the state, killing one person.
The victim was identified as 79-year-old Ward Baldridge of Cleburne County, Ark. His wife and grandson, who lived in the same house with him, were injured. The Arkansas Department of Emergency Management said two other people were injured as well.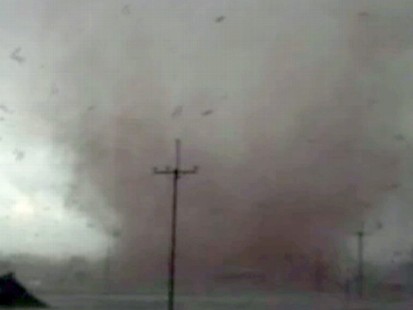 There was a threat of tornadoes today in Florida, from Tampa Bay to the Orlando area, and parts of Alabama got 7 inches of rain.
Now the front is moving toward the Northeast.
"In central New York, northeastern Pennsylvania and up into central New England, we're looking at a couple of feet of snow melting very quickly," said Mike Sowko of the Hydrometeorological Prediction Center of NOAA, the National Oceanographic and Atmospheric Administration. "We're going to have three, four, in some isolated places five inches of rain over the next few days. When you combine that with the melting snow, that's a lot of water that has to drain."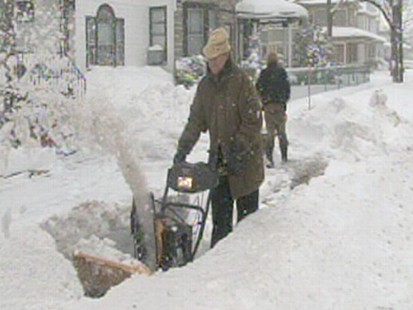 Pittsburgh Gets Ready, Three Days Early
It is not unusual weather for this time of year, but it was enough that Pittsburgh Mayor Luke Ravenstahl pre-emptively declared a state of emergency on Tuesday while most of the eastern U.S. enjoyed sunny weather and spring-like temperatures.
"By declaring the state of emergency today, what it triggers is our ability to make sure that we have every resource we need to respond to the flood," Ravenstahl said at a Tuesday news conference.
"We have been given as much advanced warning as possible that a flood is highly likely to occur this weekend," he said. "If you haven't already done so, elevate items in your basement, protect your utilities, prepare your 72-hour all-emergency kit and be ready to evacuate if the order is given."
The National Weather Service posted a flood watch for the Pittsburgh metro area, in effect through Sunday evening, with flooding more likely nearby in rural Ohio and West Virginia. Pittsburgh suffered serious flooding in 1996, and there was widespread criticism that people had not been given sufficient notice so that they could protect themselves.
March Weather: Coming in 'Like a Lion'
Much heavier rain is forecast for New York City, Philadelphia and inland areas near them on Saturday, with "the potential to create flooding on streams, rivers and in areas of poor drainage," said a hazardous-weather statement from the National Weather Service.
"The heaviest rain should occur during the calendar day on Saturday. Event total precipitation estimates are 2 to 4 inches with some locally higher amounts," it said.
Is the weather out of the ordinary? It's been "active but not atypical," said Greg Carbin of NOAA's Storm Prediction Center in Norman, Okla.
Carbin said he did not think this week's storms were part of a larger pattern. There is an El Nino at the moment -- a giant patch of warm water in the equatorial Pacific that tends to bring stormy weather to the southern U.S. in winter -- but in spring, if anything, Carbin said an El Nino tends to suppress storms.
"We've had a relatively active week, so you could use the old adage that March is coming in like a lion," he said.