Former Ringling Bros. employee Tom Rider said he worked for the circus from 1997 to 1999 before his conscience prompted him to quit. The afternoon barn man who fed and took care of the elephants said he didn't like what he saw.
"I saw numerous beatings, hitting with the bullhook and constantly chaining them up all the time," Rider told ABCNews.com.
"After two and half years, I left on my own," Rider said. "I left because of the abuse of the animals."
Next week, eight years after Rider first teamed up with animal rights groups to file a lawsuit against Ringling Bros. Circus, the "Greatest Show on Earth" heads to court to defend itself against allegations of animal mistreatment.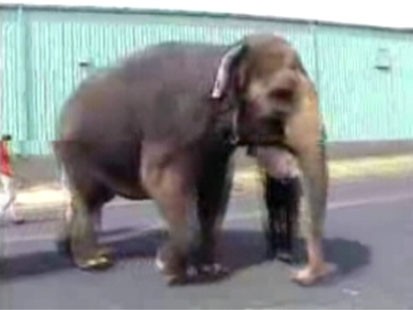 On Oct. 27, the case, to be tried in federal district court for the District of Columbia, will examine whether the circus has violated the Endangered Species Act by chaining its elephants for most of the day and night and forcefully using a bullhook to train them, as animal rights groups allege.
Ringling Bros. and its producer, Feld Entertainment, Inc., vehmently deny the allegations, and say that the circus has worked to help breed and conserve Asian elephants and donated hundreds of thousands of dollars to their well-being.
"Animal special interest groups are distorting the facts by making false allegations about the treatment of Ringling Bros. elephants as part of a long-running crusade to eliminate animals from circuses, zoos and wildlife parks," said Michelle Pardo, a lawyer with Fulbright & Jaworski L.L.P. and the circus' spokeswoman for the trial, in a statement. "Feld Entertainment will show during the trial that its elephants are healthy, alert, and thriving, and it intends to debunk the misinformation that has been spread by those who do not own or know how to care for an elephant."
Filed in 2000, the case against Ringling Bros. was initially dismissed when a district court judge said plaintiffs did not have standing to pursue their claims. The U.S. Court of Appeals later reversed that decision, ruling in February 2003 that the case should proceed.
Now, Rider and animal rights groups, including the Animal Welfare Institute, American Society for the Prevention of Cruelty to Animals (ASPCA), Fund for Animals and Animal Protection Institute, plan to present evidence that includes video and photos they contend document the mistreatment of Ringling Bros.' elephants. They said they have also collected eyewitness accounts and internal circus documents that reveal abuse.
"These unlawful actions are done on a routine basis, throughout the country, for the purpose of making the elephants perform in the circus and otherwise commercially exploiting these magnificent animals," the complaint alleges.
Tracy Silverman, general counsel for the Animal Welfare Institute, told ABCNews.com the animal rights groups are arguing that the circus should stop using elephants unless it can ensure they won't be chained to fences or forced with bullhooks.
"We want it to stop and we're hoping that, by the conclusion of this trial, that's what will happen," Silverman said.
Meantime, Ringling Bros. acknowledges that it sometimes tethers its 52 elephants, but maintains it does so in a manner that is consistent with the Animal Welfare Act.
"While the elephants are tethered at night, during mealtime and during bedtime, so they do not disturb one another; most of their waking hours are spent at play, socializing, exercising and learning new routines," Feld Enterntainment's Web site says.
The site also specifically says Ringling Bros. does not use bullhooks to get elephants to adhere to trainer's commands and, instead, uses a "guide" akin to a dog leash, a "USDA approved tool that can be used as an extenstion of the handler's arm."
"The device that they're talking about is a weapon," Silverman countered today. "Generally, it's a two- to three-foot club with a sharp hook on the end."
The Endangered Species Act makes it illegal to harm, kill or take endangered species out of their habitats. But today, Pardo told ABCNews.com that defendants believe there is no evidence that the Endangered Species Act should be used to ban elephants in the circus.
"The elephants are healthy and are well cared for by a full-time staff of veterinarians," Pardo said. According to Ringling Bros., the circus spends more than $60,000 a year to care for each of its elephants.
Pardo also disputed Rider's first-hand account, saying he is a paid plaintiff and adding that none of the 35 animal inspections conducted during his time with Ringling Bros. found any signs of mistreatment.
On Monday, Silverman responded that the former circus employee receives a "very modest amount of funding from the plaintiff organizations and others" to pay for gas and other travel expenses as he informs the public about Ringling Bros. alleged practices, adding that the funding "pales in comparison" to the amount Feld and Ringling Bros. spend on their own effort to disseminate their side of the story.
In 1995, Ringling Bros. opened its Center for Elephant Conservation, which its Web site describes as a 200-acre Florida facility for breeding and studying Asian elephants. The circus has also given several gifts in excess of a quarter million dollars in the last few years to the Smithsonian Institution's National Zoo to study how elephants reproduce, and to learn more about viruses that threaten their health, according to the Web site.
According to the World Conservation Union's (IUCN) 2008 Red List, there are about 41,000 to 52,000 Asian elephants in the world, with more than half of them in the wild in India. The species population is decreasing due to shrinking habitat and poaching, and the species' population has declined by at least 50 percent during the last three generations, according to the IUCN.
ABC News' Tom Shine contributed to this report.