Sen. John McCain, R-Ariz., called Republican National Committee Chairman Michael Steele's recent remarks about Afghanistan "wildly inaccurate" and said that "there's no excuse for them."
But the former Republican presidential candidate stopped short of saying Steele should step down.
In an exclusive interview on ABC's "This Week," McCain told anchor Jake Tapper that Steele had contacted him and said his remarks had been misconstrued.
"I think that Mr. Steele is going to have to assess as to whether he can still lead the Republican Party as chairman of the Republican National Committee," McCain said.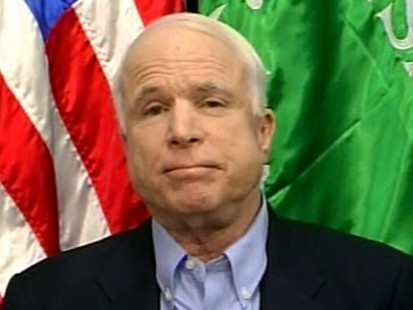 Steele caused a furor when he was caught on tape Thursday at a Connecticut fundraiser saying the
Afghanistan
war "was a war of Obama's choosing" and that everyone who has waged war there "over a thousand years of history has failed."
Several prominent Republicans, including William Kristol, Liz Cheney and Rep. Tom Cole, R-Okla., have called on Steele to resign.
Report From the Ground in Afghanistan
McCain, who is spending his Independence Day in Afghanistan leading a Congressional delegation, spoke to Tapper from Kabul, where Gen. David Petraeus assumed command of the International Security Assistance Force. At a ceremony marking his assumption of command, Petraeus spoke of how the enemy has fought back efforts to "reverse the Taliban's momentum."
McCain took issue with that idea, saying, "I'm not sure the Taliban have the momentum in this fight." He added that "the Taliban obviously are entrenched in places in parts of actually the outskirts of Kandahar, there's areas where they are still in control. There has been some progress. It has been hard fought and with great sacrifice."
The Afghanistan strategy, McCain said, "has not gone as well as we had hoped," but that a deadline for withdrawal is a mistake.
The senator reiterated his call for a "conditions-based solution, not a date for withdrawal."
With 93,000 U.S. troops in Afghanistan, McCain said he'll wait for a December assessment before commenting on whether more troops are needed.
"I know enough about warfare," the former Navy pilot added. "I know enough about what strategy and tactics are about. If you tell the enemy that you're leaving on a date certain, unequivocally, then that enemy will wait until you leave."
Spending Despite Corruption in Afghanistan
A leading crusader against wasteful government spending at home, McCain would not support an effort by New York Democrat Rep. Nita Lowey to cut off $4 billion in spending on infrastructure spending for Afghanistan over concerns about rampant corruption in there.
"I think we need to go ahead and spend the money," McCain said. "I do not believe that ... we would succeed at motivating the government to crack down on corruption if we cut off the funds, but I also acknowledge that it's a serious problem," he said.