If you only get on a plane once-in-a-blue-moon -- say for Thanksgiving -- you'll notice there have been some changes this year, and it all boils down to airline survival.
Changes like "all-you-can-eat" deals, gizmos and gadgets, and pet power -- things the airlines, mostly, are doing to make ends meet. But is it working for travelers?
I'm going to take a look at six air travel "innovations" we've seen over the past year -- and one "passenger pushback" response -- and grade them from one to five cranberries, five being best of course.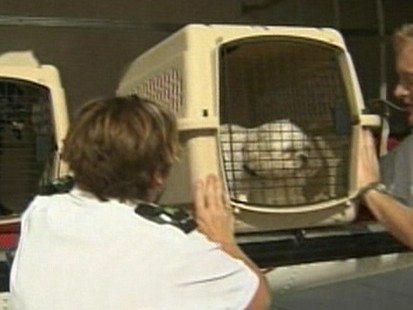 Cranberries are the perfect symbol for this time of year, plus while they can be sweet, they are
always
tart.
For more air travel news and insights visit Rick's blog at: http://farecompare.com
The 2009 Cranberry Awards
1. "All You Can Eat" Promotions -- 4 Cranberries
Earlier this year, JetBlue launched a clever "All You Can Fly" publicity gambit that had fingers flying in Twitter-world and quickly sold out. It was a win-win for frequent fliers, road warriors and especially the airline.
JetBlue enjoyed a marketing triumph plus it gave them a chance to fill up some otherwise empty seats. Pity this stunt was only good for a single month's worth of flights.
Not to be outdone, United soon came up with its own "all you can eat" innovation: pay $249, and you get two free bags on every flight for a year (along with up to eight people flying with you on the same confirmation number). A family of five checking one bag apiece would save with just two trips a year.
Stay Up to Date on the Latest Travel Trends from ABC News on Twitter
2. 'Pet Power' -- 5 Cranberries
When Pet Airways began taking reservations last spring, we'd just come off a year of airlines gone bust including ATA, Aloha, Skybus and others. Who'd have thought an airline devoted to yapping passengers would make it? Wait, yapping passengers – that sounds like some of my "human" flights.
That's not the end of it, though: JFK and other airports now feature grassy pet "comfort stations" (complete with hydrant-shaped, uh, well I guess you'd call them toilets) plus, longtime holdout Southwest began taking on dogs and cats in the cabin this year. Good for you, Sparky.
3. Travel Tech -- 4 Cranberries
This was the year of WiFi: wired up planes that let you work or play in the air. Virgin America was first to have fleet-wide WiFi, quickly followed by AirTran and now most airlines offer some flights with this amenity. During the holidays, Virgin is giving it away and several airlines have coupons and discounts, so you should be able find a deal.
And for iPhone fans, there are "apps" galore to make your flight fabulous; I recently watched a live Monday Night Football game in-flight thanks to a new app and I was not alone (it was fun watching seatmates trying to Velcro their phones to the backs of their tray tables, in an attempt to create a poor man's "JetBlue TV screen" experience).
Bright spot: earlier this year, the Mexican government and the European Union okayed cell phone use on planes. So far, the U.S. says "no".
4. Going Green -- 3 Cranberries
Airlines are going green, or at least trying and that's a good thing: Southwest recently unveiled a "green plane" featuring such innovations as synthetic leather so each seat will weigh five pounds less than previously -- which, when/if it goes fleet-wide, could save as much as $10 million a year in fuel costs.
Add to that the fact that most airlines have greatly reduced the number of seats in the air -- and, have retired aging aircraft (United said goodbye to its last Boeing 737 in October) and the sky is greener by default.
One idea I'm not so sure of, is a little experiment in carbon emissions reduction conducted by All Nippon Airways: earlier this fall, they asked passengers to empty their bladders before boarding, to reduce the overall weight of the plane, and fuel usage, and … you see where this is going. Yikes.
5. Security Synchronization -- 2 Cranberries
Honestly, I think this latest TSA rule is a good one: names on airline tickets should match government ID. Sounds simple, right? Well, so far, the airlines are struggling with it, as are passengers -- especially fliers with hyphenated names or ID's that include middle names or titles. The airlines, it seems, are getting their computers up to speed to deal with this, and we need to be patient. Okay …
6. The Surcharge Shuffle -- 1 Cranberry
I get it, I really do: the airlines need to make more money, so they've added "peak travel day" surcharges on the most booked days. There's been no huge uproar -- after all, the surcharges are mostly in the $10 to $30 range, so it's not going to break the bank and they are folded into the price of the ticket, so it's not as painful as say, a bag fee or a fee for "extra legroom." Still, there's a feeling that, true or not, the airlines somehow "put one over" on the passengers. I know: it was business, not personal.
But it doesn't help that passengers are still steaming about bag fees. Sure, they pay them. But that doesn't mean they don't still steam about them.
7. Passenger Pushback -- 3 Cranberries
Occasionally over the past year, passengers have taken matters into their own hands, with varying results. There was Dave Carroll, the Canadian singer-songwriter who wound up with a broken guitar after a United flight, and created a hilarious music video that finally spurred the airline to make amends. Carroll became famous, and later flew to Denver to address a group of customer reps. Nothing broken on this particular flight -- but the airline did lose his bag. Here comes another video, United. (He was eventually reunited with the luggage.)
Then there was the inebriated passenger who took matters into her own hands when the airline cut off her alcohol supply: she allegedly began quaffing the lavatory's liquid soap, and…oh, well, let's just say that was a "fail" effort at pushback.
Happy Thanksgiving to all … and enjoy those cranberries!
This work is the opinion of the columnist and in no way reflects the opinion of ABC News.
Rick Seaney is one of the country's leading experts on airfare, giving interviews and analysis to news organizations, including ABC News, The New York Times, The Wall Street Journal, Reuters, The Associated Press and Bloomberg. His Web site FareCompare.com offers consumers free, new-generation software, combined with expert insider tips to find the best airline ticket deal.