A 20-year-old Romanian man this week found a unique way to visit London: He hid inside the landing-gear well of a Boeing 747 and miraculously survived the 90-minute flight from Vienna.
"He obviously did not come here in a conventional way," said Simon Fisher, a spokesman with London's Metropolitan Police Department, which oversees police matters at Heathrow Airport, where the jet landed.
The man then hid in the dark, cramped space of the plane's rear landing gear compartment as the plane made its trip to Heathrow.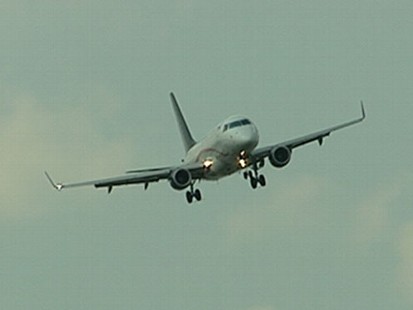 "To me that sounds like it would be quite cold and horrible," Fisher told ABC News.
The man was given a police caution -- a type of warning -- and released with no charges being pressed. Fisher said that because the man, whom he couldn't identify because there were no charges filed, was then allowed to enter the country. Because Romania and the U.K. are both members of the European Union, their citizens are legally permitted to travel and work in other member countries.
The man, apparently looking for work, told British authorities that he crawled under a wire fence at Vienna's airport and then climbed into the wheel well of the private jet, parked new a construction site for a new terminal, Leo Lauber, chief of the Schwechat police department -- home of Vienna's airport -- told the Associated Press.
Stay Up to Date on the Latest Travel Trends from ABC News on Twitter
Lauber told the AP that the jet belonged to a high-ranking sheik from the United Arab Emirates. When the plane took off from the Austrian capital Sunday night, he said, there were no passengers on board.
"Vienna Airport and the local authorities are going to check this incident," Vienna Airport spokesman Peter Kleemann said, refusing to provide more details.
Stowaways Often Die During Long Flights
London police were called at 7:30 p.m. on Sunday to investigate the stowaway. Fisher said the man was taken into custody at the Heathrow police station and checked out by the ambulance service. He had no injuries.
"A remarkable story," Fisher said.
Landing gear stowaways normally don't have so much luck. The wheel well is a cold, cramped spot and jet often fly through sub-zero temperatures. Over the years, stowaways from Cuba, Guinea, South Africa, China and Russia have all died while trying to hitch a ride. Most were presumed to have died from the severe cold.
The most recent example came in February when a man's body was found on a Delta Air Lines flight from Tokyo to New York. He had signs of frostbite and was assumed to have died from hypothermia.
Austria's daily Kurier newspaper reported, without citing a source, that the Romanian man may have survived because the private jet flew well below 32,000 feet because of bad weather, which might have saved him from frigid temperatures during the short flight.