Capt. Chesley "Sully" Sullenberger and First Officer Jeffrey Skiles, the US Airways pilots who made an amazing emergency landing in the Hudson River saving the lives of all 155 people onboard, hit the skies today in a well-scripted event designed to mirror the January flight that never reached its destination.
Sullenberger and Skiles flew from Charlotte, N.C., to New York this morning before a return flight later in the afternoon, the same route the two were to have taken in January before a pack of geese intervened and sent the plane into the icy Hudson River waters.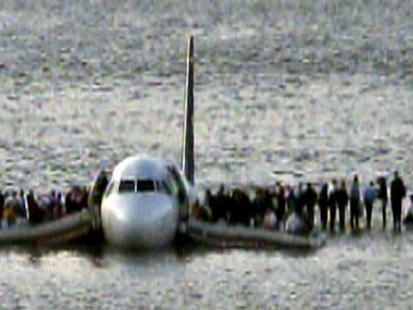 Sullenberger has since become a celebrity, and at a prearranged news conference this morning he said the crash happened "at a time when people needed to know that good could still be done in the world."
"It's good to be back in New York. It's good to be back at work," he said.
Today's round-trip flight was thought to be Sullenberger's first commercial flight since that "Miracle on Hudson" emergency landing, but a US Airways spokesman informed throngs of reporters gathered to meet the plane at New York's LaGuardia Airport that Sullenberger actually flew two "test" flights with passengers between Charlotte and Atlanta on Sept. 11.
The news that today was not in fact his first flight, as the company had seemingly billed it, moved many reporters who had booked seats to cancel plans to take the return flight to Charlotte.
But for the surprised passengers aboard this morning's flight, those specifics weren't important.
Don Lambert, a 61-year-old Vietnam veteran from Fort Mills, S.C., who was on the morning flight to New York, said he recognized Sullenberger the moment he stepped onto he plan and quietly entered the cockpit.
"It was sort of like coming back from Vietnam," Lambert, collecting his bags at New York's LaGuardia Airport, said of the flight, which described as "jubilant." "Everybody was clapping and screaming."
Stay Up to Date on the Latest Travel Trends from ABC News on Twitter
Another surprised passenger was Charlotte Mayor Pat McCrory, who walked into the cockpit to shake Sullenberger's and Skiles' hands.
"They saved a lot of my constituents' lives," McCrory said. "A lot of my neighbors were on that flight."
US Airways Make Sully's Return a Media Event
While some passengers were surprised by their celebrity crew, reporters turned out in droves after US Airways alerted the media earlier in the week.
Within minutes of the announcement Wednesday of what was thought to be Sullenberger's first flight back, all seats on his plane were sold out. Presumably members of the media -- including several from this network -- rushed to be on that flight. (None of the other 10 US Airways flights between New York and Charlotte were sold out as of late Wednesday.)
The airline's media relations even changed its phone menu, greeting callers on Wednesday with a message that said, "If you are a journalist inquiring about the return to flight of Capt. "Sully" Sullenberger and the reunion flight with First Officer Jeff Skiles, press 1."
At the press conference today, taxi dispatchers, baggage handlers and several dozen other airport employees crowded around a mass of reporters to hear what Sullenberger and Skiles had to say.
US Airways CEO Doug Parker said the reunion flight Sullenberger's and Skiles' idea, adding, "we couldn't be more proud to have them here today."
Sullenberger, who took time off to write a book, "Highest Duty: My Search for What Really Matters," said the timing of the flight, less than two weeks before the book's Oct. 13 release, was just a coincidence. This was the first time, he said, after training that everybody's schedule lined up for a reunion flight.
Sullenberger is reportedly getting $2.5 million to $3 million for the book.
Skiles, the first officer who returned to flying in April, said today was "a little different response than I got of my first flight back in April." On that trip from Charlotte to Detroit there was just one reporter.
The 58-year-old captain said he choose to return to the air because "it is my family." Although he acknowledged in his new role doing safety management work for the airline he would not get to be in the cockpit as much as he would like.
So what are the chances of another bird strike? "Astronomical," Sullenberger quickly said.
The afternoon took off and landed in Charlotte without incident.
Sully's Passengers Excited to Fly with Hero Pilot
Peter Schweitzer, of New Jersey, was on the afternoon New York to Charlotte flight traveling to Florida for business and learned that Sullenberger would be his pilot while getting a cup of coffee at the airport Dunkin Donuts.
"I'm just totally emotional about being on a flight with this guy because of what he represents to the American worker," Schweitzer said.
Schweitzer said he was proud to have a "competent" worker as his pilot and said it sends a good message that Sullenberger returned to work.
Denise Lockie, who was on the US Airways flight in January that landed in the Hudson, booked a ticket for today's trip.
"It's just part of the healing process," she said.
So how much did her last-minute ticket on the sold out flight cost?
"That's irrelevant," she said.
Sully, Other Pilots Return From Crash
Several former pilots -- including one who was at the cockpit of one of the nation's deadliest crashes -- told ABC News that pilots feel at home on planes and even after being in a crash understand just how safe it is to fly.
"I just kind of had the feeling that in order to get back to where you were before, you basically had to go back to flying the airplane," said William Records, co-pilot of United Airlines flight 232, which crashed in in Iowa in 1989, killing 111 people. "To be real honest with you, I didn't have a problem with it mentally."
Twenty years ago, the tail-mounted engine on the DC-10 Records was flying exploded at 37,000, feet knocking out the plane's hydraulic systems. By varying the power to the engines of either wing, the crew was able to steer the plane to the ground 44 minutes later at the Sioux City, Iowa, airport.
When it hit the runway, the jet cartwheeled, broke up and exploded in flames, killing 111 onboard. The other 185 passengers survived. The efforts of Capt. Al Haynes, along with Records and flight engineer Dudley Dvorak, are widely credited with saving those lives.
Records spent four months in physical rehabilitation for his injuries. He returned to the co-pilot's seat, he said, without any problem. Records made pilot shortly after that and flew until 2000, when he reached the government's then mandatory pilot retirement age of 60.
"I was just glad to be back. It was kind of the culmination of getting back to normal again," Records said. "There were occasions when you would look down flying across the Sioux City area. You could see the airport, the city and the river. You could see all the areas we circled around. You would just kind of look down, reminisce and think how fortunate I was."
Haynes and Dudley also returned to flying. Records sat in the jumpseat for the retirement flight of Haynes and also once had Dudley as his co-pilot.
"We landed," Records recalls, "and one of the flight attendants came up and said: Boy was that ever a firm landing. And Dudley said: That wasn't too bad. As a matter of fact, the last time he landed, he broke my leg."
The flight attendant had no clue about the men's history.
"In an accident like that, unless you are the captain, nobody knows who you are," Records said.
Today, everyone seems to know Sullenberger.
Sully the Promotion Machine
Richard Levick, president and CEO of the crisis communications firm Levick Strategic Communications, said that so far,US Airways has handled this situation well. They can promote Sullenberger as long as it is done in a "classy" manner, he said.
"He's a hero, but he's a pilot first. They don't what a caricature, they want a human," Levick said. "They're walking that fine line between the avuncular, respected hero and an overplayed celebrity. They've clearly stayed with the approachable, everyday hero."
The media coverage thus far has been very controlled, he said, because the airline doesn't want to risk overexposure or make it seem like they are pushing a "slick marketing campaign."
"That would be counter to everything that makes Captain Sully so appealing to the American people," Levick said.
The real challenge will be to keep the public interested over the long term. Levick suggested that US Airways make Sullenberger its public face in some commercials and even as a blogger. He also said the airline could serialize Sullenberger's book in the in-flight magazine or have the pilot make cameos on in-flight safety videos.
John M. Cox spent 25 years flying for US Air and five years as the top safety official for the Air Line Pilots Union.
"Yes, it is a big day. It is a return back to a more of a normal existence for him but I don't think there is any trepidation about it," said Cox, who is currently the CEO of Safety Operating Systems, a Washington, D.C., aviation safety consulting firm. "Any of us who have flown airplanes for decades recognize the safety of which the aviation system brings."
Cox said that is it likely that Sullenberger and Skiles have some acknowledgement "that the last time we did this it didn't turn out as expected." That said, Cox noted that pilots are very busy when coming out of LaGuardia and they will be occupied flying the plane.
"In all truth, I think other people will make more out of it than he will," Cox said. "He has become an aviation icon overnight for the absolutely phenomenal job that he did. But he's an airline pilot and there thousands upon thousands of extraordinarily skilled men and women that do this job every day."
Pilots Return to the Cockpit
When pilots survive a crash, Cox said, they almost always return to the cockpit.
Al Sinesky spent 38 years flying with the Air Force and American Airlines. While he was never in a crash, he did lose power in an engine more than once.
"It's something that you prepare for all the time," Sinesky said. "You just do what you were trained to do."
Sinesky said that when a pilot gets in their plane they focus on flying and trust the safety systems put in place.
"You're a pilot. It's what you do for a living," he said. "It's a lot like that proverbial horse that you've got to get back on and ride. The system never failed them. What failed them was Mother Nature."
That confidence is something appreciated by passengers.
Linda Culbertson and her friend Joyce Sluder of Leicester, N.C., said they prayed the past two days for a safe flight this morning on their first visit to New York City. They were informed by a reporter in the Charlotte terminal that Sullenberger would be piloting the flight.
"We felt like that was an answer to our prayers, we felt like that was a good omen," said Culbertson. We couldn't have ordered it up any better -- now we're going to buy a lottery ticket!"