What better way to say "I love you" on Valentine's Day than with some chocolates? And traditionally, those sweets come in a heart-shaped box.
For those looking to do something just a bit extra for that special someone, consider a bit of chocolate tourism. Sure you could visit Hershey, Pa. -- known as "The Sweetest Place on Earth" and hit the visitors center built by the candy giant.
But for the true romantics out there who want to escape the crowds and try something untraditional, and international, nothing beats a trip just across the Maine border to St. Stephen, New Brunswick, home of Ganong Chocolate -- a family-run company known throughout Canada for its chocolate maker sweets arriving inside a heart-shaped box.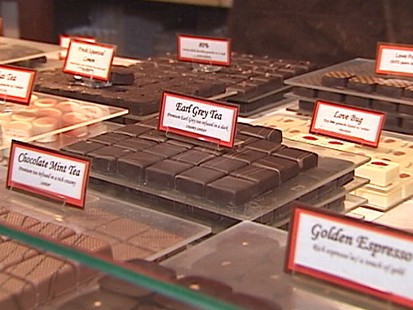 The company has been making the heart-shaped box for nearly 80 years. And while it's now synonymous with the second week of February, the Ganong box traces its origins back not to St. Valentine's Day but to jolly old St. Nick.
That's right, Ganong Chocolate first unveiled the heart-shaped box for Christmas. It wasn't until several years later that the idea became fashionable for lovers and can now be found everywhere from high-end chocolate stores to the local pharmacy.
Stay Up to Date on the Latest Travel Trends from ABC News on Twitter
Bryana Ganong, a fifth-generation chocolate maker, said her family's business started as a general store in 1873.
"They found that there was quite a bit of requests for chocolate products," she said. "They first started selling them, then they started making the products themselves and the business grew from there."
The family used to produce boxes on the top floor of the chocolate factory. In the late 1800s and early 1900s the company made all sorts of boxes, including tiny "glove boxes" that gentlemen could easily throw in a jacket pocket for gifts to their girlfriends or wives.
During the Depression-era the boxes became a bit fancier; the idea being that they would come with chocolates but then could be reused as sewing boxes or jewelry boxes.
"It would have been a fancier box that in many cases people would have kept and stored other things," Ganong said.
Heart-Shaped Box Moves to Valentine's Day
While it wasn't the first to ever think to put chocolates in a heart-shaped box, Ganong Chocolate was the first to do so in Canada, Ganong said.
The company's first heart-shaped box appeared for Christmas 1932 and was sold at a pharmacy in St. John, New Brunswick. It quickly grew to be a big holiday success.
For decades Ganong's heart-shaped boxes were a popular holiday gift all across the country.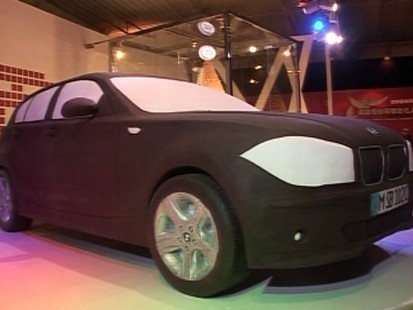 "The chocolate business is very seasonal. Christmas is by far the largest season for boxed chocolates, but Valentine's has always been a very significant part of our business," Ganong said. "In recent years it's not as large as it once was."
A slew of other gift choices and people's increased emphasis have led to a decline in such chocolate sales more recently, she said.
But today visitors to this tiny Canadian town can still get a firsthand look at the world of chocolates.
Ganong moved out of its original 1800s home into a modern candy-making facility in 1990. But the town and Ganong co-created a chocolate museum along with a retail store in St. Stephen. Visitors can learn not just about the history of chocolate but also get a glimpse of the handmade candy-making process.
Though Hershey is still much more recognizable to American chocolate lovers, this is home of the sweet stuff north of the border. In fact, the town of St. Stephen was officially registered in 2000 as "Canada's Chocolate Town."
And if you need further proof, each August St. Stephen hosts Chocolate Fest, a festival that includes a chocolate-themed brunch, a treasure hunt, a children's petting zoo, a chocolate pudding eating contest and, of course, the festival's mascot: "The Great Chocolate Mousse."
So why do people love chocolate so much?
"It's that indulgence," Ganong said. "It's that special treat for you."
And for those still worried about their health, Ganong offers a bit of advice: "There are people in my family that used to eat up to 2 pounds of chocolate a day, and they lived until their 80s and 90s. So it can't be that bad for you."