A weakened Hurricane Gustav stormed ashore in a deserted coastal area just west of New Orleans, a near miss for the nearly deserted city still haunted by the catastrophe of Hurricane Katrina.
Water spilled over the top of levees protecting New Orleans, but Army Corps of Engineers spokesman Rene Poche said the levees were holding and that he did not expect any surge flooding.
That sigh of relief in New Orleans, however, was not good news for the coastal towns to the west. Although Gustav was downgraded to a Category 2 and was no longer the "mother of all storms" that New Orleans Mayor Ray Nagin predicted, it was still packing enough punch to menace the coastal regions to the west.
Gustav arrived with winds of up 110 mph and was expected to dump 20 inches of rain on the area and trigger storm surges up to 12 feet high.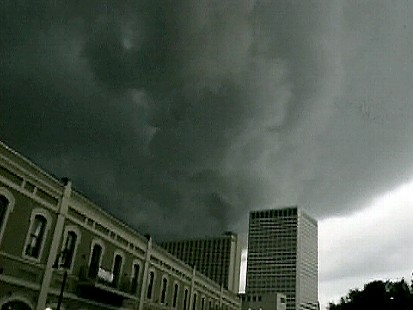 Louisiana Gov. Bobby Jindal also warned that killer tornados could be following in Gustav's wake.
The storm veered westward as it neared New Orleans, with the eye making landfall shortly before 10 a.m. at the remote bayou hamlet of Cocodrie. It's an area populated by shrimpers and oil rig workers. Gustav was on a path to drive northwest through Houma, Morgan City and Lafayette.
Gustav crashed into an area that hard largely been abandoned since more than 2 million people had fled the coast in the largest evacuation in U.S. history.
Morgan City Mayor Tim Matte told ABCNews.com that a mandatory evacuation had succeeded in clearing out 75 percent of the population and the city was protected by a 24 foot seawall, with levees surrounding the city.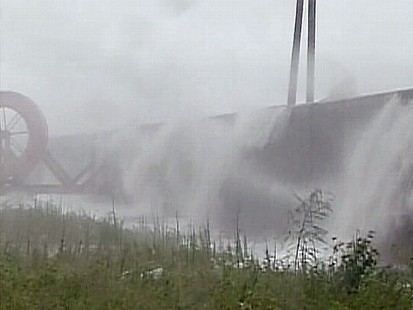 Matte predicted that the area of Port Fourshom and Houma, a major supply base for the oil industry, to be hardest hit.
Houma Parish President Michel Claudet told ABCNews.com that the lightly protected area was being hammered by 95 mph winds that were strong enough to peel back the roof of the parish firehouse and knock out power to their emergency services center.
Claudet said their biggest concern is that the area has no hurricane levees, and is protected only by drainage levees that are not prepared to handle storm surges from a Category 2 hurricane.
New Orleans, which was devastated three years ago by Hurricane Katrina, had braced itself for another staggering blow from Mother Nature and was keeping a nervous eye on a system of levees that has been described as "fragile."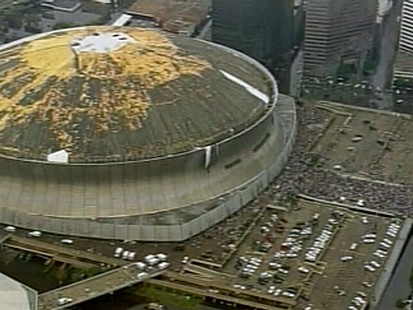 The weakest section of the city's levees is on the western side of the city, New Orleans' Mayor Ray Nagin has warned -- and that's the side of the city that was expected to feel the brunt of Gustav's wrath.
The pressure on New Orleans eased when Gustav was downgraded and swung slightly to the west in the hours before it lumbered ashore. The water rose the top of the levees and spilled over as each wave hit the concrete barrier, but it appeared that the levees were holding this time.
The stragglers in New Orleans woke at dawn to slashing rain being driven through the city by winds of up to 67 mph and gusts up to 86 mph, making it difficult for a person to stand and not be knocked down. Palm trees and street lights flailed in the wind. A billboard on Central Avenue was shredded. In the French Quarter, the sound of windows popping was constant. Signs were smashed and dangling askew A lamppost was toppled and a building's marquee collapsed.
Scattered power failures were reported in New Orleans with outages up to nearly 100,000 at one point. The Lake View neighborhood where levees broke during Katrina was largely blacked out. Some of the outages were caused by tree branches blowing down and taking out power lines. Several hospitals were reported working off generators. Despite the outages, the city's 23 massive drainage pumps continued to function.
As the winds picked up, the National Guard and police vehicles were pulled off the streets.
Nagin and other regional officials had warned residents to get out of town or it would be the "worst mistake of their lives," and this time people heeded the warning. New Orleans' streets were empty with only a handful of hardy gamblers staying behind.
The last stragglers hurried into Union Passenger Station Sunday, the central location for evacuees catching some of the last buses out of the city.
Miriel Right, who has lived in uptown New Orleans for more than 40 years, was unloading her truck with the help of her seven family members – including a 2-month-old baby.
"I'm nervous," said Right, whose home was flooded in Hurricane Katrina in 2005. "But I love New Orleans, so I'll come back."
Inside the train station, volunteers and members of the National Guard processed evacuees, provided water and food and helped the disabled onto the buses.
Several families who had intended to ride out the storm in their homes told ABCNews.com that it was Nagin's heated press conference Saturday evening that pushed them to leave.
"You scared the hell out of me," one woman shouted at Nagin, who stopped by the station to see some of the last buses off.
"You've got to go," Nagin said to the evacuee. "We'll get you back quick."
Turning to reporters, Nagin didn't seem fazed by the outburst, saying, "Hey, it's one less person to have to rescue."
According to Nagin's estimates, between 14,000 and 15,000 people had been evacuated with the city's help as of this morning. Approximately 400 wheelchair-bound residents were moved during the night Saturday.
Late today, it was estimated that as many as 1 million people have fled the Gulf Coast.
"It was absolutely the right message to send," Nagin told ABCNews.com of his remarks Saturday, which included warning residents that if they stuck around despite evacuation orders they would "be on their own."
A dusk-to-dawn curfew imposed by Nagin will go into effect this evening and will continue until the storm passes. Similar preparations are under way in neighboring states: Mississippi, Alabama and Texas have all instituted mandatory evacuations for several areas that may be hit by Gustav.
President Bush has also declared a state of emergency in all four states likely to be affected by the hurricane.
Evacuees Flee New Orleans by Bus, Train, Car
From Union Station, evacuees left on buses – most of which were headed to northern Louisiana – and also Amtrak trains, operated by FEMA – the last of which pulled out of the station late this afternoon heading for Memphis, Tenn. Thousands of others were flown out of the city on government-funded chartered planes.
Paul Finholt was hoping to catch the last train out of New Orleans – and, quite literally, his life depends on in.
"I have retina cancer," Finholt said. "And I have to have emergency surgery in Memphis."
"The chemotherapy didn't work and if I don't get the surgery the cancer could spread," said Finholt, who has been sick for two years.
Despite his situation, Finholt said he wasn't too worried.
"I'm very religious, so I count on God to get me through," he said.
To the side of the lines of evacuees ready to board buses, Talmadge Toney Jr. sat, waiting.
"I'm trying to figure out how to get out of here," Toney said. "During Katrina, my house in the Ninth Ward was 17 feet under water."
But like so many who have fled their homes this weekend, Toney says he'll come back.
"I'll come back – I was born and raised here," Toney said.
Authorities and volunteers seem so pleased with the way evacuation efforts went they've begun to prepare for the storm's potentially devastating aftermath.
In a press conference this morning, Nagin had harsh words for anyone thinking about looting after the storm.
"Looting will not be tolerated," Nagin said. "We have doubled our police force. We have doubled the National Guard Force we had for Katrina and looters will go directly to jail."
The days and weeks following Hurricane Katrina saw an onslaught of looters and crime, an aspect of the storm nobody wants to see happen again.
"I want to make sure that every looter understands that you will go directly to Angola Prison and god bless you when you go there," Nagin added.
Authorities, Residents Agree: Evacuation Is Going Smoothly
Jim Guidone, an American Red Cross volunteer, said he thinks Nagin's impassioned statements have done their job: People are leaving in droves.
"The tone was incredibly serious – to get out," Guidone said. "It's working."
Working so well that Guidone already has been able to secure 3,000 volunteers on the perimeter of New Orleans to re-enter the city as soon as it is safe after the storm. There are 500 shelters around the city already prepared with supplies and food.
"As soon as they say, 'Get in,' we're in," Guidone said of the Red Cross' first response team.
Guidone, who was in New Orleans during Katrina, said compared to three years ago things are going much smoother.
"People can't believe it's happening again, and a lot of them are upset and simply need a hug," he said.
"But the lesson has definitely been learned – they're leaving."