The seaside community that inspired the name of Bruce Springsteen's first studio album, "Greetings from Asbury Park, N.J.," is no stranger to adversity. There were the race riots in 1970 and a depressed local economy throughout the '80s, when lifelong residents say it felt like the world had forgotten their historic architecture and white beaches.
Interested in
?
Add as an interest to stay up to date on the latest news, video, and analysis from ABC News.
Now, after Superstorm Sandy touched down in the longtime tourist destination a year ago today, some locals are hoping to say farewell to the hard times for good.
"When Sandy hit the main floor of Langosta Lounge, the frames of all of the floor-to-ceiling windows facing the ocean blew in," said Marilyn Schlossbach, a chef and restaurateur whose four properties inside of a beach pavilion along the Asbury Park boardwalk were shut down for months by the storm. "It carried everything inside: sand, water, glass, metal and wood. It was crazy."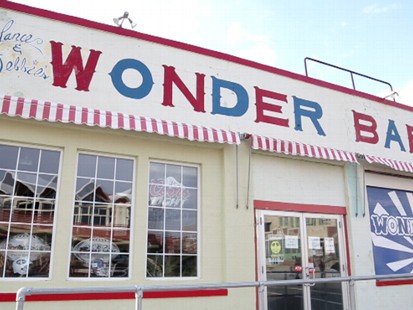 A few doors down, The Silverball Pinball Museum's front-facing windows also fell, allowing inches of water to creep beneath the arcade machines, including a Baffle Ball that dates back to 1931.
"We were lucky in that none of the machines were destroyed, just the front of museum," manager Dan Toskaner said.
But outside, roughly 66,000 square feet of boardwalk sustained damage from the storm. And while local efforts to clean up were immediate, communication about what was open didn't always follow. So depending upon which business owner you speak to, 2013 was either the best or the worst summer ever.
"We were closed for six weeks, cleaning up and renovating the front," Toskaner said. "But even after that people assumed we were closed because it was unclear where on the beach you could go. Finally, by August things started to feel a little more normal but now we're back to the dark months."
Storied music halls like The Stone Pony set further back from the water only suffered minor damages to its outdoor deck, otherwise escaping Sandy unscathed. So the venue hosted myriad fundraisers for those who weren't as fortunate. Regular programming also proved profitable.
"Our summer stage had a phenomenal summer, a record-breaking season actually," Caroline O'Toole of the Stone Pony said. "We had two sold out shows by the Gaslight Anthem, The Dropkick Murphy's came and we had a throwback to the '90s show with Sugar Ray. A lot of people who came through here said it was out of support for what had happened during the storm."
For a time, Debbie DeLisa, manager at the Wonder Bar, dedicated the bar's interior to donations for animals displaced by Sandy.
"It was amazing, we received donations from all over the country," she said. "We had blankets and dog food piled from the floor to the ceiling."
And once the electricity was restored, DeLisa told ABC News, the renowned bar was busier this year from curious tourists who wanted to support local businesses that they remembered from their childhood.
"Asbury Park has a built-in kind of cool factor, so it attracts your itinerant musicians in their 20s as well as surfers and artists," said Dallas Hlatky of local hospitality group Smith, which operates a handful of hip restaurants and bars in the city.
At Porta, the group's popular pizzeria restaurant based in a warehouse, the once casual after-hours dance parties instantly became packed with night crawlers who were unable to revel at their regular clubs down the shore.
"There were lines outside night after night," she said. "I couldn't believe it."
Doug Volan, owner of a 2-year-old coffee shop in the downtown area, also reported seeing a lot of new faces this year.
"It was great, it felt like a very busy season," he said.
For chef and restaurateur Schlossbach, the road to victory took much longer, with the last of her four shuttered businesses, Pop's Garage, finally reopening two weeks ago.
Not long after, Rep. Frank Pallone Jr. announced that a $3.6 million grant from the Federal Emergency Management Agency had been designated to repair damage sustained to the Asbury Park Boardwalk.
"There are pieces of wood and glass from the destroyed boardwalk and restaurants that have been reclaimed and repurposed throughout the new spaces," Schlossbach said. "I thought it would be positive to try to take what happened and create something for the future."
She planned to host a bonfire outside the front of Langosta Lounge tonight as part of a "Sandy Release Party" to let go of all of the hardships of the past year.
"Sometimes, it was very hard to just get out of bed and deal with all of this," she said. "People can be very out of sight, out of mind. But if you focus on that, it just crushes you.
"And at the end of the day, I couldn't picture working this hard anywhere else where I wouldn't have a view of the ocean like I do here."