This Is Not Your Mom's Hawaiian Pizza
At Hanalei Pizza in Kaua`i, the dough contains surprising ingredients.
December 29, 2013, 1:00 AM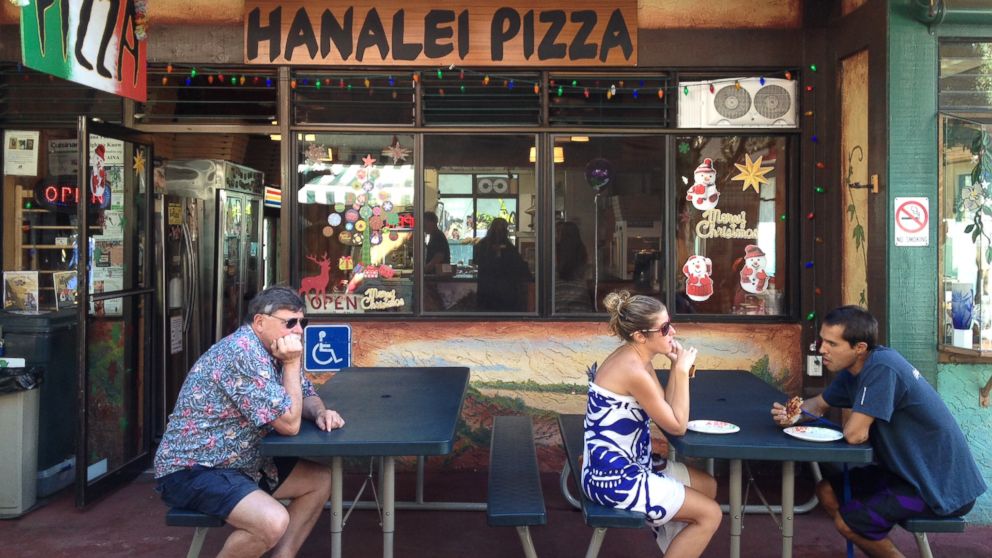 Dec. 29, 2013— -- While pizza is considered an all-American favorite, the regional differences in preparation from city to city are varied and unique. From the deep-dish pans of Chicago to the thin-and-chewy slices of New York City, to the tomato pies that hail from Trenton, N.J., local tastes often dictate specific recipe tweaks to the Italian forbear.
So perhaps it should be unsurprising that at Hanalei Pizza, an unassuming pizzeria tucked inside of the Ching Young Village Shopping Center in Hanalei, Kaua`i, owners Kathy and Karlos Detreaux have kneaded their dough with what many consider a central ingredient on Hawaiian menus.
"Our crust is made with coconut water," a blackboard above the open kitchen announces.
Not only that, but also "hemp oil, hemp seed, flax seed, flax flour, flax bran, poppy seed, chia seed, whole wheat flour, and high protein flour."
While the combination of so many seeds, flours and coconut water initially gave this reporter pause, the crust proved to be pleasantly thin, with a crackling, charred bottom and slight chew to the center. It stood up to the weight of the cheese and toppings, providing textural contrast, and there was no discernible aftertaste.
But those who are curious should be prepared to work up an appetite. In keeping with what tourists dub "island time," Hanalei Pizza pies appear at a leisurely pace throughout the day.
"We are not known for our speed!" the blackboard states.
Pies can take 30 minutes or more to prepare, a cashier told ABC News. As a result, hungry walk-ins are subject to whatever combinations are available in the display case. Fortunately, those are often as creative as the dough.
The "Wild Pig" layers mozzarella and tomato sauce with local kalua pork cooked in an underground oven, sweet Maui onions, caramelized onions and roasted garlic for $34.95 per large pie. Meanwhile, the "Hamakua" loses the red gravy to make room for Maui Hamakua oyster mushrooms, Kalamata olives, caramelized onion, roasted garlic and Parmesan cheese, also $34.95.