Steve Hall of Murfreesboro, Tenn., was talking football with his fellow passengers Monday on a flight from Nashville to Baltimore when suddenly they were interrupted by what Hall described as "a very loud pop."
The cause, it turned out, was a gaping hole in the plane itself, two rows away from Hall's seat.
Watch "World News With Charles Gibson" tonight at 6:30 ET for the full report
"The pressure drop was obvious and pretty immediate, and the oxygen masks dropped," Hall told ABCNews.com today. "Everybody was a little squirmy of course."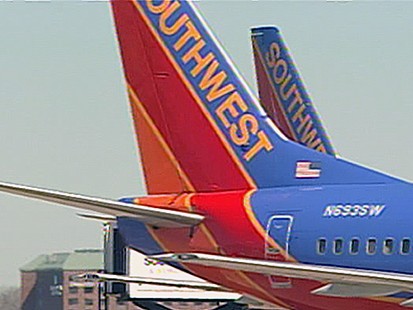 "It sounded kind of like if you blew up a bag and popped it, and it just made that really loud noise," passenger Erin O'Donovan said today.
"All we cared about -- all I cared about -- was 'Let's start moving down,'" Hall said.
Hall and O'Donovan were among the 131 people on board Southwest Airlines flight 2294 Monday when it was forced to make an emergency landing.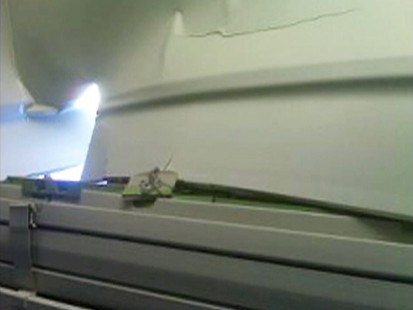 The 737-300 plane landed safely at Charleston, W.Va.'s Yeager Airport. No one was injured during the scare.
Another Southwest Plane Reports Mid-Air Problem Tuesday
Today, a different Southwest plane landed safely at Orlando International Airport after a false alarm. A light onboard reportedly indicated a fire, but no problems were found once the plane landed. Flight 3238 -- also a Boeing 737 -- was carrying 129 people already headed for Orlando. All of them disembarked safely on the runway rather than at the gate.
Meantime, Southwest is trying to figure out what caused the hole to open in the fuselage about 30 minutes into Monday's flight. According to Southwest, the plane was last inspected in January 2009.
Last night Southwest began inspecting all 180 of its 737-300-series jets.
"Inspections of all our 737-300's were completed last night with zero findings," the airline announced today. "There were minimal delays to our operation this morning due to those inspections," said the airline, adding that fewer than 20 flights were delayed, each about 30 minutes. "We are still working with the NTSB on a cause."
"We're working as quickly as possible to figure out what happened to this plane," Federal Aviation Administration administrator Randy Babbitt said in a Tuesday statement. "We'll be looking closely at all the FAA safety directives that applied to this aircraft, as well as the plane's maintenance history."
On Tuesday, Continental also said it has 20 jets of the same type and will be inspecting them over the course of the next week.
Southwest Emergency: Experts Recall Aloha Accident
Investigators are now trying to figure out why the plane suddenly came apart. Likely problems could include metal fatigue, corrosion, a scratch, or damage to the fuselage during maintenance.
Today former National Transportation Safety Board member John Goglia told ABC News we should be very concerned about Monday's incident.
Goglia highlighted the similarities to the Aloha Airlines accident of 1988, when a 737 peeled apart at 24,000 feet. That was when the Federal Aviation Administration realized older planes could suffer metal fatigue and needed frequent inspections.
"I'm really outraged that this happened," said Goglia, a former aircraft mechanic. "Haven't we learned anything since Aloha?"
"I say these passengers were lucky because there's no guarantee that when you start to rip skin apart, it's going to stop where it did," Goglia also said.
Goglia also expressed concern that just last year, Southwest was slapped with an historic $10.2 million fine, later reduced to $7.5 million, for failing to follow rules to ensure aging aircraft were not falling apart at the seams.
The fine came when it was discovered that Southwest had failed to inspect 46 of its Boeing 737's as required. The mandatory inspections were designed to uncover any cracks in the body of a plane. When the airline finally did inspect the planes, it found cracks in six of them.
Raising questions about Southwest's maintenance again today, Goglia questioned whether there are continued problems with the airline's maintenance of older aircraft.
"There was just a multi-million dollar fine paid by this airline because they missed inspections -- just these very kinds of inspections," Goglia said.
"Southwest Airlines has an exemplary safety record that always is our focus," Southwest spokeswoman Whitney Eichinger responded today in a statement. "We are actively engaged with the NTSB in finding the cause of this incident and assuring that it does not happen again. We applaud our pilots and flight attendants for their expert handling of this situation and our customers for their cooperation."
Other Boeing planes have also experienced problems with cracks in the fuselage. In 2002, a China Airline's Boeing 747-200 broke up in mid-air due to a crack, killing all 225 people onboard. It was later determined the plane hadn't been repaired properly years earlier.
In September 2007, a 30-inch fracture in the fuselage of a China Airlines Boeing 737-300 was found during an inspection after the plane landed.
Today, Hall credited the flight crew and passengers on Monday's flight for remaining "very cool" during the emergency, and said, "the plane never, like, shuddered or went out of control."
"It was a little bit nerve wracking," O'Donovan said. "But we felt safe the whole time because the whole crew seemed very comfortable with what was going on and certainly didn't raise the panic level with the passengers at all."
Southwest today is refunding passengers the cost of their tickets on flight 2294, in addition to the thanks it gave them last night.
"They bought us pizza," Hall said. "We got a little bit more than the typical bag of peanuts."