Travelers heading out of town early for the Christmas holiday were dealt a mighty blow as heavy snowfall pelted the mid-Atlantic states.
More than 1,200 flights were canceled today at seven major airports, and the effects rippled out throughout the country.
The Chicago Bears flight to Baltimore was canceled at 12:30 a.m. Saturday morning because of the winter storm, according to ABC News affiliate WJLA in Baltimore. The Baltimore region was expecting more than 10 inches of snow.
Canceled flights and stranded motorists beset the Northeast Saturday on the last traffic-heavy weekend before the Christmas holiday. Up to 20 inches of snow have blanketed the region.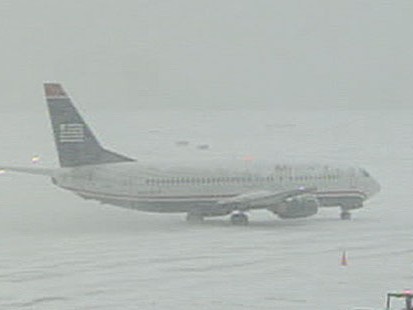 All flights serving Reagan Washington National and Baltimore Washington International (BWI) airports were canceled.
Marisa Morin said she arrived at National airport today for a 9:30 a.m. flight to New Hampshire but said Tuesday probably will be the earliest she can get back home.
"The storm is going to move up to where I live, and I won't be able to land. That will be awful," said Morin, a Georgetown University freshman. "They were supposed to have flights [Sunday] morning, but they said those will probably be canceled. So I am keeping my fingers crossed."
Officials said National will reopen Sunday at 6 a.m. at the earliest. As of 2 p.m. today, nearby BWI was shut down, with more than 150 departing flights canceled earlier in the day.
Flights at the D.C. airports will be operating by 9 a.m. Sunday. But officials did not expect affected Washington-area passengers to be fully accommodated until Monday, officials said.
Even the president was sideswiped by the inclement weather: After landing at Andrews Air Force Base in suburban Washington today from climate control talks in Copenhagen, President Obama rode in a motorcade back to the White House instead of taking his usual helicopter because of the treacherous conditions.
Passengers Stay Calm When Flights Are Canceled
Sharon Ledgister-Reid and her 3-year-old son, Maximillian, were headed to Jamaica for Christmas break when they were told that their flight had been canceled. They arrived at 5 a.m. for an 8 a.m. flight out of National.
The Jamaica native said that she wasn't upset that she had not received a call from the airline telling her that her flight had been canceled.
"You're using logic," Ledgister-Reid said. "I have no idea, we're just trying to go with the flow. ... As we say, there's nothing we can do. Getting upset doesn't help the situation, so bring your patience."
Other passengers could also be seen taking the flight delay in stride.
Tye Trethewey wore shorts and flip-flops while waiting for his flight to Charlotte, N.C. He was calm about his flight's status.
"It's standby, maybe, possibly," he said, as he picked up a slice of pizza.
Other airline updates, as of early afternoon Saturday:
Continental: Eighty mainline flights were canceled, and about 20 more were expected to be canceled by the end of the day.
United: More than 500 flights were canceled, including flights scheduled to arrive in New York, Newark, N.J., Philadelphia and Boston airports. United urged customers to check the Web site rather than call because passengers should be automatically rebooked and that should be reflected online. Special attention was being paid to Sunday travel out of D.C., including operating "extra" flights in the morning.
Delta: More than 500 flights were canceled, primarily in the Washington, D.C., area, Richmond, Va., and Philadelphia. International flights were the main concern in the New York area, as snow moved in. Delta said it would allow customers to change their flights without penalty. The airline canceled all its flights from the three Washington airports and from Richmond and Philadelphia on Saturday. The airline expects to resume operations at those airports Sunday morning or afternoon.
Air Tran: Eighty-six flights were canceled.
JetBlue: Out of 678 total flights, 176 flights were canceled. JetBlue already had canceled 44 departures from Boston originally scheduled for Sunday morning.
Southwest Airlines: Flights were suspended for the rest of the day in Philadelphia, BWI and Dulles, with 381 out of 2,400 flights canceled Saturday. First flights out Sunday also were expected to be affected because late flights today were not able to get in, and those are the planes that go out in the morning. "It could be 36 hours before we get everyone where they need to go," an official said.
American Airlines: There were about 125 systemwide weather-related cancellations Saturday in Washington and Philadelphia, with more expected Sunday as the airline assesses the situation.
US Airways: So far, no cancellations are expected Sunday, but 181 mainline flights were canceled Saturday.
Precautions Taken Even Before Blizzardlike Storms Began
The airlines were closely watching the storm and holding storm conference calls to plot their moves before Saturday. A handful of flights had already been canceled Friday. Given the deteriorating weather conditions, the airlines knew they would not be able to get every flight out, so they began "thinning" their schedules.
Airlines also were starting to institute their "no change fee" rules for bad weather. If travelers want to change their flights, they generally could do so without penalties. Some will allow that through Saturday, some through flights on Sunday.
The storm could not come at a worse time for travelers. Flights are very full and getting more packed as Christmas approaches.
American Airlines said that its flights Friday and Saturday are already at 80 percent capacity. That did not leave much room on the planes for passengers displaced from canceled flights.
In New York, Delta planned to run operations through early afternoon Saturday and then start canceling flights. The goal at JFK was to keep all the international flights up and running.
As always, check with your airline for the most up-to-the-date information.