— -- Forty vehicles crashed into each other during a massive pileup today that completely shut down highway I-74,in southeast Indiana, according to Indiana State Police's Versailles District 42 Office.
A "sudden squall of heavy snow caused whiteout conditions" on the highway near the Indiana-Ohio state line around 11 a.m. today, according to Indiana State Police Sgt. Stephen Wheeles.
Wheeles told ABC News today that a semi-tractor trailer jackknifed because of the slick conditions, causing an initial pileup of about 30 vehicles. A second pileup involving about 10 vehicles happened less than a quarter mile behind the original one, Wheeles said.
"Six people on scene were transported to local area hospitals for non-life threatening injuries, which is amazing, considering the circumstances," Wheeles said. "The first pileup involved mostly commercial vehicles, and a lot of trucks were left in pieces. There's quite extensive damage on most vehicles in the pileup, and some are completely totaled."
The officer added that both eastbound and westbound lanes of I-74 were closed for hours. Officials re-opened the eastbound lane around 5:30 p.m. local time, however, the westbound lane is still closed, even though the vehicles involved in the accident have been removed.
Driver Sean Selman, who said he saw the crash unfold before his eyes, told ABC affiliate WCPO that a "wall of snow" appeared and he tried to veer off towards the median to miss the pileup, but he hit one of the trucks.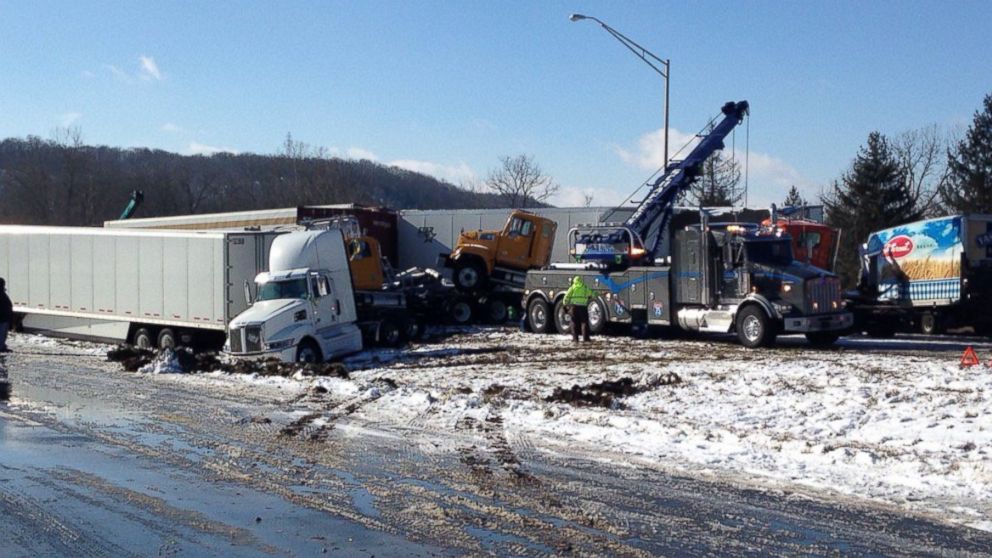 "As soon as I hopped out, semi (trucks) just kept coming and slamming into the pile," Selman told WCPO. "There were cars trapped under where they were hitting."
Selman added that he and other motorists attempted to talk to some of the other drivers who were pinned in their vehicles.
"There was a trucker that was pinned pretty bad, but we were talking to him," he said. "I crawled under the next trailer, and there was a car underneath that -- started talking to him."
The Indiana State Police has received over 100 calls for service since midnight today, mostly as a result of slick road conditions, the department said in a news release.
Police added that drivers traveling in winter weather should "be sure to allow extra following distance between yourself and the vehicle in front" of them.