Over 70 feared dead as 22 reported tornadoes rip through South, Midwest
Kentucky likely saw its deadliest tornado system ever, the governor said.
December 11, 2021, 7:45 PM
A devastating tornado outbreak has killed dozens of people across multiple states, with Kentucky possibly seeing its deadliest tornado system ever, officials said.
As many as 70 people are believed to have been killed in western Kentucky, and the death toll could exceed 100, according to Gov. Andy Beshear. Those numbers "could rise significantly," he said Saturday afternoon.
"This has been the most devastating tornado event in our state's history," Beshear said during a Saturday morning press briefing. "For those that have seen it, what it's done here in Graves County and elsewhere, it is indescribable."
"This will be, I believe, the deadliest tornado system to ever run through Kentucky," he added.
The Associated Press has confirmed the deaths of 22 people in Kentucky from the storms, as search and rescue missions are ongoing.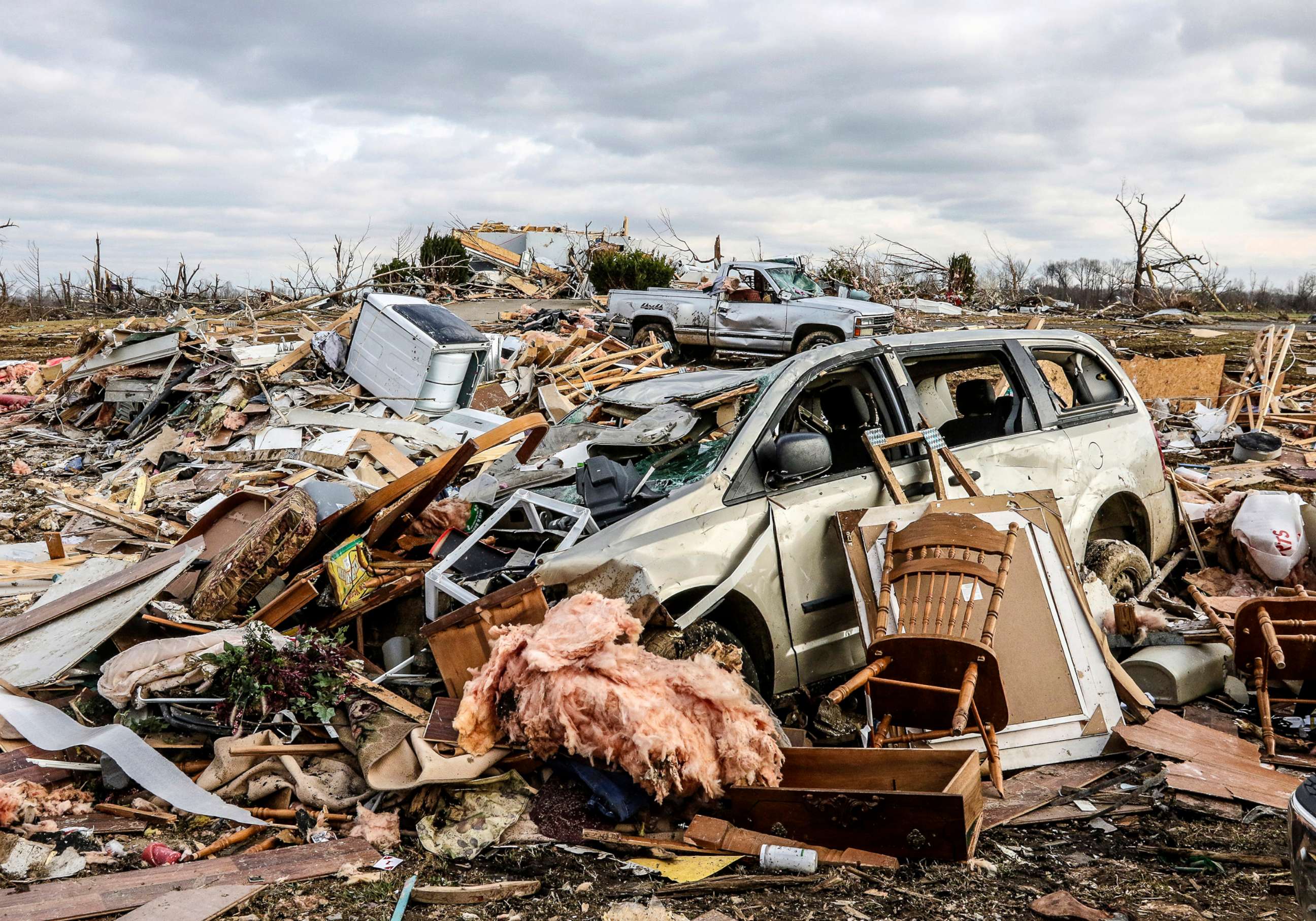 "Dozens" were killed at a candle factory in Mayfield, where 110 people were working when the storm hit Friday night, Beshear said at a 4 a.m. press conference. Around 40 people were evacuated, although the facility had major structural damage from the storm and housed dangerous equipment, he said late Saturday morning.
"It's a very dire situation at this point," Beshear said. "I think the largest loss of life in this tornado event is and will be there."
It will be a "miracle" if anyone is found alive at this point, he said during a briefing Saturday afternoon.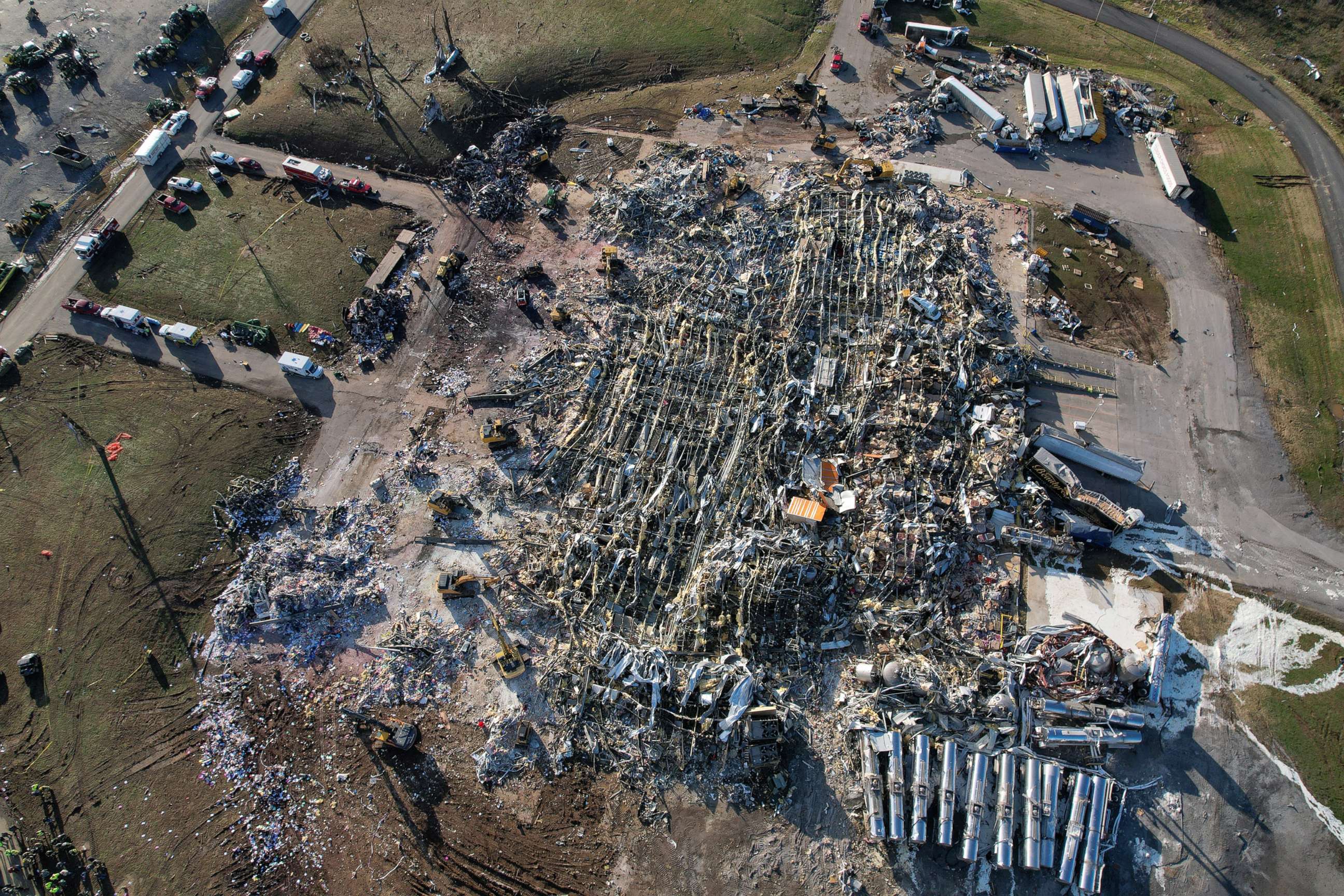 One tornado potentially was on the ground for 227 miles, Beshear said, devastating towns like Mayfield and Princeton late Friday. At least four tornadoes tore through western Kentucky.
"A good portion of Dawson Springs is gone," the governor said of his father's hometown.
"One block from my grandparents' house, there's no house standing," Beshear said. "We don't know where all those people are."
Beshear has activated the National Guard, with 181 guardsmen deployed for search and rescue and recovery operations.
"We will get ... through this, we will rebuild," Beshear said early Saturday. "We are strong, resilient people, and we will be there every step of the way."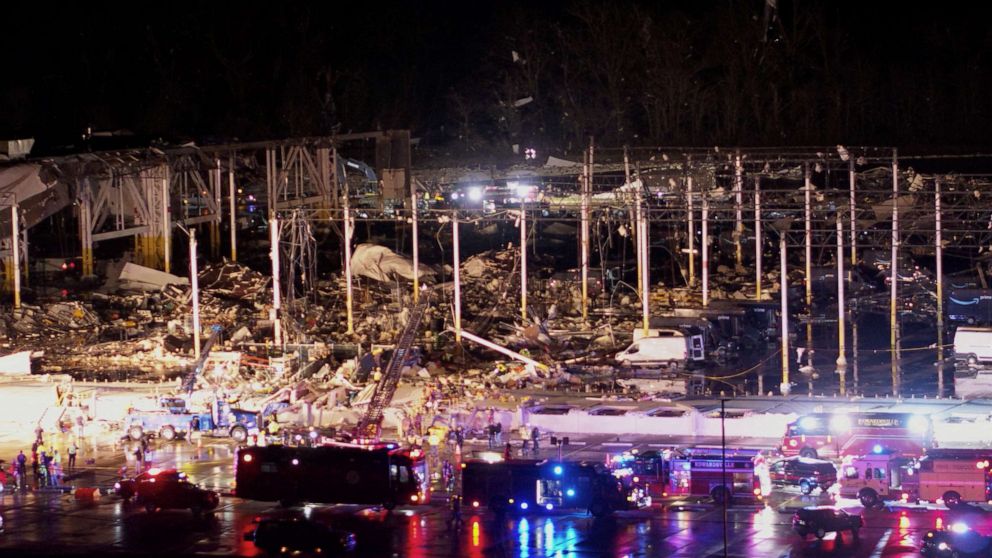 In southern Illinois, in Edwardsville, an Amazon distribution warehouse was hit by a tornado, causing massive damage to the facility, officials said. The EF-3 tornado had peak winds of at least 155 mph, according to the National Weather Service.
At least six people died in the collapse, Illinois Gov. J. B. Pritzker said Saturday evening. One person was receiving medical treatment, he added, with the effort shifting to a search and recovery mission.
"This is a tragic day in Illinois history," the governor said during a press briefing.
Several dozen workers were able to escape from the building on their own, Edwardsville Police Chief Michael Fillback said Saturday morning.
In a statement Saturday night, Kelly Nantel, an Amazon spokesperson, said: "We're deeply saddened by the news that members of our Amazon family passed away as a result of the storm in Edwardsville, IL. Our thoughts and prayers are with the victims, their loved ones, and everyone impacted by the storm. We also want to thank all the first responders for their ongoing efforts on scene."
Amazon said emergency safety training in case of tornadoes is given to new employees and repeated throughout the year.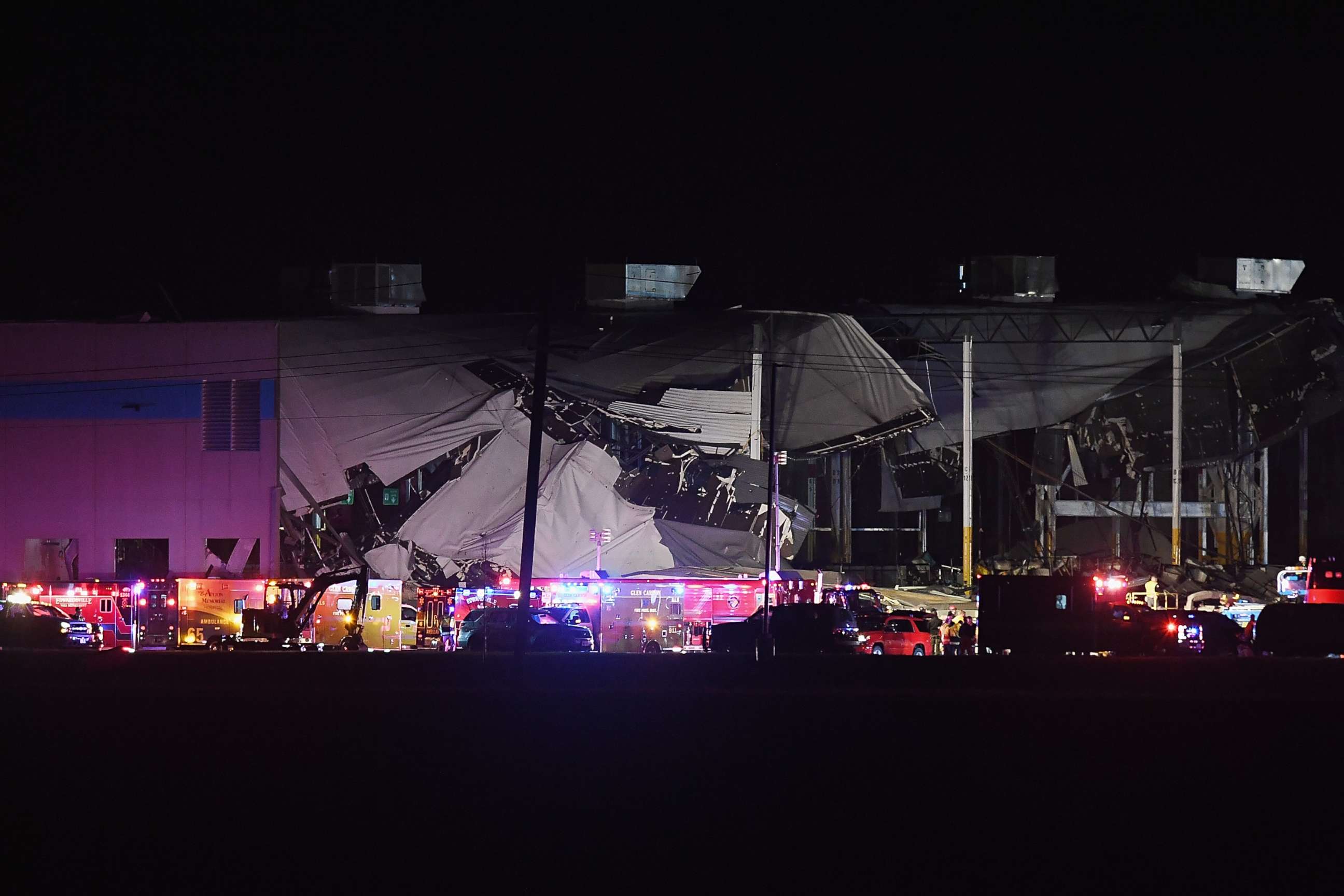 In Tennessee, four people died as a result of the storms, Tennessee Emergency Management Agency Chief of Staff Alex Pellom said. Another person remains missing in Lake County, he said.
There were at least 22 reported tornadoes across six states: Arkansas, Kentucky, Illinois, Mississippi, Missouri and Tennessee. In addition to Edwardsville, two EF-3 tornadoes were confirmed in Bowling Green, Kentucky, and near Defiance, Missouri, according to the National Weather Service.
A powerful supercell thunderstorm traveled more than 200 miles Friday night, from Arkansas to Kentucky, and likely spawned several large, strong tornadoes across four states.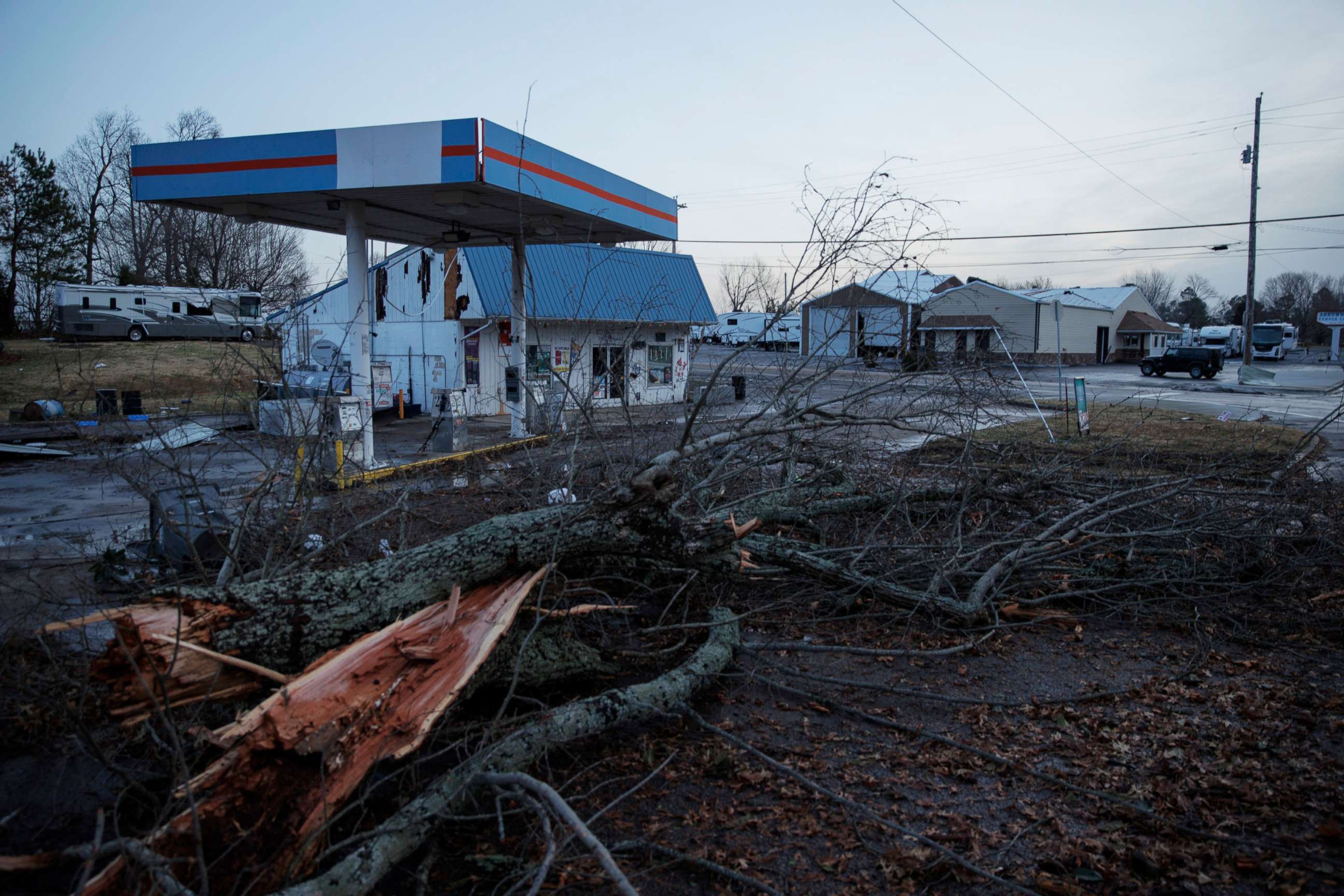 Michael Dossett, director of Kentucky's Division of Emergency Management, compared the storms to the April 1974 outbreak that spawned hundreds of tornadoes across several states and killed more than 30 in Kentucky alone.
"Rescues and search efforts are ongoing -- even before the wind stopped blowing, crews were out working," Dossett said Saturday morning.
Despite a COVID-19 surge in Kentucky, Beshear said hospitals were in good shape.
The governor declared a state of emergency and submitted a request for a federal emergency declaration. President Joe Biden approved the emergency declaration, which applies to 15 impacted counties, Saturday afternoon.
The White House said Saturday it is in touch with state and local officials and will provide the federal government's "full support as needed."
"To lose a loved one in a storm like this is an unimaginable tragedy," Biden said on Twitter. "We're working with Governors to ensure they have what they need as the search for survivors and damage assessments continue."
During a press briefing Saturday, Biden said this was likely "one of the largest tornado outbreaks in our history."
"We're going to get through this together and the federal government is not going to walk away," Biden said. "I say to all the victims, you're in our prayers."
Department of Homeland Security Secretary Alejandro Mayorkas also pledged assistance to people affected by the tornadoes.
"Heartbreaking devastation and loss of life from tornadoes and severe weather across the Midwest and South," he said on Twitter, adding that DHS and FEMA "stand ready to assist the people of Kentucky, Arkansas, Illinois, Missouri and Tennessee."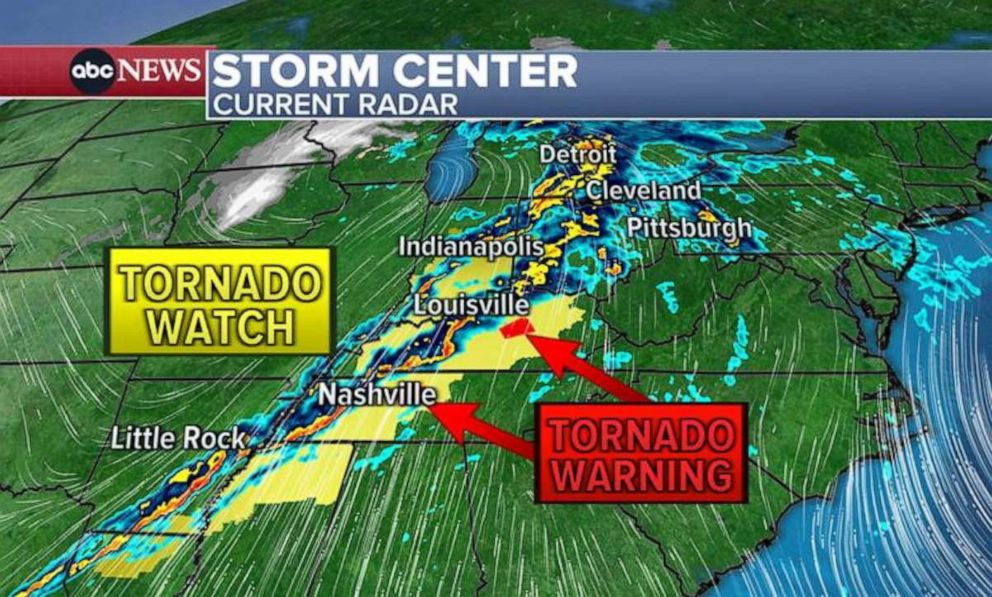 In Madisonville, Kentucky, a train derailment was caused by the storms, though no injuries were reported. The freight train was carrying hazardous materials, Beshear wrote in his letter asking for a federal emergency declaration.
The storms caused tornadoes to form in the early evening hours west of Kentucky.
Shortly before 7 p.m. local time, a "large and extremely dangerous tornado" was confirmed near Jonesboro, Arkansas, moving northeast at 60 mph, according to the National Weather Service.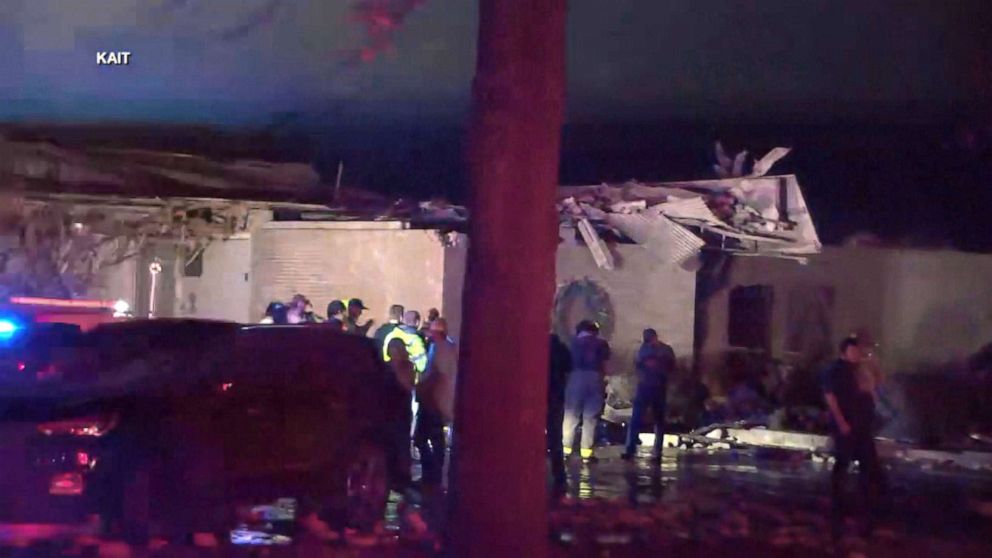 A tornado near Hornersville, Missouri, was on the ground at about 8 p.m. local time. Tornadoes were also confirmed on the ground in Mayfield, Kentucky, at about 9:30 p.m. local time and in Princeton, Kentucky, just after 10 p.m.
There were reports of two people dead after a tornado moved through northeast Arkansas, according to Gov. Asa Hutchinson. One person was killed at a nursing home in Monette when a suspected tornado moved through Friday night, Craighead County, Arkansas, Judge Marvin Day told Jonesboro ABC affiliate KAIT. Authorities had initially said two people were killed. Five others suffered serious injuries.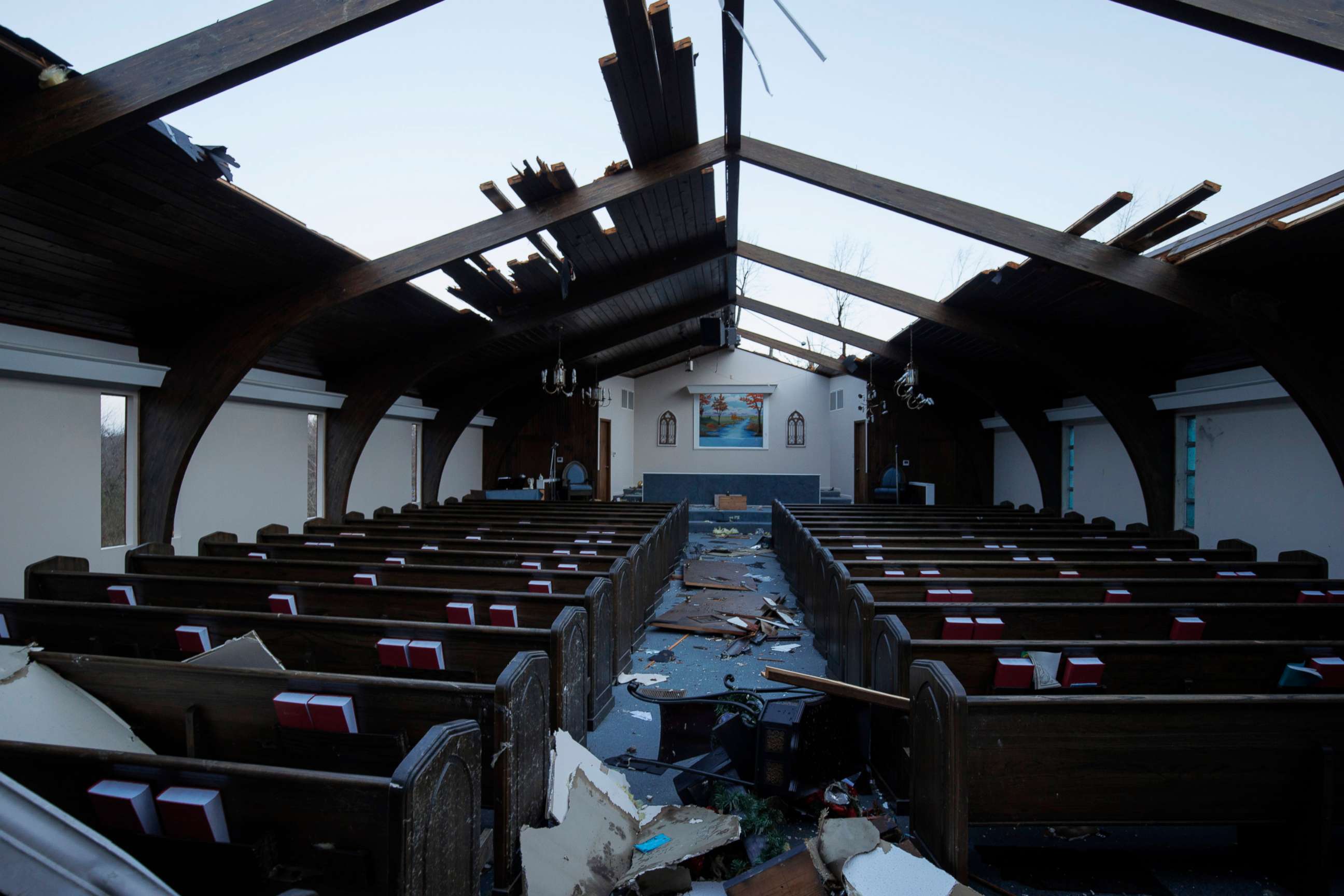 FEMA was advising residents from east-central Mississippi to extreme southwestern Virginia to stay vigilant as the storm system moved east.
As of 7:30 p.m. Saturday, more than 437,000 customers were without power across Tennessee, Michigan, Kentucky, Indiana and Arkansas.
ABC News' Victoria Arancio, Ahmad Hemingway, Matt Foster, Hope Osemwenkhae and Matthew Vann contributed to this report.