A rookie police officer in central Florida has been fired after Tasering a teenager at his request during a birthday party where police say adults and teens mingled over alcohol.
And all of it was caught on tape.
Dan NeSmith, 22, lost his job with the Eustis Police Department in Florida, but won't face charges for Tasering 15-year-old Taylor Davis in the back last month. Prosecutors say NeSmith could be charged for hosting a party for minors where alcohol was served, a second-degree misdemeanor in Florida.
Eustis Police Chief Fred Cobb told ABCNews.com, of the 40 to 50 people at NeSmith's home in the town of Leesburg, about 20 of them were younger than 21. The birthday boy was 19.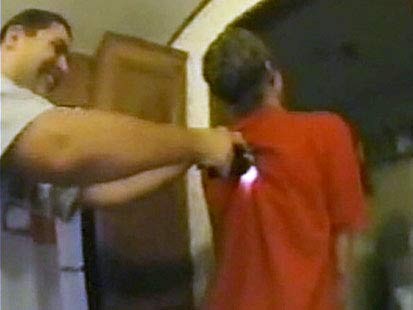 "At some point during the party, the topic of the Taser came up and the 15-year-old expressed his desire to be [Tasered]," Cobb said. "Officer NeSmith opted to show him what it was like."
Neither Davis nor his mother could be reached for comment today. But Cobb said Davis was seen on a television report laughing about it, saying that Eustis police had overreacted and that it was a lifelong goal to be Tasered.
The video shows NeSmith putting the weapon to Davis' back and firing. After visible electrical currents shoot into the teen, he falls forward; NeSmith still holds the Taser to his back. Police later observed the tell-tale three-pronged mark of a Taser on Davis' back, along his spine.
"It's almost like they got caught up in the moment," Cobb said.
The police report identified Bryan Snell as the person who shot the video of the incident. A message left at the Snell residence in Tavares, a few houses away from the Davis house, was not immediately returned.
NeSmith did not immediately respond to a request for comment, made through the Eustis Police Department.
Firing a Taser inappropriately is not illegal, the chief said, but it violated department policy.
Several Eustis police officials heard rumors about the incident and when NeSmith was called in for questioning, he didn't deny it, Cobb said. He was suspended with pay for a little less than a month while the department's Officer of Professional Standards investigated. He was officially fired Oct. 8.
The Lake County Sheriff's Office, which has jurisdiction in Leesburg, located about 45 miles northwest of Orlando, is contacting the parents of the underage party attendees and will "look into the incident," Sgt. John Herrell told ABCNews.com.
Cobb said senior department officials had, more than once, spoken to him about NeSmith's professionalism and maturity before the Taser incident. Officers in Eustis are encouraged to experience a Taser shock before carrying the weapon and NeSmith had gone through that training, Cobb said.
The police chief said NeSmith, a former sheriff's explorer, was an "outstanding young officer in so many respects. That's what kind of upset me about it."
Cobb said NeSmith, who was earning about $35,000 a year, had been on the job for 13 months. He reportedly told Cobb that he'd had one or two beers before the incident. He can be seen on the video, lucidly explaining to Davis what he would experience once the weapon is fired.
Cobb said NeSmith "offered no excuses" for the incident and acknowledged that it embarrassed the department.
A police report on the internal investigation said that NeSmith knew there were underage partyers at his house and that he tried to take alcohol away from those he saw drinking, but that he couldn't watch everyone.
Davis told police that several underage people had been playing beer pong at the party and that he and up to 15 others slept over at NeSmith's house that night.
NeSmith told police, according to the report, that he had not met Davis before the party. Davis' mother told police that she was initially mad about the incident, but later calmed down.
"She did not want the officer to lose his job," the report read, "and knew he would receive punishment."
While most police departments defend the use of Tasers and say they are used safely and appropriately all the time, their use has sparked controversy for years.
A Chicago man died Saturday after being Tasered by police. Officials said it appeared the man had been drinking and may have ingested narcotics an autopsy to determine exactly how the man died is pending. Last month, a New York Police Department officer used a Taser to subdue a naked man perched on a building ledge. The man fell headfirst to his death . The police lieutenant who ordered the Tasering shot and killed himself days later.
The Associated Press reports contributed to this story.