North Carolina's failure to repeal its so-called bathroom law, which limits LGBT rights and has sparked widespread boycotts and controversy, doesn't end the fight over the law also known as HB2, or House Bill 2.
Interested in
LGBTQ?
Add LGBTQ as an interest to stay up to date on the latest LGBTQ news, video, and analysis from ABC News.
The American Civil Liberties Union and Lambda Legal reminded the public in a news release Wednesday evening that they have filed a federal lawsuit challenging the law.
"The Legislature may not be willing to undo their unconstitutional overreach and respect the rights of LGBT people, so we'll just have to see them in court," said James Esseks, director of the ACLU's LGBT and HIV Project, in a statement. "These attempts to expel transgender people from public life will not be tolerated."
The ACLU, the ACLU of North Carolina, Lambda Legal and a private law firm are challenging the law in federal court on behalf of four LGBT North Carolinians and members of the ACLU of North Carolina, according to the ACLU statement.
The state law requires requires transgender people to use bathrooms and changing facilities, such as locker rooms, in public buildings according to the sex on their birth certificate, not their gender identity.
It also bars local municipalities from creating their own rules prohibiting discrimination in public places based on sexual orientation and gender identity.
HB2 was passed by the state Legislature in March and signed by Gov. Pat McCrory, sparking an immediate backlash, including boycotts and cancellations of major sporting events.
The NBA, for example, announced in July that it was moving its 2017 All-Star Game out of Charlotte over concerns about the law. Similarly, the NCAA announced in September it would relocate its 2016–17 season championship games out of the state.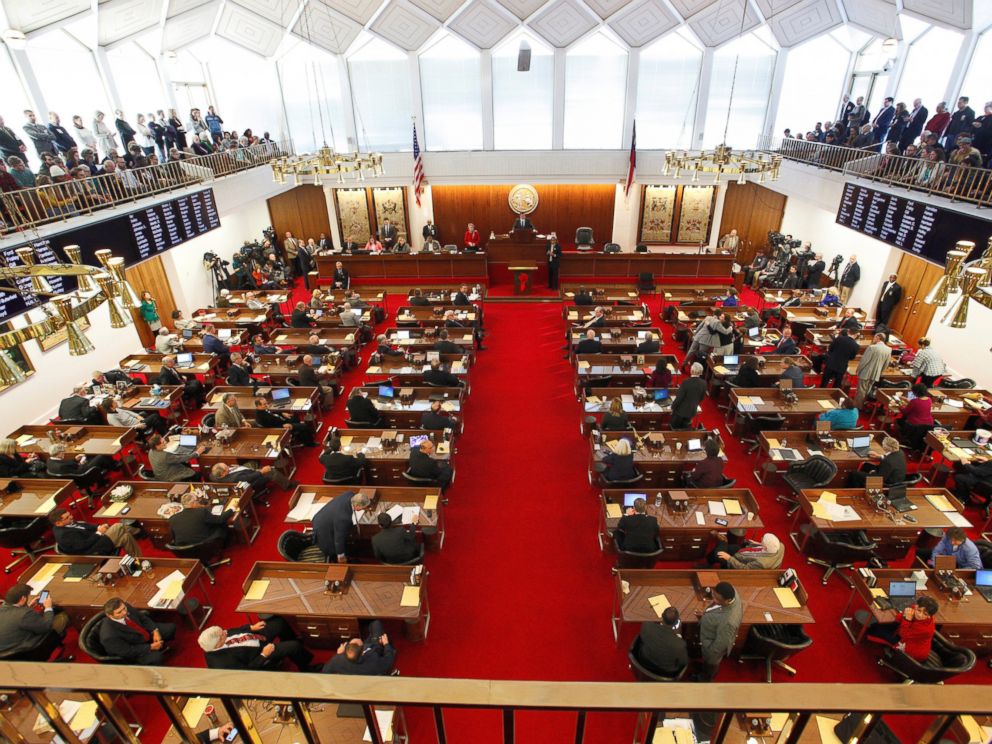 Many supporters of HB2 have argued that the law protects women and children from sexual offenders who, these supporters say, could falsely claim to be transgender to access bathrooms of the opposite sex.
LGBT advocacy groups have dismissed such arguments, calling the idea of a "bathroom predator" a myth.
The law became a main issue of contention during the gubernatorial race this year.
McCrory, the Republican incumbent, stood by the bill during the race, while Democratic challenger Roy Cooper -- who is now the governor-elect -- argued the bill should be repealed.
Election Day exit polls showed that 66 percent of North Carolina voters opposed HB2 while 29 percent supported it.
Cooper said this month, after McCrory conceded defeat in the race, that state legislative leaders had promised to hold a special session to repeal HB2 if the Charlotte City Council rescinded its LGBT anti-discrimination ordinance. Republican lawmakers said earlier this year they had passed HB2 as a way to challenge Charlotte's ordinance.
Charlotte rescinded its ordinance on Monday as part of the proposed deal, but the state's General Assembly failed to pass a bill repealing HB2 on Wednesday.
The City of Charlotte said in a statement today that while it was "disappointed with this unfortunate outcome, our commitment to maintaining and protecting diverse and inclusive communities remains unchanged."
Cooper said in a news conference today that he was "disappointed" the effort to repeal failed: "We have yet to remove the stain on the reputation of our great state that is around this country and around the world."
"Republican legislative leaders failed to live up to their promise," the governor-elect said, after he and his staff had "worked day and night over the past week to forge an agreement that would bring back the jobs and sporting events" the state had lost in the backlash to the law.
"It is a shame that North Carolina's General Assembly is refusing to clean up the mess they made," Esseks of the ACLU said. "The support for the LGBT community from political leaders, faith leaders, businesses, and everyday people that has emerged this year will not fade.