A former Oregon beauty queen is facing murder charges after authorities say that following years of abuse, she and her fiance killed the man's 5-year-old daughter last week.
Gaudalupe Quintero, 23, and her fiance, Christopher Rosillo, also 23, are both charged with the murder murder of Rosillo's daughter, Oleander Labier.
Police in Gresham, Ore., say they were called to the young couple's home on April 13, where they found Labier unconscious and not breathing. She was pronounced dead upon arrival at a hospital a short time later, police say. Investigators ruled that her death was due to "homicidal violence."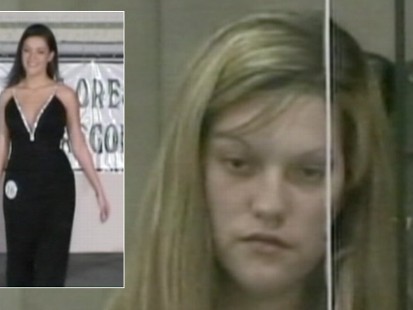 "I've been doing this job for 20 something years, and this is the worst abuse I've ever seen," Sgt. Rick Wilson, a Gresham Police Department spokesman, told ABC News.com.
Wilson said that he could not go into details on the child's condition or specific cause of death.
Four years ago, Quintero, who had been crowned Miss Clackamas County, was competing to represent Oregon in the Miss America Pageant.
Quintero is seen in a video of the 2006 pageant dressed in a long black gown with diamond straps and trim.
In the pageant's program Quintero wrote, "Never stop dreaming, dreams really do come true," according to a copy obtained by ABC News' Portland affiliate KATU.
Former Beauty Queen Accused of Murder
A family member of Quintero's, who asked not to be named, told KATU that they had called the state's Department of Human Services "at least twice to report that the girl was being abused."
Another neighbor told KATU that the little girl was so fragile they saw her wearing a feeding tube from time to time.
Labier is Rosillo's biological child and Quintero, who had two other children with Rosillo, cared for her. The two other children have been removed and placed into protective custody, according to Gresham authorities.
Quintero and Rosillo both entered not guilty pleas in Multnomah County Circuit Court Monday.
Attorneys for Quintero and Rosillo were not immediately identified.