— -- Turnout among African-American voters in some key early-voting states may be cause for concern for Hillary Clinton.
Florida and North Carolina, which are both critical battleground states in this election, have released racial data on early voters showing that they have so far accounted for a smaller percentage of people who had voted at this point before Election Day 2012.
"The fact is that the overall rate of black participation is somewhat more disconcerting to the Clinton campaign" than the Trump campaign, University of Florida political science professor Daniel Smith told ABC News today. "The question is whether or not we'll see a final surge of black turnout this coming weekend."
In North Carolina, black voters represented 27.3 percent of all early votes four years ago, but 22.5 percent of the early votes cast to date this year.
In Florida, there is a small portion of the early voters whose race is unknown, but of those that are, 520,000 African-American voters have voter early either in person or by mail so far this year, out of the 4.43 million residents who have voted in the state, Smith said.
That means that 11.7 percent of early voters are African-American, down from the 15.9 percent of black Floridians who voted early at this point in 2012.
The early ballot numbers so far in this election should, inherently, be smaller than the overall total from all early voting in 2012 simply because Florida still has, depending on the county, at least three days of early voting left.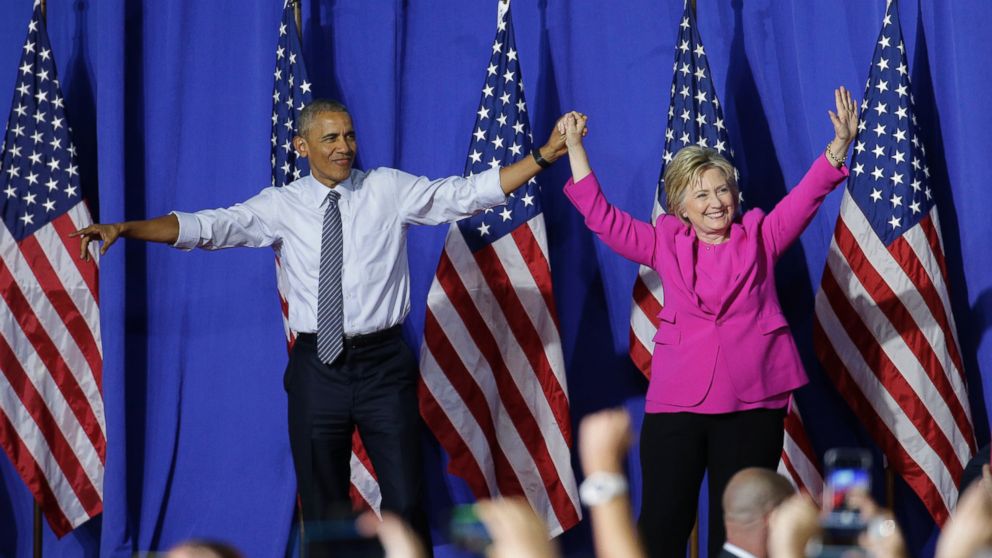 So far in 2016, 346,000 black voters in Florida have voted early in-person and 194,000 have sent their mail-in ballots. In 2012, there were 539,000 early in person votes cast by black voters and 220,000 mail-in ballots, which were called absentee ballots at the time.
"There's a lot of time left if the Clinton machine can get rolling," professor Smith said, specifically citing the Sunday church "souls to the polls" drives. Smith noted that the most votes were cast on early voting Sundays in 2008.
The decline in African-American participation nationally should come as no shock, according to Bill Galston, a senior fellow at the Brookings Institution.
"Black turnout rose enormously in the two elections where Barack Obama was on the ballot. In 2012, to the astonishment of just about everyone, it topped white turnout by 2 percentage points," Galston said of national voter turnout. "No sensible observer believes that Hillary Clinton can equal that so some decline in African-American turnout is just about inevitable."
One area of demographic interest in Florida has been the uptick in Hispanic early voting, Smith said.
While black voters are reportedly known to vote early -- with 64 percent of all black voters in Florida voting early in person and by mail in 2012 -- the same has not been true for Hispanics in the past, with only 50 percent of Hispanics voting early in person or by mail.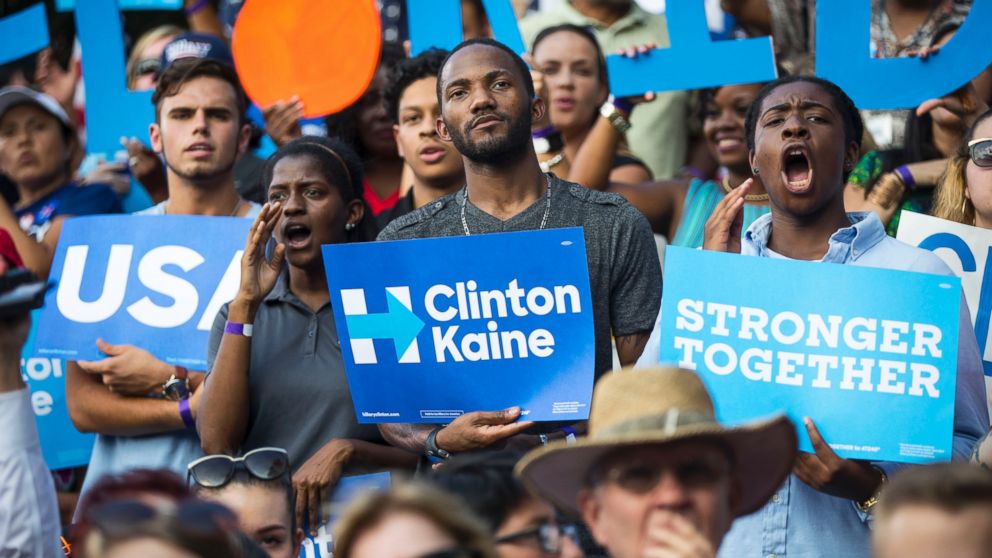 So far this year, "nearly as many Hispanics have voted as blacks," Smith said; 15.3 percent of early in-person voters are black and 14.6 percent are Hispanic.
There's a stark gap between those figures so far with the overall total early in-person numbers in Florida from 2012, where 22.4 percent were black and 11 percent were Hispanic.
"Part of this is just being driven by the enthusiasm of Hispanics and that could be a good sign for Clinton, but we're not seeing the same kind of front loading of early voters who are black," Smith said.
The Brookings Institution's Galston said the extent of either change is unknowable at this point in the race.
"I think it's reasonable to expect that African-American turnout will be down, [and] Latino turnout will be up," he said. "Will those two forces counter-balance each other? No one knows."
But some have pointed to something beyond an enthusiasm gap.
Questions are being raised about allegedly discriminatory voter registration practices in North Carolina, with the NAACP filing a lawsuit against various parts of the state's Board of Elections, claiming that voters were improperly removed from the registered voter rolls.
Changes to the voting laws in the state since the 2012 election, which include the number of early voting days and availability of polling places, have caused confusion, critics say.
"In certain areas there have been depressed early-voting opportunities and there have also been depressed turnout corresponding," said Myrna Perez, the deputy director of the Brennan Center's Democracy Program.
ABC News' Ryan Struyk contributed to this story.