— -- Zachary Beckman was in the right place at the right time to help save a life.
Two young women were swimming at Lake Harriet's North Beach in Minneapolis when one of them disappeared from the surface of the water Wednesday afternoon, an official at the Hennepin County Sheriff's Office told ABC News today, adding that bystanders raced to the rescue.
Beckman, a certified lifeguard, told ABC News affiliate KSTP that he jumped into action and got a group of about 15 beachgoers to start searching for the 20-year-old. Meanwhile, the missing woman's 17-year-old cousin made it out of the water under her own strength, according to the sheriff's office spokeswoman, Rebecca Gilbuena.
"Eventually, we made the connection that, 'Holy crap. Someone's actually still in the water right now,'" Beckman told KSTP.
"In that second, you don't really think about what you're doing because you're so focused on finding that one person -- like, 'I've got to get whoever's in this water out of the water,'" he added.
One of the searching bystanders saw the woman's body about 15 feet off shore, at the bottom of the lake, police said.
"Because I can dive pretty deep, I go all the way down, grab her around the arms, go down, kick all the way up. A couple of guys helped me swim her in to shore," Beckman told KSTP.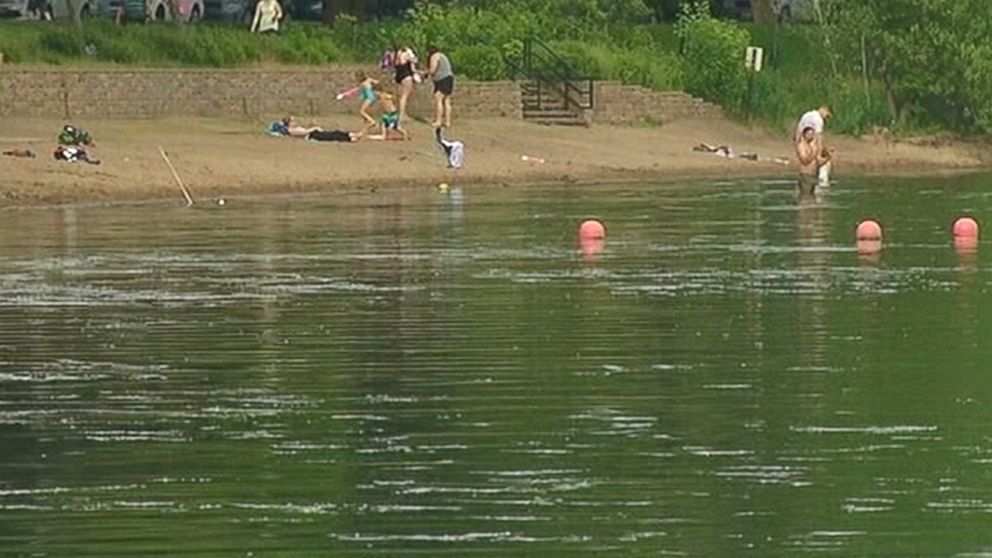 The woman had spent several minutes underwater and was unconscious and not breathing when Beckman pulled her out, according to KSTP. A nurse who happened to be at the beach quickly began CPR, the station reported.
"Then I started freaking out," Beckman said. "At that point, you kind of exhale because she's going to live."
The 20-year-old and her cousin were taken to the hospital and their family told KSTP they're expected to recover -- thanks in large part to Beckman.
"I'm still kind of getting over the fact that we just saved somebody's life," Beckman told KSTP.
Beckman did not immediately respond to ABC News' request for additional comment.