— -- Ohio Gov. John Kasich praised the people of Cleveland today, calling its residents a "model" in their response to the acquittal of a white police officer charged in the 2012 shooting deaths of an unarmed black couple.
Protests quickly followed the acquittal of officer Michael Brelo, who had been charged in the deaths of Timothy Russell and Malissa Williams. While the city's police chief said the protests grew violent after earlier peaceful demonstrations, Kasich said Cleveland residents should be "proud of themselves."
"The verdict is the verdict, Jon [Karl]. What I will say is that I think the people of Cleveland handled this, I mean, they should be so proud of themselves and we should look at Cleveland as a model," the Republican governor said during an appearance on "This Week." "The mayor, former Senator Nina Turner, some of the ministers -- Todd Davidson -- these are people who have said it is proper to protest and -- but at the same time, no violence, because violence in a community only destroys the community."
Cleveland police made 71 arrests among the protests, police chief Calvin Williams said during a news conference today. Speaking with Cleveland Mayor Frank Jackson, he described one protester who threw a sign and hit a restaurant patron and said police would take action to preserve safety in the city if protests again turned violent.
Prosecutors said Brelo, 31, was one of 13 officers who fired 137 times into the couple's car in the November 2012 shooting. The 22-mile, high-speed chase through Cleveland began when an officer tried pulling over Russell for a turn signal violation. His car backfired while speeding away, causing officers to think someone in the car had fired a gun.
At the end of the chase, Brelo stood on the car's hood when it was stopped and shot 15 times into the windshield, said prosecutors. He told the Ohio Bureau of Criminal Investigation that he thought he and his partner were being shot at.
No gun was ever found in the car. Russell and Williams were each shot more than 20 times.
The judge who acquitted Brelo ruled that his use of deadly force was constitutionally reasonable based on how the events unfolded.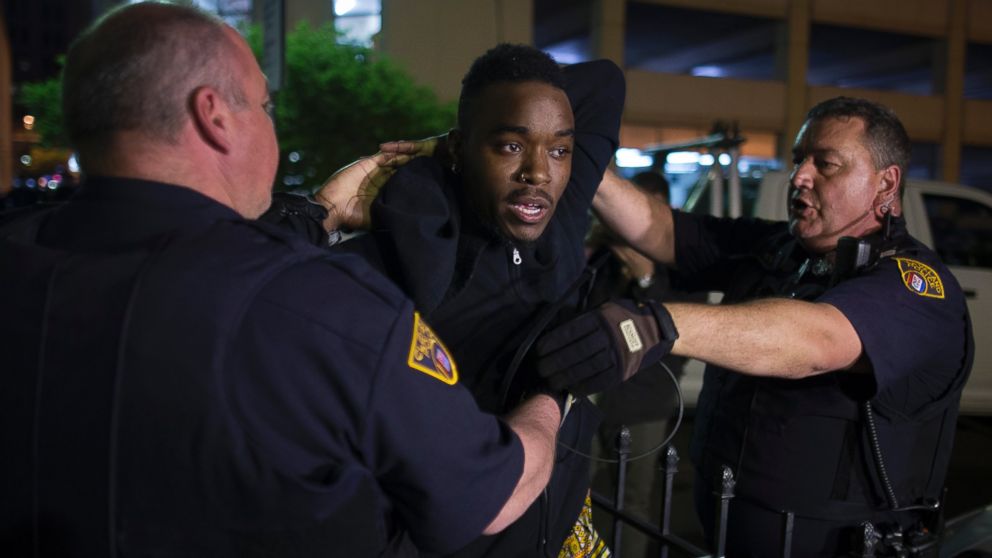 Protests began immediately after the verdict, with demonstrators outside the courthouse chanting "Hands up! Don't shoot!" -- a rallying cry that started with the death of 18-year-old Michael Brown in Ferguson, Missouri. Law enforcement officers stood outside the courthouse carrying shields, blocking the demonstrators from entering.
In a demonstration that had already been planned to mark six months since the death of Tamir Rice, a black 12-year-old carrying a toy gun who was fatally shot by a white police officer, about 200 people walked in a mock funeral procession. They carried a black, plywood coffin and softly sang "I'm going up yonder, we're marching, we're marching."
The protests continued into the evening, when a crowd temporarily blocked downtown street intersections and chanted anti-police slogans. Demonstrators also marched past sports fans leaving a Cleveland Indians-Cincinnati Reds game, adding to the congestion.
The Associated Press contributed to this report.