— -- Authorities are combing the waters near St. Petersburg, Florida, for two men -- a Colorado State University student and a boat crew member -- who went missing Tuesday evening, officials said.
The missing student was among 15 from Colorado who had taken a charter boat -- a 71-foot yacht -- during spring break, the Coast Guard said.
The students booked a four-hour charter but the water was too rough for them venture out, so the captain anchored, Pinellas County Sheriff Bob Gualtieri said at a news conference this afternoon.
Five students were swimming off the side of the boat while it was anchored, but only four were able to swim back to the boat, the Pinellas County Sheriff's Office said.
The crew member jumped in the water to help the remaining student, and authorities believe the wind, waves and current kept the men from reaching the boat, according to the sheriff's office. Neither man wore a flotation device, the sheriff's office said.
The incident happened at about 6 p.m. and the men have been missing since, the sheriff's office said.
The Coast Guard identified the crew member as 27-year-old Andrew Dillman of New York, and the student as 21-year-old Jie Lou of China.
They were last seen in the current being pulled into the Gulf of Mexico, Gualtieri said.
The ongoing search is in the Pass-a-Grille Channel, which is near the Gulf of Mexico and Florida's St. Pete Beach.
The Coast Guard is searching "fervently" today by air and sea, a spokesman told ABC News, and the sheriff said it's still possible they are alive.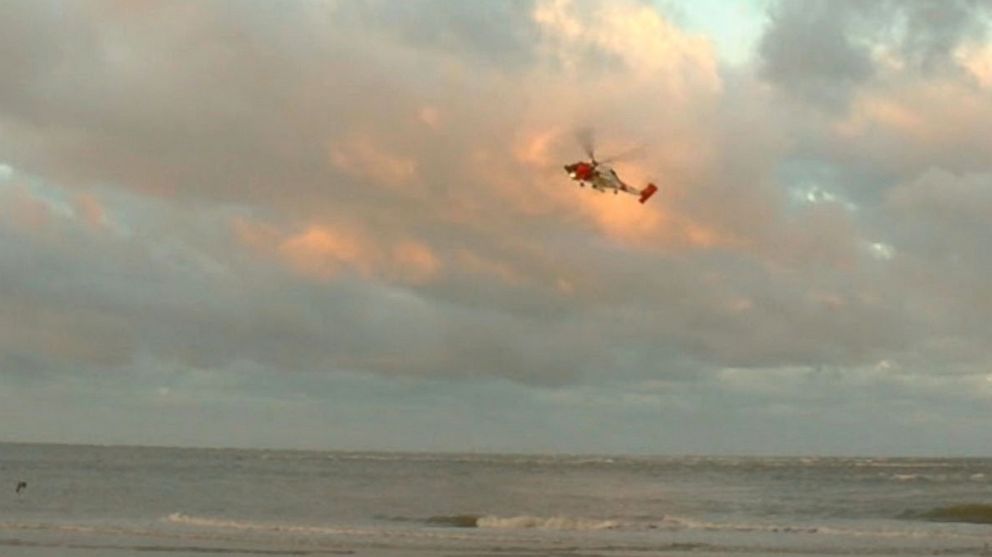 The boat captain told authorities that he told the students it was too rough to swim, the sheriff said, but students have told authorities that they weren't told not to swim.
Authorities are trying to interview all the students, who remain in Florida today. The students are due to return to Colorado Thursday, the sheriff said.
There was drinking on the boat but there is no indication that any crew member was intoxicated, the sheriff said.
Lou is a senior business major studying finance and real estate, Colorado State University spokesman Mike Hooker said.
Hooker said in a statement, "Our hope and our thoughts go out to the family and friends of the two missing men as the search continues."
"We hope for the safety of rescue crews as they continue the search, and we will work to offer whatever support we can to the students and families involved."
Lt. Jason Holstead, the command duty officer for the Coast Guard's Sector St. Petersburg, said, "Our hearts go out to the family and friends of Andrew and Jie during this difficult time. We continue work closely with our partners to search for Andrew and Jie, all of us have them and their family in our thoughts and prayers."