Ohio police searching for the missing mother of a one-year-old girl released surveillance footage of the woman and an unidentified man, whom authorities called a person of interest.
Since Saturday, police and volunteers have been canvassing the parks and towns near Xenia, Ohio where Tiffany Tehan, 31, disappeared while shopping at garage sales and consignment shops.
On Tuesday, police released images taken from a surveillance camera at a convenience store showing Tehan and a bearded man. Police say Tehan and the man regularly visited the store together in recent weeks, but her friends and family did not recognize him.
"The missing person was seen with a male subject on several occasions during the month of March and April at the store. The male subject is not known to Tiffany's family and friends," Capt. Scott Anger of the Xenia Police Department said in a statement.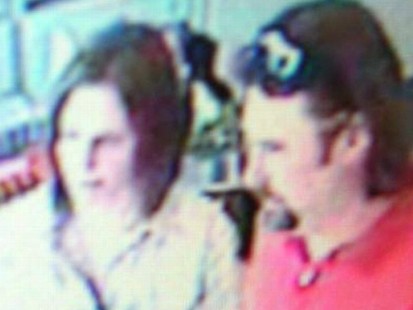 "The person of interest is known to drive a late model red Volkswagen Beetle and sometimes has a German Shepherd dog inside the vehicle," said the statement.
Tehan's husband David last heard from his wife around 11 a.m. Saturday, while she made the rounds at garage sales looking for inexpensive clothing for their year-old daughter.
She was last recorded at an ATM in Xenia around 9:30 a.m that morning.
Police found her car, a green 2000 Ford Explorer, abandoned Sunday morning with a flat tire in a skate park in Kettering, Ohio. The keys were locked inside the vehicle, according to ABC News affiliate WLWT.
Members of the couple's church, Patterson Park Church, have been canvassing the area from which she is believed to have gone missing, posting thousands of missing person fliers.
Tehan is described as 5-foot-6, 150 pounds with a rose tattoo on her hip and small nose ring. She was last seen wearing jeans and a maroon-colored shirt.