— -- A private luxury yacht went up in flames Tuesday afternoon at a marina in the U.S. Virgin Islands.
The raging fire at Yacht Haven Grande, the marina where the yacht in question had been docked, sent thick black plumes of smoke up into the sky, as shown in dramatic videos and photos posted to social media by locals and tourists on the island of St. Thomas.
Multiple first responders responded to the blaze, which was finally contained around 6:00 p.m. local time, according to Vivienne Yaple, the marketing manager for Yacht Haven Grande.
At that time, the vessel was "secured" and "containment measures" were put in place around the vessel "to address potential contaminants entering the water," Yaple told ABC News today in a statement.
There were no reported injuries resulting from the incident, according to Yaple. She added that due to security protocol and privacy concerns, the name of the boat, its owner and the identities of any other related individuals would not be publicly released.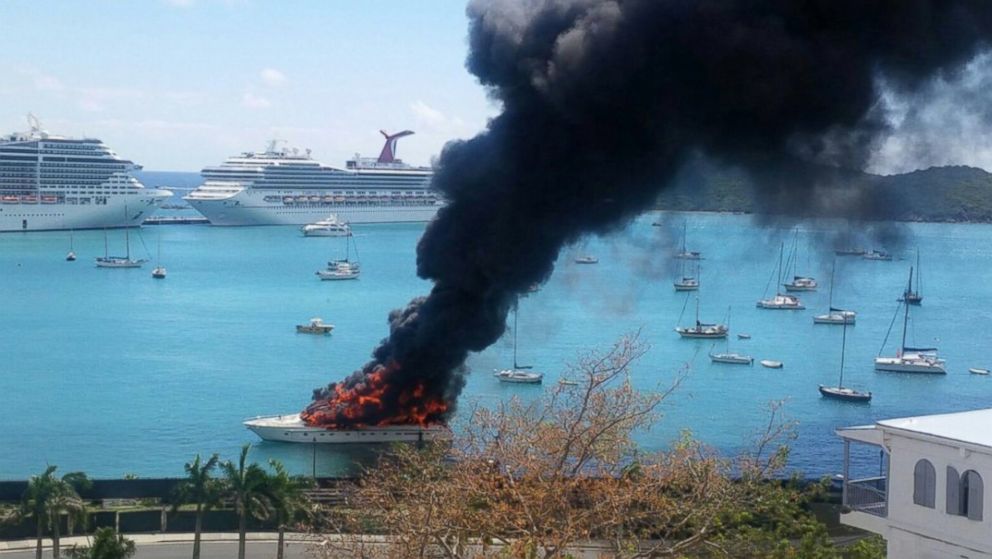 "For the rapid response and support, Yacht Haven Grande and IGY Marinas would like to sincerely thank all the members of its staff, the WICO security team, Virgin Islands Fire Department, Virgin Islands Police Department, and members of responding teams including; first responders from the cruise lines, SeaTow, the U.S. Coast Guard, and additional various agencies," Yaple said. "As a direct result of their combined reactions, the incident was effectively contained."
No details on how the fire started have been made available, according to Yaple.