The file hosting company Dropbox has taken down a folder containing hundreds of explicit photos of American female service members.
The Dropbox folder of topless and nude images included service women's faces, military dog tags, uniforms, and name tags, according to Vice News who first reported the story on Friday.
The discovery of the Dropbox link comes nearly one year to the day that Marine Corps leaders testified before Congress about the thousands of explicit images discovered on the Facebook page, Marines United.
Last March, the commandant of the Marine Corps Gen. Robert Neller called for a culture change in the service, saying he was ultimately responsible for changing how Marines see themselves and treat one another.
But explicit images of female service members are still being shared online, and the new Dropbox folder was not specific to any one military service branch.
"This link has been taken down and banned so it cannot be recirculated on Dropbox," the company said in a statement on Friday. "As always, we investigate reports of content that violate our Acceptable Use Policy. If we find a violation, we take down the content and, when appropriate, take other measures such as banning the content and/or reporting to law enforcement."
A Department of Defense spokesperson told ABC News over the weekend that the Pentagon was aware of reports of the Dropbox link.
"The DoD works closely with our social media partners to monitor platforms and flag any malicious, abusive or terrorist related content," said Tiffany Miller, Office of the Secretary of Defense Acting Director for Digital Media and Strategy.
Military services control their own social media policies, but a change to the Fiscal Year 2018 National Defense Authorization Act, which became law in December, allowed Congress to enact a new criminal offense for the military.
The new statutory authority, called the "Wrongful broadcast or distribution of intimate visual images," helps DoD hold accountable service members who engage in misconduct, a spokesperson told ABC News.
After "Marines United"
Following the discovery of the Marines United Facebook page last year, the Naval Criminal Investigative Service (NCIS) scanned nearly 131,000 images across more than 168 social media sites and investigated at least 123 persons with reported involvement in the incident, the Marine Corps said Friday.
Twenty-two of those individuals were civilians outside DoD jurisdiction, while 101 were active-duty or reserve Marines. So far, 55 Marines have been held accountable for online social media misconduct, to include courts-martial, administrative separation, non-judicial punishment, and adverse administrative action.
Last summer, a new Personnel Studies and Oversight Office was created in the Marine Corps to "identify opportunities for long-term changes to improve unit cohesion," the Marines said.
While social media misconduct is a department-wide problem, the Marine Corps has come under specific scrutiny in the wake of Marines United.
Overall, the Marines remains an overwhelmingly male force at only about 8 percent female. As the military expanded opportunities for women in combat roles in 2015, the service was initially opposed to that change.
Unlike other branches, the Marines do not integrate men and women in battalions at boot camp, although they are working to increase the amount of training the genders do together — which has been praised by leadership as positive for the Corps.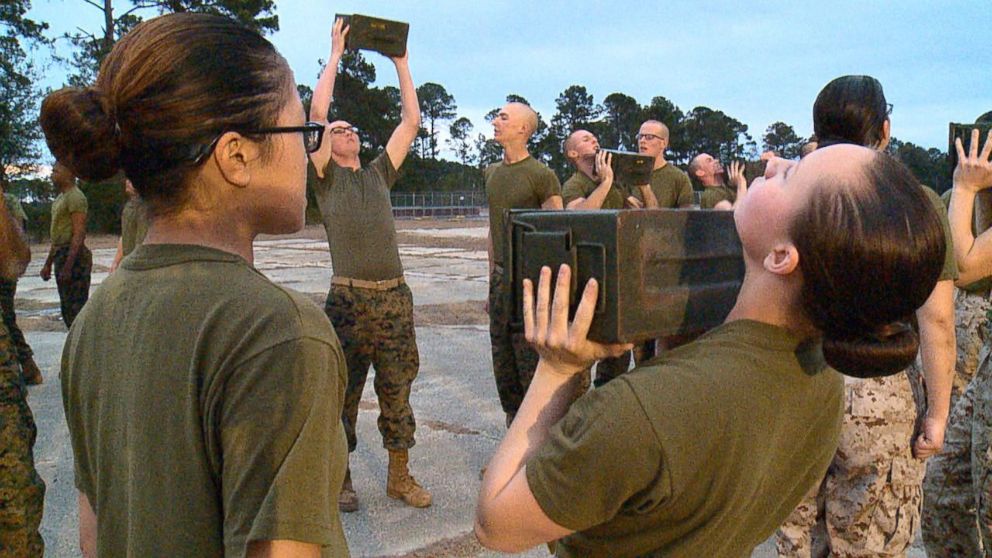 Last month, ABC News traveled to Marine Corps Recruit Depot Parris Island, the service's east coast boot camp in South Carolina which includes a battalion of female recruits led by Lt. Col. Misty Posey.
"The value of increasing the amount of integration that occurs between male and female recruits is that with increased exposure and socialization we address some of the attitudes that male recruits might have about female recruits and vice versa," Posey said.
At Parris Island, the Marines introduced a new phase to the end of training called "Phase Four," the first substantial change to boot camp in a decade and another opportunity to integrate men and women. New male and female Marines will spend the last two weeks of training in the classroom together, tackling a range of issues like hazing, social media, future educational opportunities, fitness, substance abuse, marriage, domestic violence, finances, driver safety, and sexual responsibility.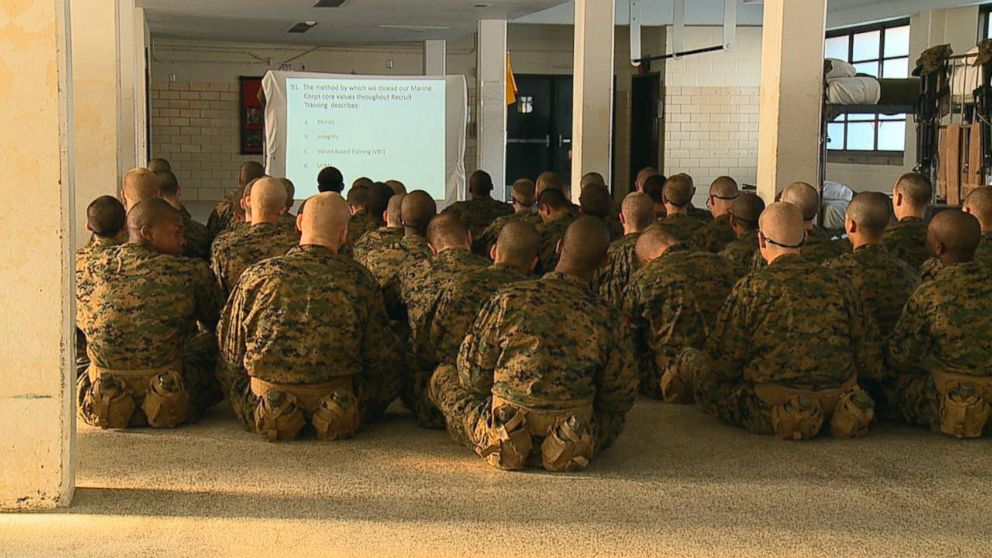 But, the West Coast boot camp is still exclusively male, meaning those recruits won't be exposed to women until they encounter them later on in follow-on training.
It was only last week that the Marines opened the second part of post-boot camp training, called Marine Combat Training Battalion (MCT), to women at Camp Pendleton in California. Females attending that training at Camp Lejeune in North Carolina have already been integrated with their male counterparts.
Despite the low percentage of women compared to the other services, the Assistant Commandant of the Marine Corps Gen. Glenn Walters said he expects that number to crest at 11 percent this year.
Walters, who led the task force established in the wake of Marines United, told ABC News at Parris Island that if the service has the "good fortune" to boost the numbers of female recruits significantly one day, the Marines would consider opening the west coast boot camp to women as well.
Marines who spoke to ABC News at Parris Island expressed that how male and female recruits interact at boot camp could have an impact on how they treat each other throughout their career in the Marine Corps and online.
"We need to be a team," Walters said. "If we don't have dignity and respect for every member of the team, then we will not be successful in combat or in life."
ABC News' Luis Martinez contributed to this report.