— -- An early season blast of cold air, which first interrupted Halloween plans from the Great Lakes down to the central Appalachians on Friday, pushed further south this morning, and snow blanketed the ground in some unlikely places, including central South Carolina.
This system first brought several inches of snow to parts the Great Lakes and strong winds moved through the Chicago area on Friday. These winds caused waves of up to 20 feet on Lake Michigan, which pounded Lake Shore Drive causing flooding during the Friday evening commute.
While the snow and cold is not unheard of for the Great Lakes this time of year, the snow this morning in central South Carolina certainly caught some residents off guard. Columbia recorded its earliest snowfall on record.
The central Appalachians received the highest snowfall amounts, with some areas receiving well over a foot. The heavy, wet snow, in conjunction with leaves still on many trees, caused downed trees and scattered power outages.
As of Saturday evening, the highest reported snowfall total was an impressive 22 inches of snow which fell on Mount Le Conte, part of the Great Smoky Mountains National Park in Tennessee.
Even though the storm was expected to move out of the region tonight, the cold air will remain in place and continue its push southward. Record low temperatures are possible as far south as southern Florida on Sunday morning. Temperatures will be running up to 20 degree below normal for the beginning of November.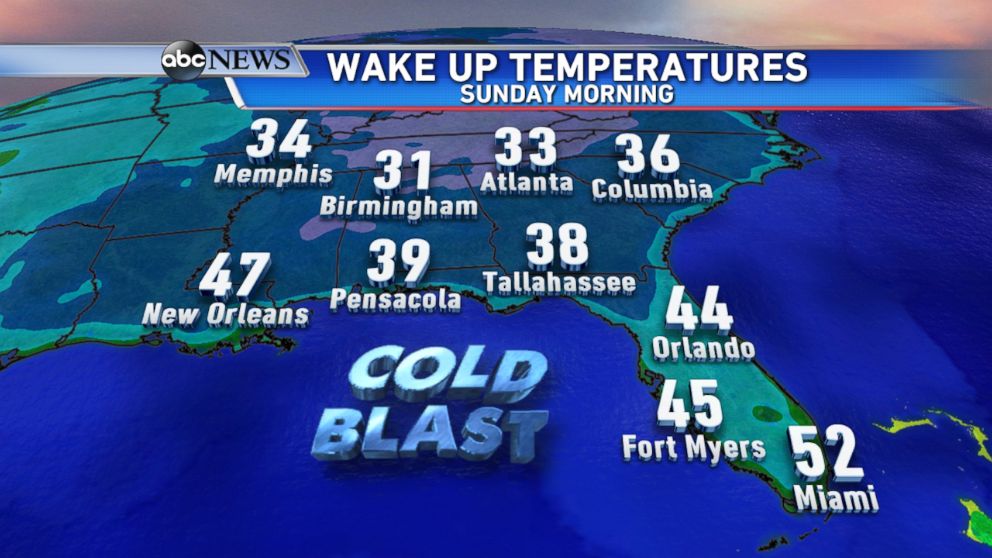 Looking into next week, temperatures will quickly moderate across the region to more seasonable levels.