What to know about electric bikes, from battery safety to pedaling
Advocates, lawmakers and fire safety experts have spotlighted best practices.
Electric bikes have made headlines for the dramatic leap in sales of the devices during the pandemic. However, they've also drawn notoriety for occasionally sparking deadly fires.
The U.S. e-bike market grew 269% between 2019 and 2022, with $885.5 million in sales last year, according to market research firm Circana. Sales of e-bikes -- which are much pricier than traditional bicycles -- outperformed the overall bike market in 2022 in terms of sales growth, growing 14% while total bike sales declined by 12%, according to Circana.
"There was a lot of interest in riding, and we've actually seen that interest and rider participation continue as we move out of the height of the pandemic," Ash Lovell, electric bicycle policy and campaign director for the advocacy group PeopleForBikes, told ABC News. "We want to keep them riding and we want to give them more opportunities and more places to ride."
As interest in e-bikes has grown as an eco-friendly means for travel and hauling cargo, so have ways to make them more accessible. At the city and state levels, governments are finding ways to make e-bikes more affordable through incentive programs. Building off those local efforts, federal lawmakers recently reintroduced a bill that would give consumers a tax break on the purchase of a new e-bike. The Electric Bicycle Incentive Kickstart for the Environment Act would offer a refundable tax credit amounting to 30% of the e-bike's price, capped at $1,500.
Other legislation has been aimed at safety. Last month, New York City Mayor Eric Adams signed a package of e-bike safety legislation that also sets new standards for e-mobility devices such as e-bikes, including that any micro-mobility device meets standards set by UL Solutions, an industry leader in battery technology. The move came after New York saw 219 fires related to e-bikes in 2022, causing 147 injuries and six deaths.
"This is a real issue and it could jeopardize the safety of you or your family," Adams recently told "Good Morning America." "We must educate people."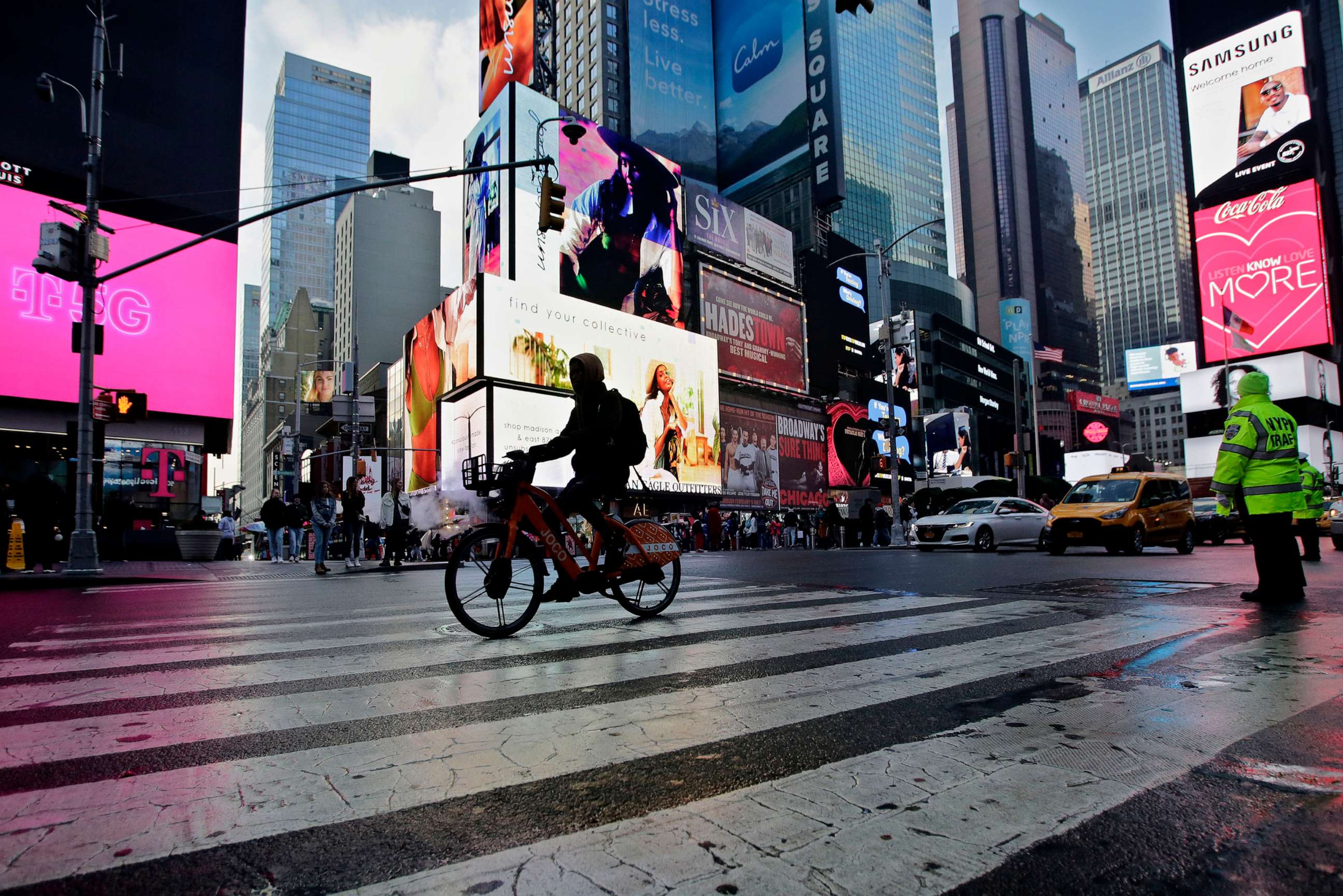 If new to e-bikes, here's what to know.
Are e-bikes safe? Role of battery certification
Rechargeable lithium-ion batteries are found in everyday items, from cellphones to laptops, as well as e-mobility devices like e-bikes and e-scooters. Though generally safe, they carry with them a fire risk if abused or not high-quality.
"There's a lot of energy being condensed into a very small battery," Steve Kerber, vice president and executive director of UL's Fire Safety Research Institute, which performs testing and research around fire safety risks, including hazards associated with lithium-ion batteries, told ABC News.
Uncertified batteries are one of the factors that impact the likelihood of a lithium-ion battery failure, according to the institute. A major component of certification criteria is making sure the battery management system is sending the right signals to tell the battery to stop charging. A faulty system could lead to what's known as a thermal runaway, causing a battery to overheat and possibly explode.
"If you go to purchase an e-bike, you should be able to get one that's certified by a nationally recognized testing lab," Kerber said.
Can you pedal? Understanding e-bike classes
Anyone looking to buy an e-bike should also familiarize themselves with the three-class system for electric bikes, which has been adopted by 40 states, Lovell said.
"It really defines what an electric bicycle is and what it isn't," Lovell said.
Typically, class 1, the most common type of e-bike, means an e-bike where the motor is engaged by pedaling -- or pedal-assist -- and can provide assistance up to 20 mph; class 2 means an e-bike where the motor can be engaged through a throttle and can assist up to 20 mph without pedaling; and class 3 means a pedal-assist e-bike where the motor can provide assistance up to 28 mph.
E-bikes typically start around $1,000, while a more high-end model could cost upward of $12,000. Lovell recommends trying out different models before purchasing.
"There's actually inventory now -- there wasn't during a lot of the pandemic," Lovell said. "So this is a really good time to try out a few models to figure out which one works right for you."
Best e-bike battery practices
Rare, but at times deadly, fires due to e-bikes have helped raise awareness about best practices, particularly in New York City, Kerber said. Though elsewhere "we've got a bigger lift," he said.
"We need to make sure that people hear this message before the incidents are happening," Kerber said. "We need to learn from the failures that are happening so we don't repeat those and a lot of times it does come down to public education. It comes down to people being smart with their devices and knowing what to look for -- whether it's cellphones, laptops, tablets, scooters -- I mean everything has lithium-ion batteries in it now."
E-bike users should read their instruction manual to ensure they are following best practices for charging and storing their device, Kerber said.
In addition to uncertified batteries, other factors that increase the likelihood of battery failure include battery abuse, modifications and mismatched parts -- such as using a charger that is incompatible with the battery -- according to UL's Fire Safety Research Institute. If the battery and charging cord are incompatible, the battery could overcharge and lead to a "pretty catastrophic failure and thermal runaway," Kerber said.
Among other best practices, people should avoid charging their e-bike when they're asleep and not charge it in a path of escape, Kerber said. They should also keep the battery at room temperature and not tinker with the battery system themselves. An odor, changing color, leak or weird noises are all signs to "get out of your house" and call 911 to have the fire department investigate, Kerber said.
Lithium-ion batteries -- whether in e-bikes or other devices -- also need to be recycled properly.
"You can't throw them away," Kerber said. "We've seen a number of garbage truck fires ... because people will just throw some of these things in the trash."
E-bike rider restrictions, safety and etiquette
When considering an e-bike, it will be helpful to know where you are allowed to ride it in your state.
"It's up to local municipalities to determine if they are open to having e-bikes on their trails and multi-use paths," Lovell said.
States may have other restrictions on e-bike usage, such as age minimums.
Riders, especially first-time cyclists, should brush up on biking etiquette and safety, such as how to ride with a group, said Lovell.
"What we found during the pandemic is that a lot of people who are riding and ordering electric bicycles haven't ridden a traditional bike before," Lovell said. "So they don't really have the education or the etiquette training on here's how you signal, here's what you should do in a crowded multi-use path, how's how to store your bike, here's when you should take it in to be serviced."
Given the continued interest in e-bikes, PeopleForBikes and the League of American Bicyclists plan to launch an e-bike rider-specific safety curriculum in July that will feature guidance on "responsible e-bike ownership," including roadway positioning, sharing the trail, riding predictably and other safe practices.