FBI offers $30,000 reward for info on 3 women found dead within 4-block radius
The three women were found dead just weeks apart within a four-block radius.
January 18, 2018, 1:51 PM
— -- It's been seven months since the bodies of three women were found just weeks apart within a four-block radius in North Carolina, and investigators still don't have answers about what happened to them.
The FBI on Wednesday announced a reward of up to $30,000 for information that helps investigators determine the circumstances that led to the deaths of Christina Bennett, Rhonda Jones and Megan Oxendine in Lumberton, a city located some 95 miles south of the state's capital.
Bennett was found dead inside a house on Peachtree Street on April 18, 2017. Jones' body was found outside a house on East 5th Street on the same day.
Oxendine was found dead outside a house on East 8th Street on June 3, 2017. That month, the Lumberton Police Department requested assistance from the FBI in the three separate death investigations.
A cause of death has not yet been determined for any of the women, according to the FBI.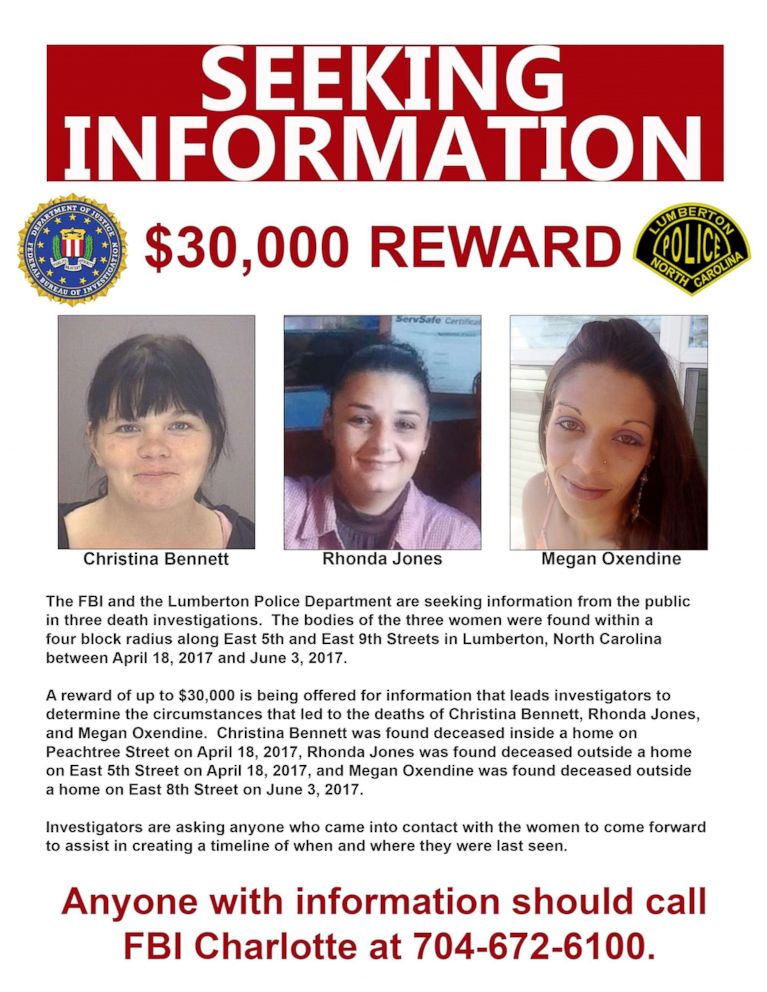 Authorities on Wednesday urged anyone who came into contact with the women to come forward to help investigators create a timeline of when and where they were last seen alive.
"Every part of our work as law enforcement benefits from help we receive from the public. We need the community's assistance, the people's eyes and ears, information from friends and neighbors," John Strong, special agent in charge of the FBI in North Carolina, said in a statement. "So we ask you to pick up the phone and call us. Tell us what you know, what you heard, and what you saw."
Lumberton Police Chief Michael McNeill previously said it was unclear whether there is a connection between the three deaths, which have haunted the community.
"As police chief and as a member of this community, I want to know what happened to Christina, Rhonda and Megan. I also understand there is a lot of uncertainty, concern and even fear right now," McNeill said in a statement Wednesday. "Let me reassure you that we are committed to finding out the answers. We hope the people of Lumberton will help us."
Anyone with information regarding when and where the women were last seen is asked to call the FBI's Charlotte field office at 704-672-6100 and select option no. 2.