— -- Federal authorities have charged 19 people from across the country for their alleged involvement in Nevada rancher Cliven Bundy's decades-old standoff with the U.S. government.
Twelve of those charged were arrested today. The move comes three weeks after the FBI ended a weeks-long takeover of a federal wildlife refuge in Burns, Oregon, led by Bundy's sons and other "highly armed militants," as the FBI described them.
Bundy's ranch in Bunkerville, Nevada, was the scene of a widely-publicized, armed showdown in 2014, when federal authorities tried to arrest Bundy and remove hundreds of cattle grazing on public land next to his ranch. For more than 20 years – and despite federal court orders telling him to remove his cattle – Bundy continued to let the cows graze on the federal land without paying any fees or obtaining the required permits.
Two weeks ago, in the wake of the Oregon takeover, a federal grand jury in Nevada indicted Bundy and four others, including his sons Ammon and Ryan, on 16 charges related to the 2014 showdown at "The Bundy Ranch." Among those charged today is Bundy's son David and Gerald Delemus, the co-chair of the "Veterans for Trump" coalition in New Hampshire.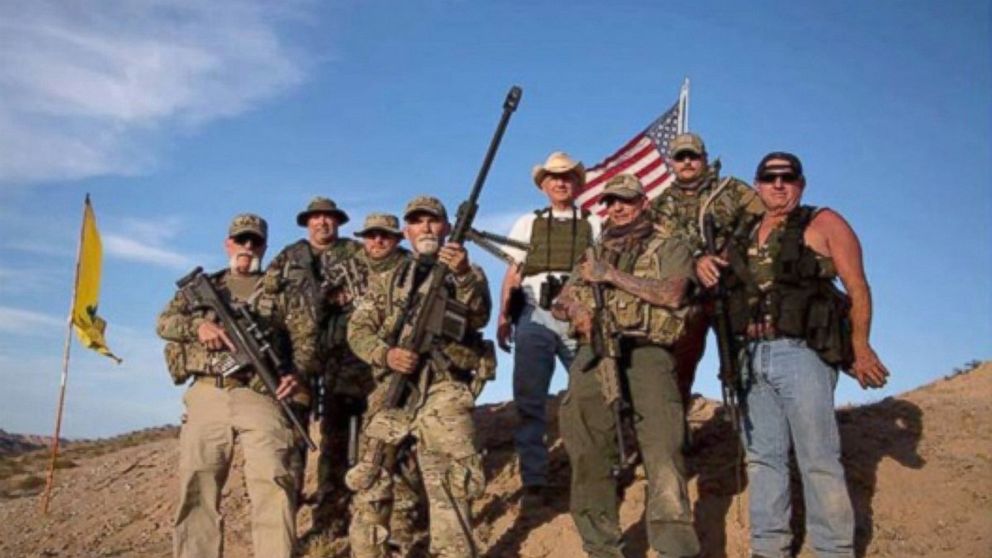 Gavin Seim, a vocal supporter of the Bundy family, posted on Facebook that Bundy's son David was arrested in Utah "with 20 FBI vehicles on scene as he made a morning drive to his property."
"The terrorism from government must stop," Seim wrote.
But the head of the FBI's office in Nevada, Laura Bucheit, said the latest charges and arrests "send an irrefutable message to the American people that our determination remains steadfast to protect them and pursue individuals who participate in violent acts of this nature."
The indictment accuses Bundy and others of leading a "massive armed assault against federal law enforcement officers."
In April 2014, after federal law enforcement launched an operation to remove Bundy's cattle from government land, the rancher began "flooding the Internet" with "deceitful images and statements" that suggested federal agents were abusing him, and he called on others to come help stop the federal agents, according to prosecutors.
Hundreds of supporters converged around the ranch, and Bundy threatened a "range war" with federal agents, prosecutors allege.
Tensions peaked on April 12, 2014, when armed militants took over a bridge leading to the cattle, outnumbering law enforcement 4-to-1, according to prosecutors.
"[U]nwilling to risk harm to children and other unarmed bystanders … and wishing to avoid the firefight that was sure to follow if they engaged the snipers on the bridge who posed such an obvious threat to their lives, the officers had no choice and were forced to leave and abandon the cattle to Bundy and his co-conspirators," charging documents say.
Afterward, Bundy and his followers set up armed security patrols and checkpoints around Bundy's ranch.
Bundy was arrested three weeks ago in Oregon on the same day FBI agents there ended the standoff at the Malheur Wildlife Refuge. He was arrested at the airport in Portland, Oregon, on his way to the refuge.
In total, at least 16 people were charged in the wake of the Oregon takeover. When the FBI and Oregon State Police tried to arrest many of them during a traffic stop on Jan. 26, police ended up killing LaVoy Finicum, the spokesman for the armed militants, after he allegedly reached toward a semiautomatic handgun in his coat pocket.
Since the arrests and the fatal shooting, supporters online have speculated that a bigger "round up" of people tied to Bundy's ranch or the 2014 armed showdown could be coming.