In between keeping her passengers safe and comfortable, Delta flight attendant Robin Schmidt tends to another mid-air mission -- passing journals among the rows so passengers can help her thank American troops.
Over the last five years, Schmidt has filled hundreds of passenger-written journals and sent them to the troops she "adopts" in Afghanistan and Iraq. Not connected in any way to the military, Schmidt said, "This is just part of who I am. This is what I do."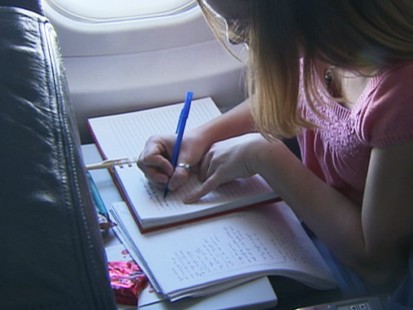 And on the other side of the world, she's got a lot of grateful military men and women.
"The soldiers often tell me when they get the journals it's hard for them to keep in their hands," Schmidt told ABCNews.com, adding that others carry the notebooks with them to read during low moments.
Army National Guard Sgt. Timothy Gallagher, currently deployed in Afghanistan, said the six journals he's received from Schmidt are the most prized items she's sent.
"They will be with me forever. Something for the ages to look at and see the true spirit of the American people," he wrote to ABCNews.com in an e-mail from Afghanistan. " All the passengers write their praises and thanks to the men and women in the armed services who do their duty and put their lives on the line so that others may live freely. "
Deployed with the Maine Army National Guard, Gallagher, 39, was "adopted" by Schmidt in May after she contacted him through his MySpace page.
"I get e-mails daily, postcards/letters weekly, and care packages monthly," he wrote. "She uses her imagination on what might make me/us smile and laugh, so just getting a package from her is fun in itself."
Inspired by fellow flight attendant LeAnne Hooper, who started passing journals for her deployed husband around the flight attendant's lounge, Schmidt got permission from Delta to hand out the journals on her domestic flights.
After her pre-flight announcements about safety and properly stowing bags, Schmidt tells the passengers about a soldier she has "adopted" -- who they are, where they are deployed and a little bit about her communication with them.
"A lot of times when I make that announcement, people will give me a big round of applause," she said.
Then she hands out two journals -- one to the front of the plane and one to the back -- and asks for volunteers to write in them. The entries can be about anything and everything.
Keeping a Promise to American Troops
Schmidt's troops have gotten jokes, thank you letters and memories from veterans who served before them. She's had Afghans and Iraqis write in the journals, thanking the American troops for helping their countrymen.
And on one flight, shortly after Schmidt started passing the journals around, one woman, she said with a laugh, wrote pages and pages about how she was contemplating cheating on her husband with a former flame at her high school reunion.
But she usually doesn't read the entries unless the passenger gives her permission.
"I don't feel like they're writing to me," she said.
Army Specialist Jonathan Pacheco told ABCNews.com that he received about 20 journals from Schmidt during his two deployments to Iraq. Home at Fort Hood since late spring, Pacheco said he has kept every one she sent, though he shared them with others while overseas.
"I thought it was amazing," he said. "I didn't think there was that many people that supported the cause."
His journals, he said, were filled with messages of thanks, and condolences for soldiers lost.
"Most of the stuff people would write is 'We're proud of you, we're behind you,'" he said, adding that he never once saw a negative comment.
Pacheco, 24, said many troops overseas think Americans back home take "everything for granted." But when people like Schmidt drop into their lives, "that just makes it so much better."
"They all thought she was a young woman and I was having a relationship with her," he said, laughing.
Pacheco and Schmidt met face-to-face for the first time in 2007 on the eve of his wedding. He had invited her as a guest.
"I just want everyone to know how much of a great person she is," Pacheco said. "And that what she does is the quality of a true American."
Schmidt, a Delta flight attendant for 11 years, was inspired to start adopting soldiers in January 2002, when she flew on a charter flight ferrying troops from Atlanta to Frankfurt.
"One of them -- a young guy -- was joking around, 'I need a sugar momma to take care of me on my deployment,'" she said.
That's exactly what Schmidt did, sending the young man care packages and letters on a regular basis. And then she started "adopting" more and more troops.
She adopted men and women she'd never met. She found them online or through people she met during day-to-day activities. She was connected with one of her soldiers on a flight when his cousin was handed one of the journals to write in.
Troops who are "adopted" by Schmidt -- usually three or four at a time -- get letters once a week and care packages at least once a month.
"It's very important for a soldier to get mail, to have their name called at mail call," she said.
The packages are stuffed with basics, such as socks and underwear, to snacks, gifts and magazines. She once sent silly string on a whim only to find out the troops used it to detect trip wires.
"I had no idea at the time it was having other uses," she said.
She's also sent pinatas to help the troops bond with local children, who in turn trust the Americans enough to show them where landmines have been planted. And she takes requests -- once sending boxes of tampons to troops who used them to plug bullet holes out in the field.
Journals Not Meant to Be Political Statement
Spc. Christopher Hanke, 22, deployed for the second time in Afghanistan with the Kansas Army National Guard, is one of Schmidt's current adoptees, having met her through a Facebook fan page for the United States of America.
"I receive post cards every other week and a care package once a month," he wrote in an e-mail from Afghanistan. "I like the care packages that she sends because you don't know what you'll get inside, but you know that it is good, whatever it is. It's like opening presents on Christmas Day back when you were a kid."
Hanke has yet to receive any Delta passenger journals -- Schmidt says she hopes to have his in his hands by Thanksgiving -- but thought the idea was a great one.
"If I do receive one I would certainly read it and if I could, thank anyone that said anything in it for their support," he wrote.
Hanke said anything they get while deployed makes a difference in showing troops that Americans back home are thinking of them.
"So far my favorite thing I've received from Robin is a Corona Straw hat she got in Tijuana, Mexico, and sent to me," he said. "Great gift."
The Newton, Kan., native said he spends much of his time interacting with the Afghan people. He is due to come home next year. His first deployment was in 2006 and 2007.
"It is a much different culture and society then our own," he said. "I can't really go into much detail other then we are trying to do the best we can to help the people of Afghanistan, but I believe they must work to make their country what they want it to be."
Hanke is one of 73 members of the military Schmidt has "adopted" over the last seven years, from every branch but the Coast Guard. And to those troops have gone hundreds of journals filled out by Delta passengers -- some have gotten five or six.
Schmidt said that in five years of filling journals she's gotten only two formal complaints to Delta from passengers who thought she was making a political statement.
But for Schmidt, who said she has voted both Democrat and Republican, her effort isn't about the war, it's about making sure the men and women who have volunteered to serve the United States get the support they need to do their job and stay safe.
She said she's careful to abide by Delta's only rule -- no journals on international flights -- and to hold her tongue when someone expresses displeasure about the journals.
"I'm well aware of what I get to do in the airplane is a privilege," she said.
While some people simply pass on the journal to others without leaving an entry, most passengers are enthusiastic participants, she said, and most have some connection to someone who is in the military.
"I think that's why everyone's so fascinated by my desire to support the military," she said. "I run into soldiers every single day through my job."
Delta spokeswoman Gina Laughlin told ABCNews.com that Schmidt had the full support of the airline and was one of many flight attendants that make a point to volunteer outside work or even during layovers.
"We have very compassionate employees who do unique things in the communities around the world," she said. "How can you not support that?"
If you would like to adopt a soldier, please contact Robin Schmidt at supportourheroes@live.com.