Huge crowd turns out for Hollywood march
Demonstrations in NYC also went late after authorities lifted the city's curfew.
The death of George Floyd, a black man who died on Memorial Day after he was pinned down by a white Minnesota police officer, has sparked outrage and protests in Minneapolis, across the United States and around the world.
Second-degree murder, third-degree murder and manslaughter charges have been filed against Derek Chauvin, the ex-officer who prosecutors say held his knee on Floyd's neck for nearly nine minutes. The three other officers have been charged with aiding and abetting second-degree murder and aiding and abetting manslaughter. All four officers have been fired.
Governors in 32 states have activated more than 32,400 members of the National Guard.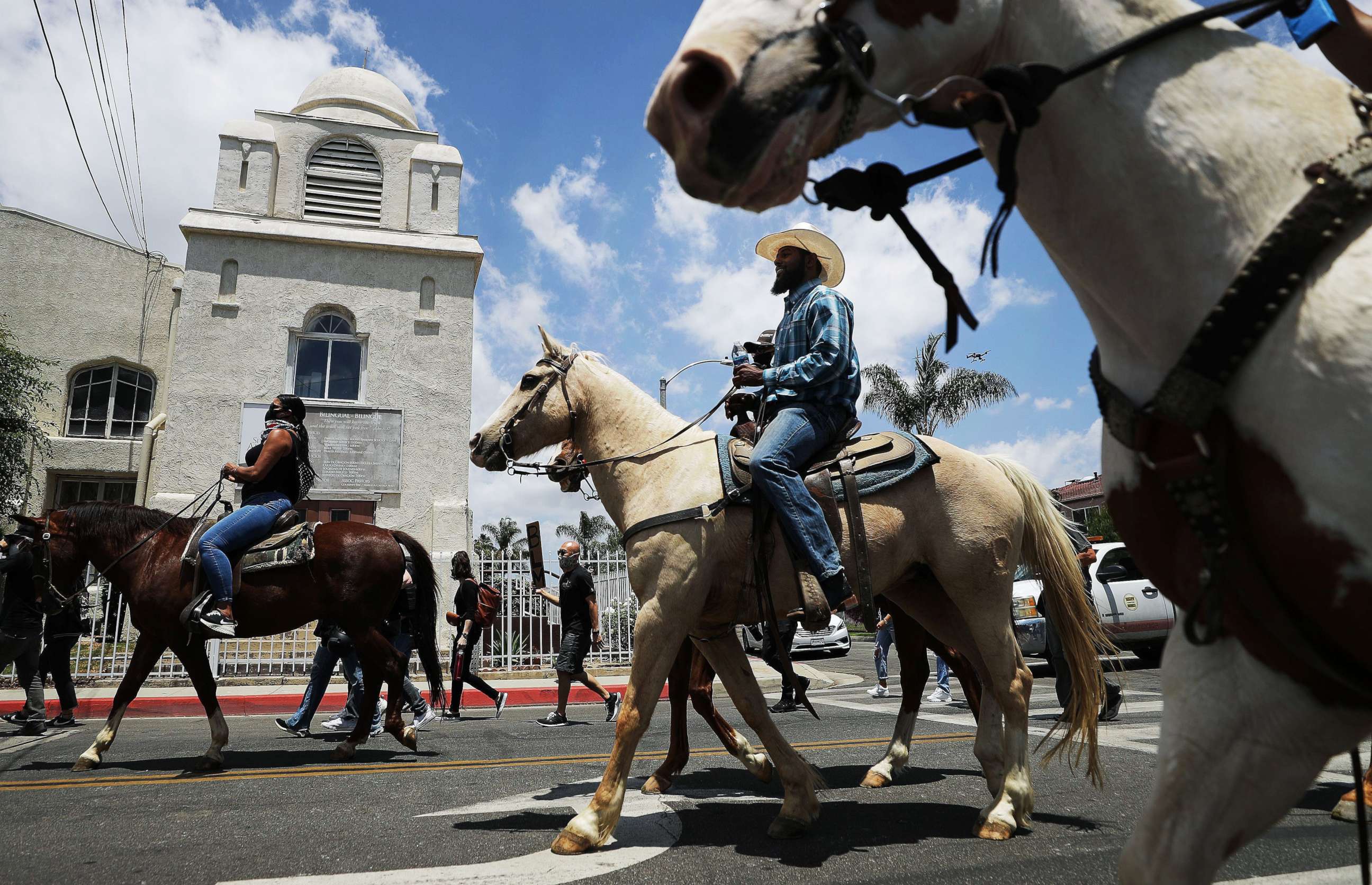 Today's biggest developments:
Hollywood protest march draws upwards of 20,000
Minneapolis City Council members want to replace police department
VA officer charged with misdemeanor assault involving man in crisis
Missouri officer suspended after video shows him hitting man with car
Several officers injured due to improvised explosives in Seattle
This is how the news unfolded on Sunday. All times Eastern.
10:56 p.m.: Hollywood march draws upwards of 20,000
Sunday's protest march in Hollywood drew an estimated 20,000 demonstrators, according to aerial footage from Los Angeles ABC station KABC.
As part of the protest, a Black Lives Matter flag flew atop Hollywood's iconic Capitol Records building.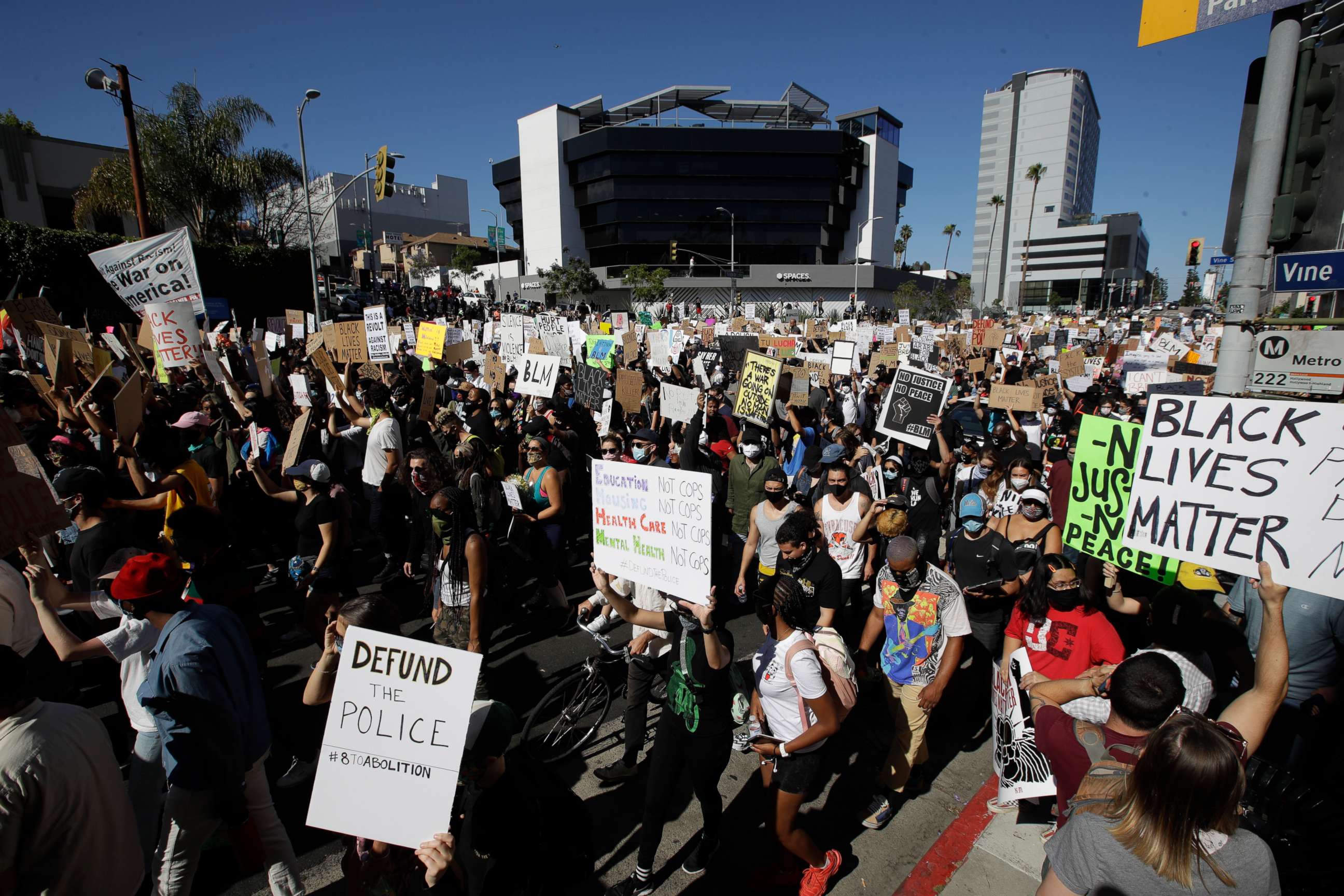 In New York City, demonstrations extended into the evening after authorities lifted the curfew that had been in effect.
Largely peaceful protests occurred in Manhattan's Union Square, Washington Square Park and Columbus Circle, as well as locations throughout Brooklyn.
Protests continued in Boston, Chicago, Miami and Pittsburgh, among other cities.
8:20 p.m.: Murder charges filed in death of St. Louis police chief
A man has been charged with murder in the death of David Dorn, a police chief found fatally shot outside a St. Louis pawn shop that was looted during protests last week.
Stephan Cannon, 24, was charged with first-degree murder, along with six other charges, Circuit Attorney Kimberly M. Gardner announced.
No bond was allowed.
Dorn retired from the St. Louis Police Department in 2007 and had been serving as police chief of Moline Acres, Missouri, since 2008. He was killed on June 2 when he apparently tried to stop the looting of Lee's Pawn & Jewelry.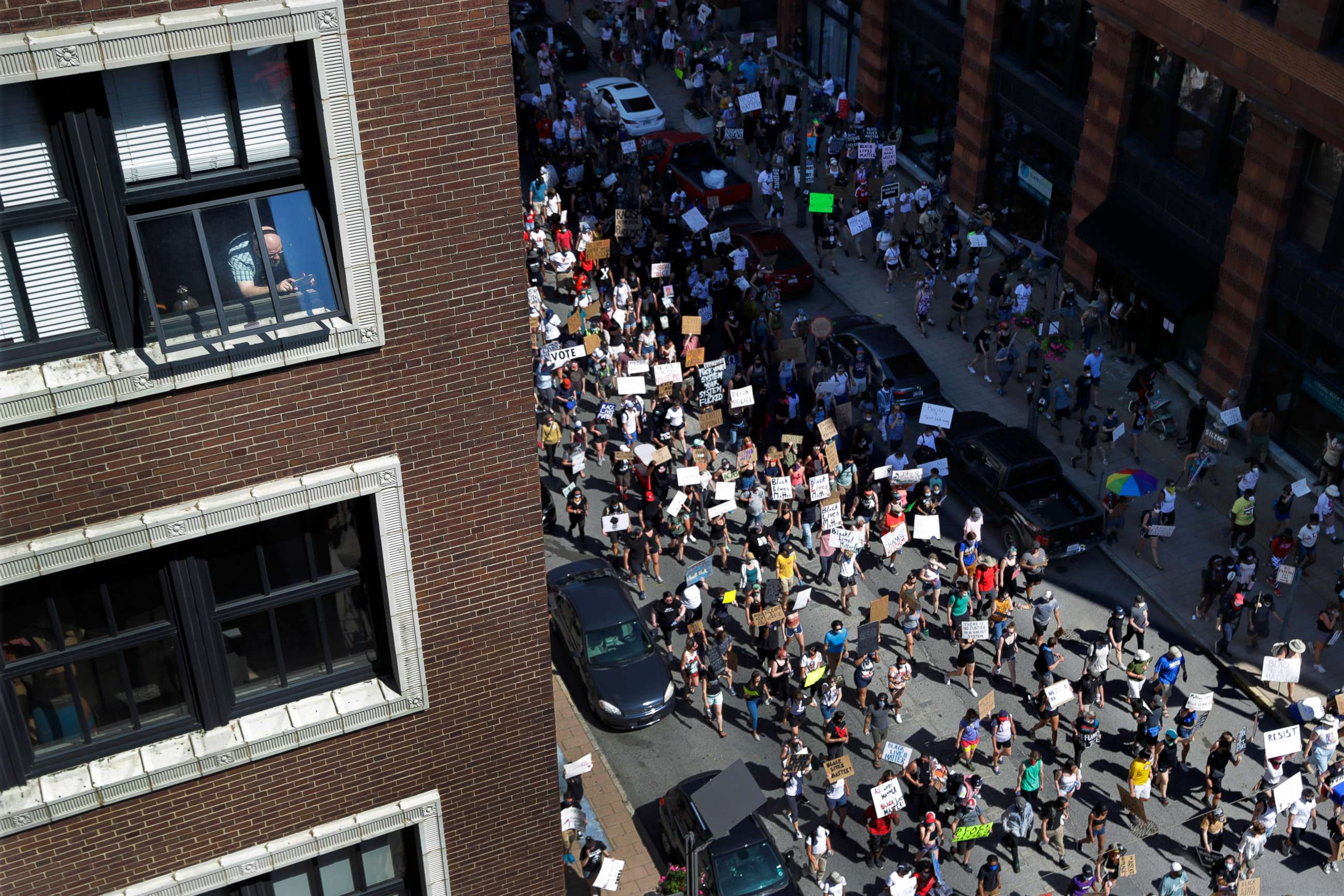 The investigation recovered footage from the shop and surrounding businesses, Gardner said.
Additional charges included first-degree robbery and burglary, three counts of armed criminal action, and unlawful possession of a firearm.
6:58 p.m.: Minneapolis City Council wants to replace police department
Minneapolis City Council members have announced their intent to disband the city's police department in favor of a more community-oriented agency.
The announcement came at a community meeting held by Black Visions and Reclaim the Block, two grassroots organizations that have been calling on the city council to divest from the police department since 2018.
"Our commitment is to end our city's toxic relationship with the Minneapolis Police Department, to end policing as we know it and to recreate systems of public safety that actually keep us safe," City Council President Lisa Bender said at a rally Sunday afternoon.
Binder said that "it is clear that our system of policing is not keeping communities safe. Our efforts at incremental reform have failed."
The veto-proof majority group said it wants to shift toward a community-led public safety system, though at the moment the hurdles to disbanding the police are unclear.
After Sunday's meeting, the city council is expected to begin creating a transition plan away from the MPD, in consultation with Minneapolis residents as well as organizers and experts in the community and nationwide.
"It shouldn't have taken so much death to get us here," said Black Visions Director Kandace Montgomery. "George Floyd should not have been murdered for so many people to wake up. It shouldn't have taken young black folks risking their lives in these streets, over and over. I want to honor all of the organizers and communities who, for generations, have dreamed and worked to make this day happen."
Mayor Jacob Frey was booed out of a protest Saturday after he said he did not support abolishing the police department, as covered in the 11:14 p.m. entry below.
3:55 p.m.: Mural of former Philadelphia Mayor Frank Rizzo painted over
Another memorial to former Philadelphia Mayor Frank Rizzo has been removed.
A mural depicting the former police commissioner in the city's Italian Market was painted over on Sunday morning.
The mural, who many saw as a symbol of police brutality, had been defaced several times in recent years. Mural Arts Philadelphia said it painted over the mural with the consent of the wall owner.
"We know that the removal of this mural does not erase painful memories and are deeply apologetic for the amount of grief it has caused," the organization said in a statement on Sunday. "We believe this is a step in the right direction and hope to aid in healing our city through the power of thoughtful and inclusive public art."
The organization said it plans to create a new mural with input from the community.
Last week, a statue of Rizzo near City Hall was removed following vandalism amid the city's protests.
1:33 p.m.: National Guard prepares to leave Los Angeles
The National Guard is leaving Los Angeles after their presence was requested to handle protests.
The National Guard was activated in Los Angeles and neighboring communities on May 30 after a request from Gov. Gavin Newsom. He had proclaimed a statement of emergency in Los Angeles County amid the protests.