The flurry of activity surrounding the $25,000 check that President Donald Trump had promised the family of a fallen soldier is not the first time Army Cpl. Dillon Baldridge's death has drawn unwanted attention.
After his June death in Afghanistan, the controversial Westboro Baptist Church, which regularly protests military funerals, issued a statement calling for Baldridge's funeral to be the target of the group's protests.
The Topeka, Kansas, church protests such funerals because they say God is using events such as soldiers' deaths to punish the United States for "the sin of homosexuality."
But online video of his funeral procession does not show any protestors interrupting the motorcade.
Instead, despite the Westboro Baptist Church threat, there were displays of respect throughout the Baldridge family's home state of North Carolina. Gov. Roy Cooper ordered flags to half-staff, according to CBS North Carolina, and many mourners wore red, white and blue to the funeral where a number of relatives -- including his younger brother, Zachary Palmer, who was expected to begin Air Force training this fall -- spoke at the service.
"I had the honor of being Dillon's brother," Zachary Palmer said, according to the Winston-Salem Journal. "It's tough. I thank all of you for your support, and I thank my brother for his sacrifice."
Military service was a longtime dream of Dillon Baldridge's, according to his father. He enlisted right out of high school, according to his obituary, and re-enlisted in 2016.
"He'd be up at five in the morning watching the Military Channel on TV," his father told ABC Raleigh, North Carolina, station WTVD-TV. "What kind of kid does that?"
Baldridge, 22, enlisted with the Army's 25th Infantry Division and was stationed in Hawaii for three years and then Kentucky. He was offered a position as an Army Ranger but turned it down to join his team as they deployed to Afghanistan, his father told WTVD.
"My chest was just out a little higher that day, beaming with pride," Chris Baldridge told the station.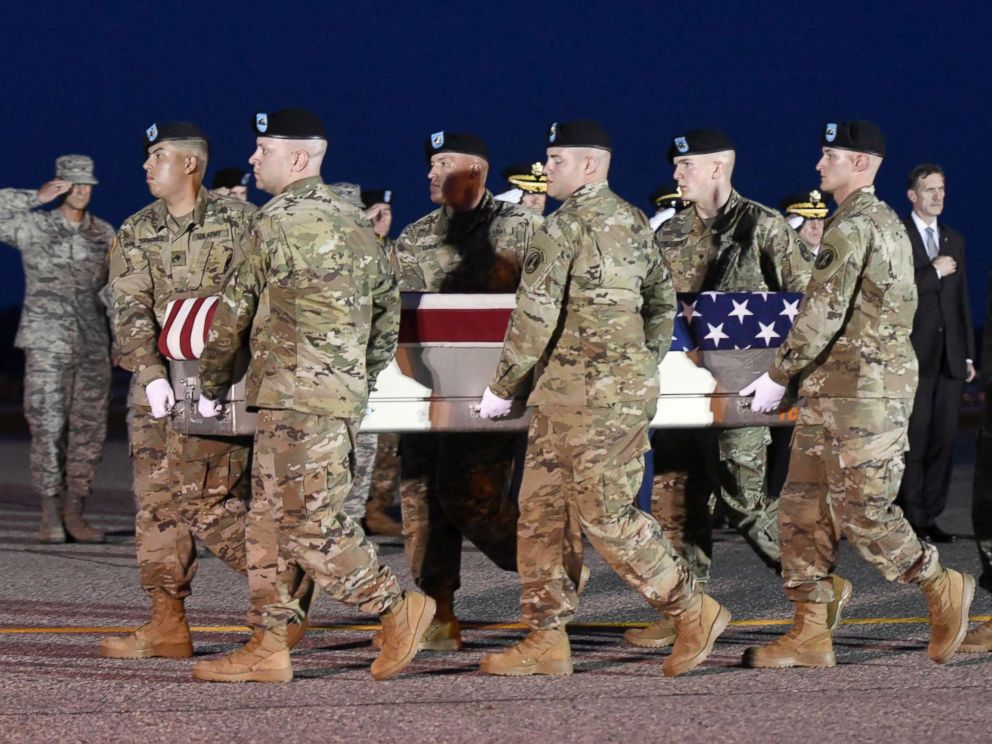 Dillon Baldridge was posthumously awarded the Bronze Star Medal and a Purple Heart. He died when an Afghan security officer opened fire on his U.S. counterparts. The Taliban claimed responsibility for the attack.
He was remembered by friends and loved ones as funny and sensitive with a dedication to others, according to the obituary posted on the funeral home's website.
"As a young child, Dillon would just spontaneously belt out a song in the middle of a restaurant just to bring people joy," his grandmother Debbie Horan said in the obituary.
Trump sent a $25,000 gift Baldridge's father several months after first making the pledge during a personal phone call with the family, the White House confirmed for ABC News Wednesday.
Editor's note: In an earlier version of this story, ABC News inaccurately named the North Carolina governor. It has since been fixed.