Hanna has weakened to a tropical storm as it continues to move inland though it is still bringing dangerous weather conditions to portions of southern Texas.
Hanna is now moving across northeastern Mexico, holding on as a weak tropical storm this afternoon with sustained winds of 40 mph. Rapid weakening will continue into this evening and will likely become a tropical depression soon.
However, the northern edge of the storm is still triggering areas of heavy rain across the Rio Grande Valley in southern Texas this afternoon. Flash flood watches remain in effect and additional flash flooding is still possible following the excessive rainfall and flash flooding already.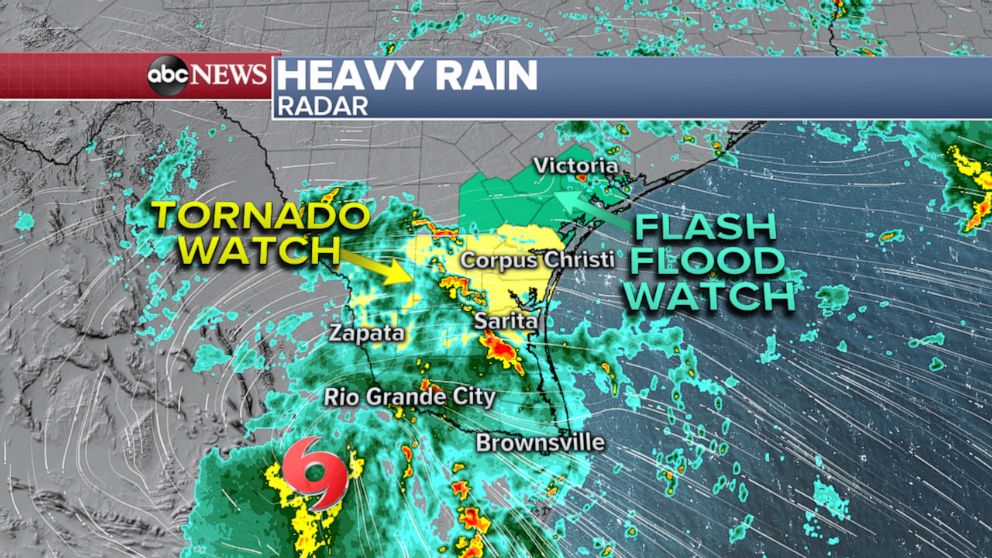 There is also the threat of a few tornadoes in south Texas through the evening hours -- a tornado watch remains in effect until 10 p.m. Central Standard Time for cities such as Corpus Christi, McAllen, and Brownsville.
More than a foot of rain fell in Port Mansfield, Texas, and other areas of the state including Harlingen and Mission have seen 10 inches of rain.
President Donald Trump approved an emergency declaration for Texas on Sunday which will authorize federal assistance in response to the storm.
Elsewhere, tropical storm warnings and hurricane warnings are up for the Hawaiian Islands as Hurricane Douglas makes its approach.
Douglas is passing north of the Big Island of Hawaii right now as a Category 1 hurricane with sustained winds of 90 mph. It is moving WNW at 16 mph and the center is currently about 90 miles east of the Kahului, Hawaii.
"We have a triple threat here," Honolulu Mayor Kirk Caldwell told reporters Sunday. "One is rain, one is the wind, one is storm surge."
Officials at the press briefing said Oahu was expecting between 5-10 inches of rain by Sunday night, with 3 inches of storm surge that could create flooding in areas where it wouldn't normally occur.
A hurricane warning is in effect for the islands of Maui, Oahu, and Kauai. A tropical storm warning is in effect for the Big Island.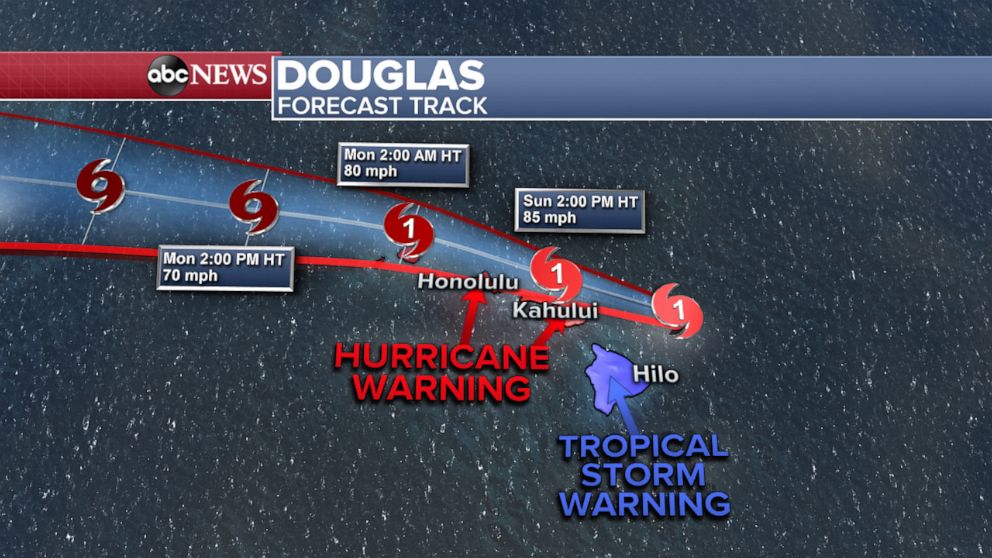 Gradual additional weakening is forecast, however Douglas is expected to remain at hurricane strength as the center passes north of the islands into Monday.
While the Big Island is seeing minimal impacts (mostly just rough surf/big waves), the storm will track very close to the islands of Maui/Oahu because they are a bit farther north in latitude than the Big Island. This means more significant impacts for them.
Douglas will also likely be making a close pass, not a direct hit, so no official "landfall" is expected though impacts will still be felt in the Hawaiian Islands.
Very heavy rain, strong winds and rough surf/big waves will be seen on islands such as Maui/Oahu, especially the northern portions. A slight shift in the track could change impacts either way.
While wind and coastal impacts are a concern, very heavy rain will likely be the biggest impact with several inches of rain possible and the potential for flash flooding/landslides/mudslides.
Meanwhile, another heat wave is forecast for the Northeast this week.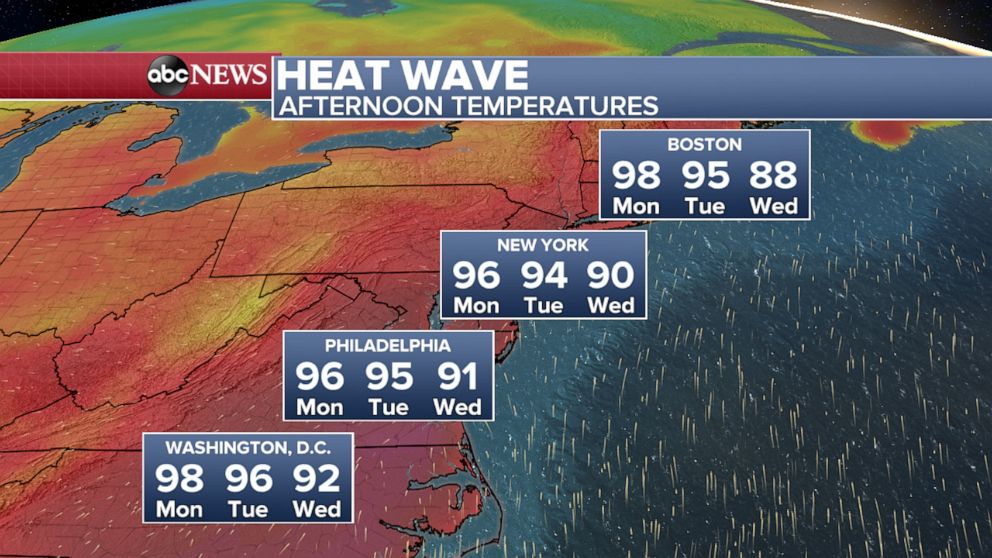 Heat alerts have been issued from New Jersey to Maine. Head advisories are in effect on Monday for cities such as New York City, Hartford, Connecticut, and Boston.
Monday will be the hottest day with actual air temperatures nearing 100 degrees from Hartford to Boston tomorrow afternoon. Daily record highs will be challenged in some New England cities. Heat index values will likely reach the triple digits tomorrow afternoon along much of the I-95 corridor.