— -- Hurricane Harvey slammed into the Gulf Coast of Texas Friday, making landfall as a Category 4 storm around 10 p.m. local time, and meteorologists are noting a pattern in which the system appears to remain in one area over multiple days.
About three hours after making landfall, Harvey was downgraded to a Category 3 storm after winds decreased to 125 mph from maximum sustained winds of 130 mph. The storm will continue to weaken on Saturday and Sunday.
Some weather models show Harvey could expand across the Gulf Coast through Monday, and even possibly make a second landfall on Tuesday.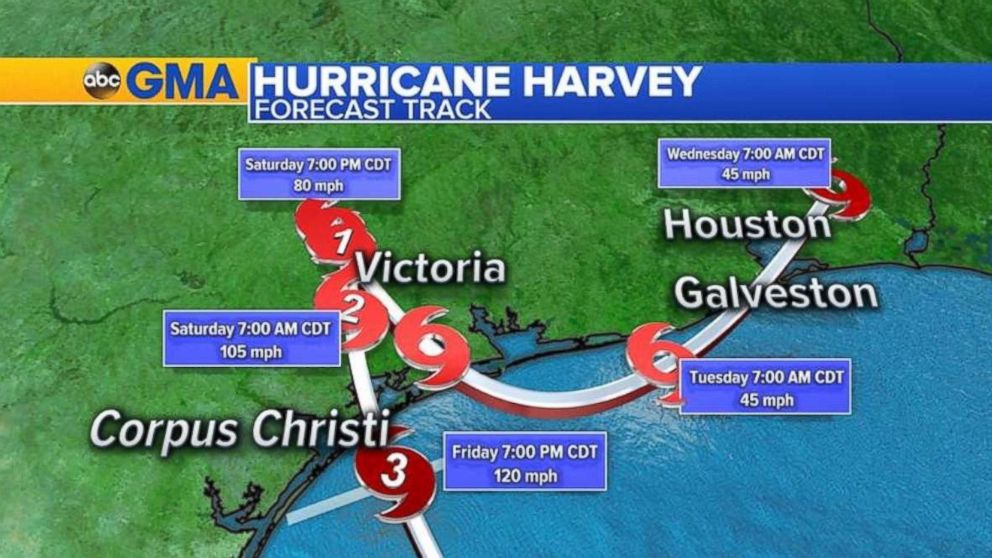 Because of the high pressures surrounding the hurricane, the system will essentially become stuck in one spot once it makes landfall.
"Hurricanes don't like dry air, so they try to find this sweet spot between unfavorable conditions," ABC News Senior Meteorologist Max Golembo said. "They like warm water and no wind shear, so the Gulf of Mexico is the perfect spot."
As a major bridge builds in the western U.S. because of a heat wave in southern California, high pressure in the Gulf of Mexico could keep Harvey in place, rotating between the two high pressures.
"There is nothing to move the system along, and the two high pressures are holding [Harvey] in place," Golembo explained. "It's like two people holding someone in place, and until one breaks free, the system cannot detach to one side."
Harvey could stay in this sort of blocking pattern until there's a break in one high ridge of pressure -- which could come as late as Wednesday.
"Depending when the ridge in the west breaks, then the storm could be pushed north towards New Orleans," Golembo said.
But the storm's path isn't exact and will weaken to a tropical storm as early as Sunday, ABC News Chief Meteorologist Ginger Zee said.
In fact, trying to track Harvey's trajectory isn't going to be easy.
"Right now we have been tracking [Harvey] through Wednesday, and we still have the storm in Houston," she said.
The hurricane won't be a hurricane for long because once it hits land "it will die out quickly," Zee adds.
But as a tropical storm, she said it is likely to loop, and then stick to southeast Texas.
That poses a dangerous prospect, because Harvey will be able to suck up "unlimited amounts of moisture" -- warm water -- as a result of being so close to the Gulf of Mexico.
The impact of a stalling hurricane on the height and duration of storm surge will depend largely on where the storm stops, according to Western Carolina University's Program for the Study of Developed Shorelines.
"If the storm stops on the coast, or just short, there could be heightened water level and waves on the oceanfront and over the bays, causing significant infrastructure damage and coastal erosion for a day or two," the program said in a statement Friday. "This is a worst-case scenario."