"The Internet is my religion," Jim Gilliam proclaimed during his keynote address at the Personal Democracy Forum, a conference that focuses on the potential impact of technology on politics and government.
In his 12-minute talk, Gilliam, an Internet activist and serial entrepreneur, chronicles how the Web transformed his faith and beliefs as he battled cancer and more.
Gilliam was not the only member of his family fighting cancer; his mother also had the disease.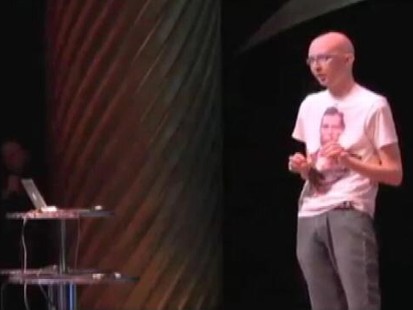 Watch Jim Gilliam's Full Speech Here
"Having two people in the same family get cancer at the same time ... is shocking," said Gilliam. "And then I got cancer again six months later and my mom died. ... Why did God take my mom and not me? I spent a while trying to understand that."
Gilliam survived cancer, but the radiation damaged his lungs, and he would require a double lung transplant to live.
"They took one look at my file and said forget it. The surgery was too complicated," explained Gilliam. "I was really pissed, so I blogged about it."
The blog inspired one of the volunteers at one of Gilliam's companies to write a letter to UCLA accusing the hospital of doing only easy surgeries to artificially inflate its statistics. That one letter started a movement.
"Then my sister wrote an email, then all my friends wrote an email -- this is what happens when your friends are activists," Gilliam said during his keynote address.
Two weeks later, he received a call from UCLA to begin the transplant ordeal.
"You can say a lot of things about lung transplant surgeons, but they're certainly not humble and there was no way that anyone was going to accuse [my surgeon] of not wanting to do a hard surgery," Gilliam told ABC News.
Gilliam is alive today thanks to the lungs of a person he'd never met and the collective power of people.
"Today I breathe through someone else's lungs, while another's blood flows through my veins. I have faith in people. I believe in God, and the Internet is my religion," Gilliam said.
Gilliam defines God as "what happens when humanity is connected." Today that takes the form of the Internet, he said. In the future it may be entirely different.
"The drive for humans to be connected with each other is overwhelming. ... It's pretty much unstoppable," Gilliam told ABC News. "Right now we've kind of developed the Internet really as a way to do that, but who knows where that might even take us in the future."
Watch "The Conversation" with Jim Gilliam to hear about the first time he logged on to the Internet.