A man who allegedly tried and failed to abduct a woman from the side of a road in August might have also been involved in the apparent kidnapping of a Georgia mother just days later, investigators said today.
Kristi Cornwell, 28, was taking a routine evening walk on Aug. 11 when police believe she was abducted down the street from her family's home in Blairsville, Ga.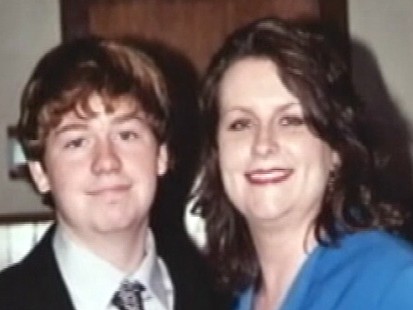 Cornwell, who has a 15-year-old son, Brody, was on her cell phone with her boyfriend, Douglas Davis, when she went out around 9 p.m. Davis told the police that Cornwell said a car was approaching her. He then heard a struggle and Cornwell yelled, "Don't take me!" Then Davis lost reception.
Now, after nearly four months, investigators believe that a similar crime just days before might shed light on what happened.
On Aug. 2, another woman, who has not been publicly identified, was walking along a road in Ranger, N.C. -- approximately 25 miles from where Cornwell was last seen – when, she told investigators, a "vehicle pulled up behind her and knocked her to the ground," according to a statement released today by the Georgia Bureau of Investigation.
"The timing and the vehicle description involved in this incident indicates a possible connection to Kristi's disappearance," said the statement.
But the man was apparently scared off when another car approached the area. The woman, who did not immediately report the incident, did so only after hearing about Cornwell's disappearance and later helped authorities develop a sketch of the suspect.
Based on the woman's description, the suspect is believed to be a white male in his mid-20s with dark hair. He may be driving a silver, late-model Nissan Xterra with tinted windows and a brush guard on the front.
Initial canvassing of the surrounding area has not developed any "solid leads," according to the investigators, who are now asking for the public's help in apprehending the suspect.
Cornwell's case was featured on "America's Most Wanted," but the search for the missing mom – which spanned more than two weeks – was abandoned when no evidence of her was found.
Last week, Cornwell's family auctioned their lakefront vacation home to raise money to continue the search and is offering a $50,000 reward for information regarding her disappearance.
Cornwell's brother, Richard Cornwell, told "Good Morning America" in August that investigators were unsure whether his sister's abduction was random or if she was targeted, possibly in relation to her job as a former probation officer.
"Her son needs his mother back, and I need my baby back," her mother, Jo Ann Cornwell, said tearfully. "And we believe we're going to get her back."
Cornwell's cell phone was found in the days following her abduction, more than three miles from where investigators believe Cornwell was kidnapped.
Richard Cornwell said that single piece of evidence has given the family the most hope that Cornwell would be brought home.
Found along a major thoroughfare, not the back street from where Cornwell disappeared, the phone indicates the kidnappers' route, Richard Cornwell said.
"That's very encouraging to me, because we know the direction of travel," he said. "We know they were heading north on State Route 325."
From there, he said, they could have driven into Tennessee or North Carolina. Or, he said, they could have just doubled back into Georgia.
"That gives me hope that there is still a good chance she's out there somewhere," he said.
At the scene of the kidnapping, police have also discovered signs of a struggle. Some of Cornwell's belongings turned up along Jones Creek Road, a rural road in north Georgia.
Richard Cornwell said his sister's boyfriend was not considered a suspect or a person of interest in the case.
Last year, another woman, Meredith Emerson, disappeared in the same area of northern Georgia. She was found murdered. Her killer was caught and put behind bars.
But the people combing the countryside for Cornwell say they can't believe this is happening again. "We're in a rural community, you wouldn't think it would be like this," said one man who lives in the area.
Friends and family started a "Pray for Kristi Cody Cornwell" group on Facebook. There are more than 9,000 members so far.
Anyone with information can call the Union County Sheriff's office at (706) 439-6038, or the Georgia Bureau of Investigation at (800) 597-8477.
ABC News' Chris Strathmann, Joshua Gaynor and The Associated Press contributed to this report.