After an 18 year separation, Jaycee Dugard's family is doing "remarkably well under the circumstances," according to an attorney for the Dugards.
"They are very much functioning. They are very much a family," attorney McGregor Scott told "Good Morning America" today. "Watching the dynamics between the sisters [Jaycee's two daughters] and their grandmother, who are really just becoming acquainted for the very first time, it was just a very, very encouraging scene to observe."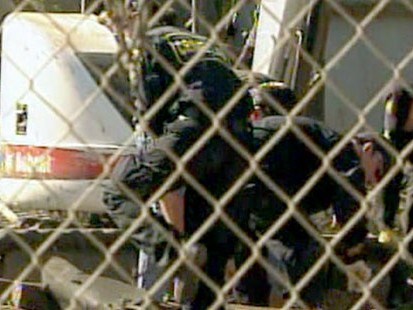 Scott, who has visited the Dugards twice, said that Jaycee is a mother to her two daughters, who she raised while allegedly being held captive by
Phillip Garrido
, "in a very classic sense."
Now that the shock of the reunion is beginning to settle, Scott said the family wants to focus on the healing process and on helping others.
"The family is very much focused and very much wishes for the public, the media, law enforcement, to focus right now on the other families which have had children abducted and whose children have not come home," Scott said.
"We must keep looking for them," Jaycee's mother, Terry Probyn said in a statement. "As Jaycee shows, miracles can happen."
Scott said the family does not want "the spotlight on them."
"Jaycee and her mother, in particular, want very much to utilize the bully pulpit that they've been given through this experience, to bring attention to those families and their need to bring their children home" Scott told "GMA."
"There may be someone out there who's overheard part of a conversation, or observed something that didn't seem quite right which would lead to that tip which could bring a child home," Scott said.
During an appearance on "The Today" show, Scott said Jaycee has mixed emotions surrounding the arrest of her alleged captors, who she lived with for 18 years. Phillip Garrido fathered her two children.
But Jaycee realizes "some bad and terrible things were done to her," he said.
The statement came two days after police wrapped up a major search of the home and property of accused kidnappers Phillip and Nancy Garrido for the remains of two other missing girls police believed could have been connected to the Garridos.
Police from Hayward and Dublin, Calif., led the intensive search of Phillip and Nancy Garrido's Antioch, Calif., property for more than a week after deciding there were enough similarities between Dugard's kidnapping and the disappearances of 9-year-old Michaela Garecht and 13-year-old Ilene Misheloff.
Phillip Garrido is still considered a potential suspect in both abductions.
A bone fragment found earlier in the search was found to likely be a human tooth, though judged too old to be relevant in either case. More labwork has been ordered.
Phillip Garrido is being held on $30 million bond. Nancy Garrido's lawyer has not requested bail. Both have pleaded not guilty to 28 counts, including kidnapping and rape, in the Dugard case.
Suspected Links Between Phillip Garrido and Other Missing Girls
Police have said there were several similarities between Dugard's 1991 kidnapping and the others, including method of abduction. And the grey Ford sedan impounded from the Garrido's lot matches witness descriptions in all three abductions.
Michaela Garecht was yanked into a car in 1988 after she and a friend took their scooters to the corner store, the first time they'd been allowed to do so on their own.
That friend, Katrina Rodriguez, told "Good Morning America" earlier this month that she recognized something in Garrido's eyes when she saw him on television after Dugard was found.
"I see that same intensity," Rodriguez said. "That creepy look that I don't think I'll ever forget."
Ilene Misheloff's January 1989 disappearance was not as brazen, but witnesses have reported seeing a similar car in the area around the time she vanished while taking a shortcut home from school.
Dugard, authorities have said, has also been questioned about the other missing girls, but her answers did not yield conclusive information.