Man Jumps Into NJ River to Rescue Unconscious Woman Trapped in Sinking SUV
Dramatic video caught the moment the man was able to pull her out of the car.
— -- A New Jersey man is being called a hero after he jumped into a river to save an unconscious woman who was trapped in a sinking SUV.
Jason Moss, 30, told ABC News today he had just left his local gym in Lyndhurst, New Jersey, on Tuesday morning when a man "screaming about a car in the river" ran past him.
After seeing a black Mercury Mountaineer submerged in the Passaic River, Moss said "instinct and adrenaline" immediately overcame him.
The IT sales manager drove across the bridge to Nutley, New Jersey, ripped off his dress clothes, put on his gym shorts and jumped into the river.
"When I got to the car, I saw that the driver was completely unconscious," Moss said. "Her seat belt was undone, and she was just floating inside."
Moss said he then tried to pull the door open, but it wouldn't budge at first. He checked to see if help was on the way, but emergency crews hadn't arrived yet.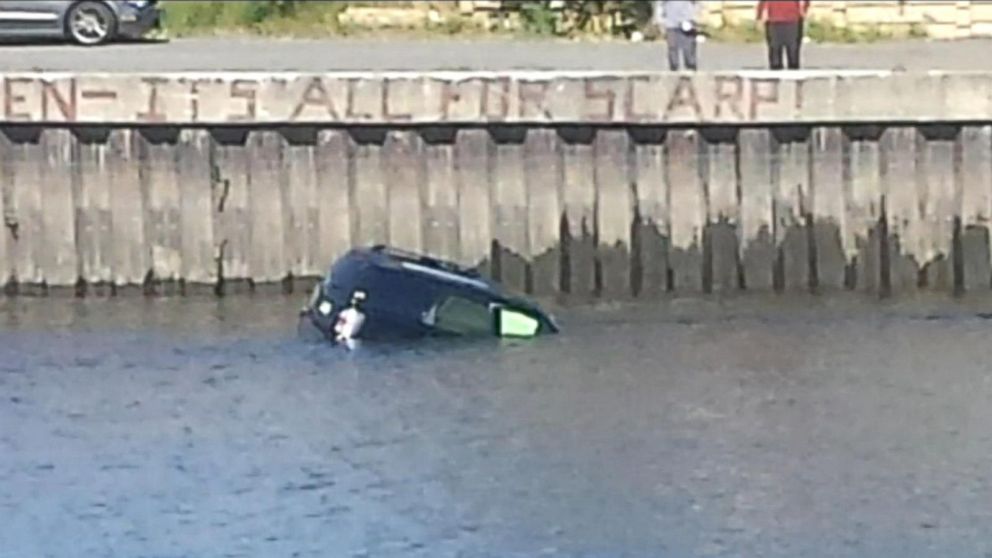 "That was the scariest moment," he said. "I knew if I couldn't get the door open, she would die. I wouldn't have been able to live with that guilt."
So Moss said he then used "all his strength" to pry the door open, and he was successfully able to grab the driver and bring her to shore. First responders arrived soon after.
The woman -- later identified as a 50-year-old resident of Cranford, New Jersey -- was taken to a local hospital, where was treated for non-threatening injuries, according to ABC station WABC in New York. She is expected to recover, WABC reported.
Moss told ABC News that he was also taken to a hospital since he had a few cuts on his feet, but he was released fairly quickly and was "fine besides that."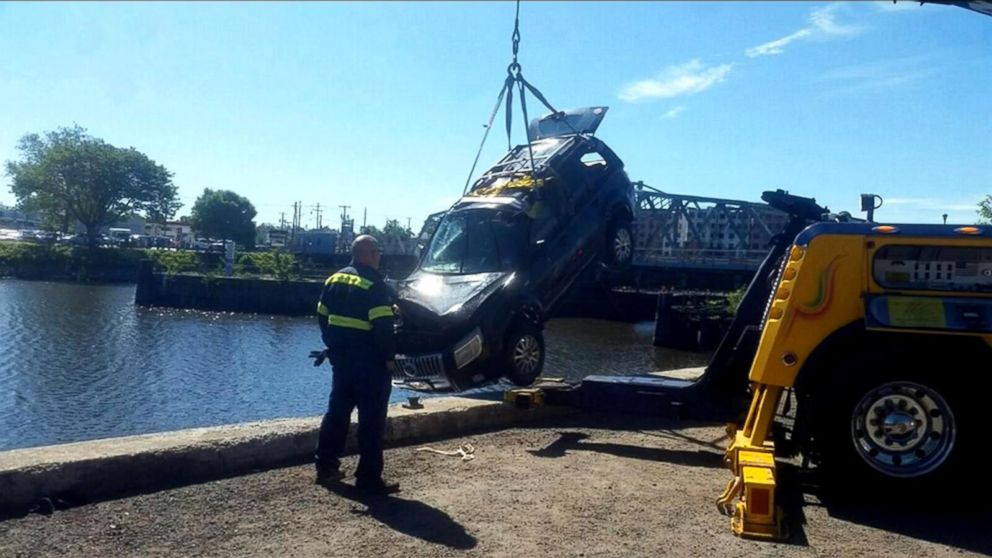 The Nutley Police Department took the black SUV out of the water later on Tuesday, according to WABC. The station reported that Nutley police were still investigating why the woman drove into the water.
"Officers were there quickly, but again, in that kind of condition, a minute or two means a lot, whether you can get out of the vehicle in time or not," Nutley Police Chief Tom Strumolo said. "So thank God [Moss] was there, and it's a good ending to the story."
The Nutley Police Department did not immediately respond to ABC News' requests today for additional information, including any updates on the investigation.
Moss said he wants people to know he "just did what I hope any other person would've done."
"If there's anything I hope people get out of this, I just hope they pay it forward," he said.