A police officer who shot and killed a driver during a traffic stop in Brooklyn Center, Minnesota, on Sunday afternoon meant to deploy her Taser instead of her gun, authorities said.
At a press conference Monday, Brooklyn Center Police Chief Tim Gannon said he believes the female officer -- identified by authorities as Kim Potter -- intended to deploy her stun gun when she "accidentally" shot 20-year-old Daunte Wright.
A preliminary report issued by the Hennepin County Medical Examiner on Monday evening said that Wright's death was a homicide, as he died from a gunshot wound to the chest.
The incident unfolded around 2 p.m. local time, when officers initiated a stop for an expired registration tag on a vehicle in the city in Minnesota's Hennepin County, about 10 miles northwest of Minneapolis. During the traffic stop, the officers determined that the driver of the vehicle had an outstanding gross misdemeanor warrant, according to Gannon.
"At one point as officers were attempting to take the driver into custody, the driver reentered the vehicle," the police chief said in a statement Sunday. "One officer discharged their firearm, striking the driver."
The car traveled several blocks before crashing into another vehicle. The passengers in the other car were not injured, according to Gannon.
Officers and medical personnel "attempted life-saving measures" on Wright, the police chief said, but he died at the scene.
A female passenger who was also in the vehicle with Wright sustained non-life-threatening injuries during the crash, according to Gannon. She was transported to North Memorial Health Hospital in Robbinsdale, a few miles south of Brooklyn Center.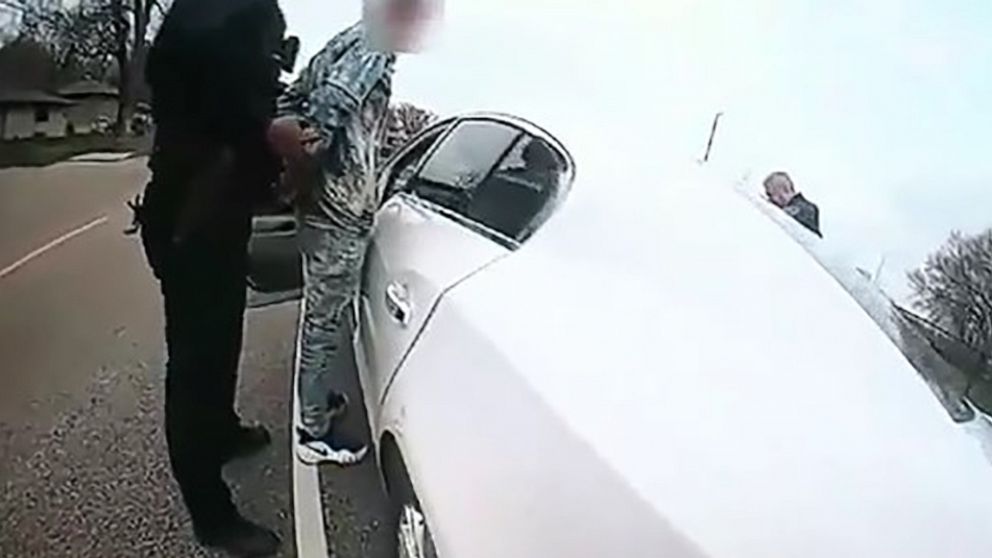 During Monday's press conference, the Brooklyn Center Police Department released body camera footage of the fatal encounter. Gannon said Potter can be heard in the video warning Wright and her fellow officers that she will be deploying her Taser.
"However, the officer drew their handgun instead of their Taser," the police chief told reporters. "It is my belief that the officer had the intention to deploy their Taser, but instead shot Mr. Wright with a single bullet. This appears to me, from what I viewed and the officer's reaction and distress immediately after, that this was an accidental discharge that resulted in the tragic death of Mr. Wright."
Potter can be heard in the video yelling, "Holy s---, I just shot him!"
The Minnesota Department of Public Safety's Bureau of Criminal Apprehension is investigating the incident. The agency released a statement on Monday identifying Potter, a 26-year veteran of the Brooklyn Center Police Department, as the officer involved in the deadly shooting.
Potter has been placed on administrative leave pending the outcome of the investigation, according to Gannon, who identified her as a "very senior officer."
A source with knowledge of the investigation told ABC News that Potter was field training another officer at the time of the shooting.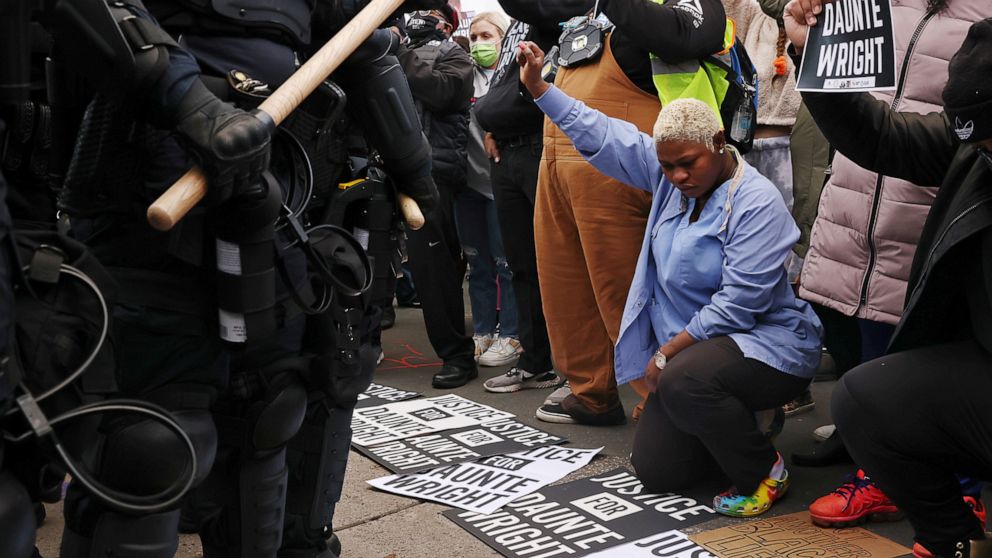 Wright's mother, Katie Wright, said she was on the phone with him before he was killed.
"I heard scuffling and I heard the police officers say, 'Daunte, don't run.' And then the other officer said, 'Put the phone down,' and hung it up," Katie Wright told reporters on Sunday. "And a minute later, I called and his girlfriend answered -- that was the passenger -- and said that he'd been shot, and she put [the phone] on the driver's side and my son was laying there lifeless."
In a statement to ABC News, Wright's family described him as a young father who "had a whole life ahead of him."
"We just want people to know Daunte was a good kid," Wright's family said in the statement. "He loved being a father to Daunte Jr."
"Daunte had a smile to make anyone's heart melt. He was definitely a jokester, he loved to joke with people, especially his brothers and sisters," the family added. "He did not deserve this."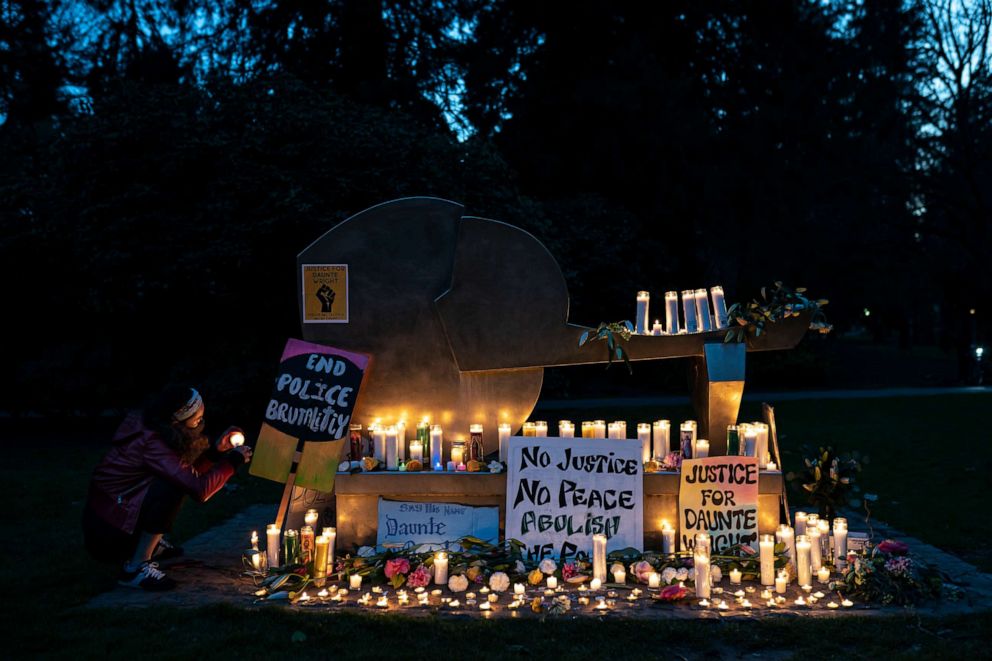 Wright's sister, Diamond Wright, told ABC News that she still doesn't know how to grieve her brother. She said she saw him on Saturday, the day before he was killed.
"I wasn't nice to him," Diamond Wright said. "He didn't get to know how much I loved him before they took his life."
She said she doesn't want to think about what happened to her brother, but she doesn't believe the shooting was a mistake.
"You don't accidentally grab something and point without knowing," she told ABC News. "Not true."
She added that she wants her brother to be remembered as "a great person, making a mark in history."
"He wanted to be known, but not this way," she added.
Civil rights attorney Benjamin Crump -- who has represented the families of Trayvon Martin, Breonna Taylor, George Floyd and more -- will represent Wright's family.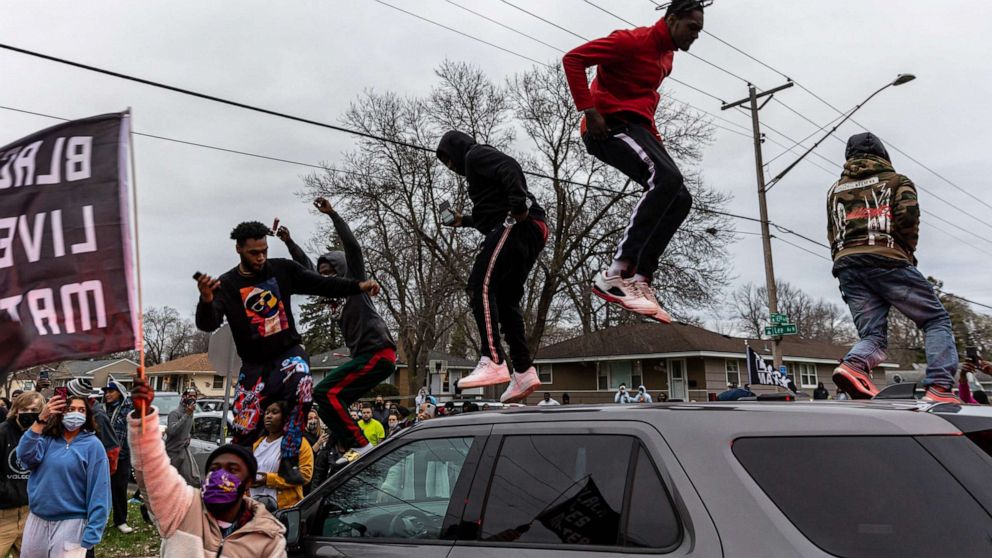 At a press conference Monday, authorities would not say how or if the officer who shot Wright would be punished but that all Brooklyn Center employees are "entitled to due process." Brooklyn Center Mayor Mike Elliott expressed his support for the removal of the police officer that killed Wright.
"We will get to the bottom of this," Elliott said. "We will do all that is within our power to make sure that justice is done for Daunte Wright."
Earlier, the mayor revealed on Twitter that he had a phone call with President Joe Biden, who he said offered "his administration's support" in the wake of the officer-involved shooting.
Biden addressed the shooting on Monday afternoon, calling for an investigation into the "really tragic" incident.
"The question is: was it an accident? Was it intentional? That remains to be determined by a full-blown investigation," Biden told reporters in the Oval Office.
Vice President Kamala Harris tweeted Monday night that "Daunte's family needs to know why their child is dead -- they deserve answers."
Minnesota Gov. Tim Walz also held a press conference Monday to acknowledge the grieving that is taking place in his state amid the ongoing murder trial of Derek Chauvin, the former Minneapolis police officer charged in the May 2020 death of George Floyd, which sparked nationwide protests.
"We can either come together and fix this, or we can suffer together as fools, and we can continue to make this happen," Walz told reporters. "Our time was made clear last May, in Minnesota, our time to get one shot at fixing that was there. And in the midst of this trial that the world's watching the situation repeated itself yesterday."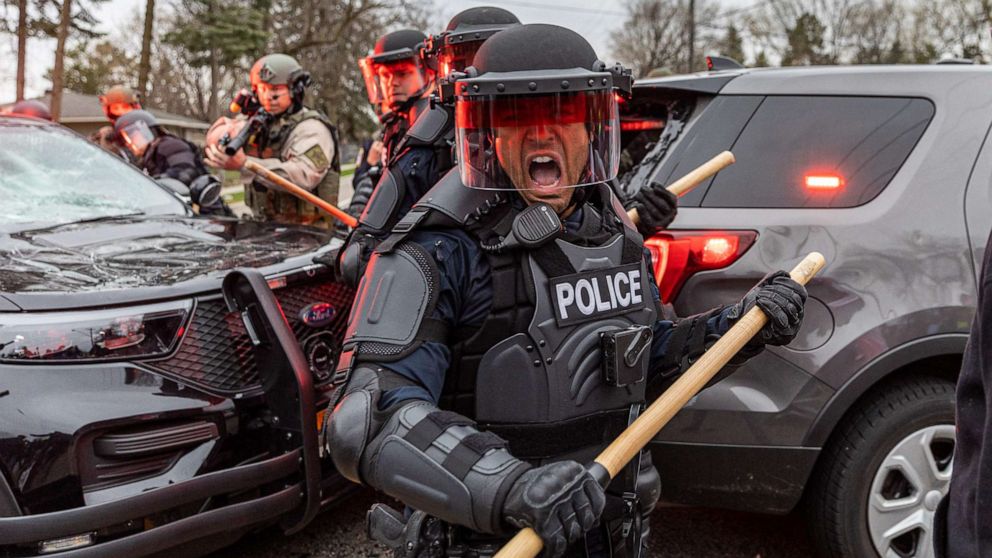 Moments after Wright was shot dead, dozens of protesters holding Black Lives Matter signs gathered at the scene.
John Harrington, commissioner of the Minnesota Department of Public Safety, said there were around 100 people at the scene on Sunday who were "highly agitated" when investigators from the Minnesota Bureau of Criminal Apprehension responded. The crowd was asked to disperse and did so shortly thereafter, as more agencies arrived on scene to coordinate a response to the protesters.
Later, crowds of 100 to 200 people marched toward the Brooklyn Center Police Department headquarters, according to Harrington.
"We saw rocks and other objects thrown at the police department. There were reports of shots fired in the area of the police department," Harrington said at a press conference late Sunday night. "Within hours of that, a secondary group we heard was at the Shingle Creek mall or business center and we have reports of approximately 20 businesses that were broken into during that period."
Authorities declared the demonstration outside the police department an unlawful assembly and gave the crowds a 10-minute warning to clear out. Aerial footage obtained by ABC News shows police forming a perimeter around the building.
About 25 minutes later, officers started firing rubber bullets and flash bangs to disperse protesters remaining in the area.
Harrington said the crowd at the police department had largely dispersed as of late Sunday night, though there were still "some pockets of individuals."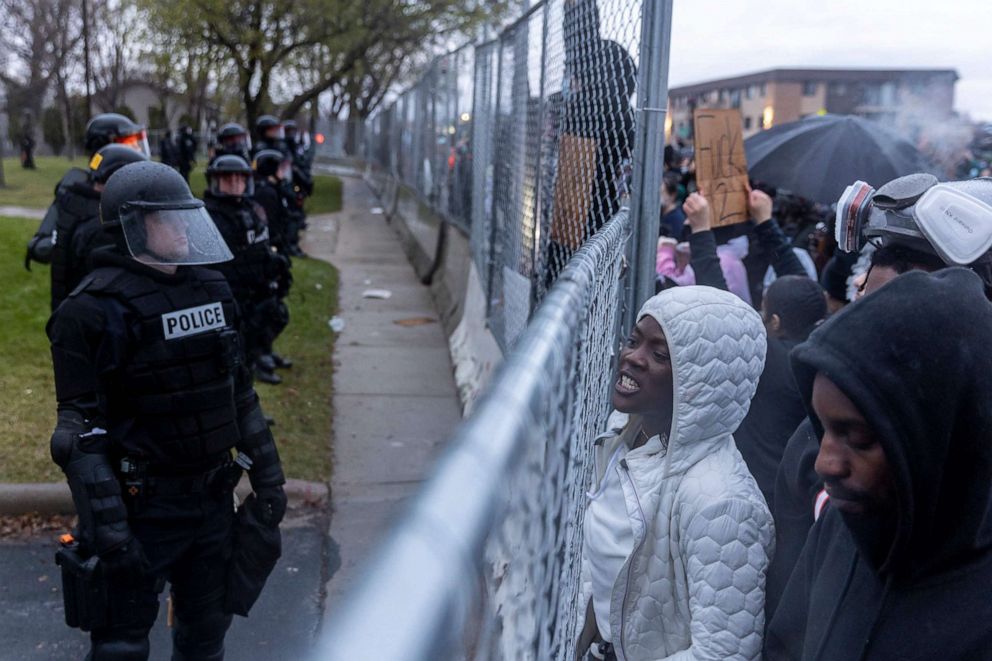 Shortly after midnight, the Brooklyn Center mayor issued a citywide curfew that remained in place until 6 a.m. local time on Monday. Elliott called for calm in the community and for authorities not to use force on peaceful protesters.
The Minnesota governor later declared a regional curfew for the counties of Hennepin, Ramsey and Anoka starting Monday at 7 p.m. local time and ending Tuesday at 6 a.m. local time.
Minnesota has mobilized its National Guard to Brooklyn Center at the request of local authorities, according to Harrington. The National Guard is already deployed in nearby Minneapolis for the Chauvin trial.
"At this time, we have essentially a full activation," Harrington said at the press conference late Sunday night. "You will see a robust assortment of National Guard, state and local police departments working together over the next two or three days as we once again prepare for the trial and also are prepared for any other and any further civil unrest that may come from the Brooklyn Center officer-involved shooting today."
Col. Matt Langer of the Minnesota State Patrol told reporters that the public can expect to see "a greater law enforcement presence, a greater National Guard presence" in and around Minneapolis.
The civil unrest continued for a second night Monday, despite the curfew and efforts by authorities to work with protest organizers.
"Before 7 o'clock and the curfew was imposed, I myself reached out and talked to an organizer, who was out at the scene, and asked for some help in figuring out how we could peacefully resolve the crowd and to start helping encourage people to go home under their own free will before there was any talk of enforcement action," Langer said at a press conference early Tuesday. "Others within the Department of Public Safety were also engaged with folks that were out there organizing the group, and our mobile field force commander actually met with one of the individuals on the scene at about 7 o'clock and tried to talk about how we could do this peacefully tonight without the use of any chemical munitions, without the use of enforcement. Unfortunately, those efforts weren't successful and those organizers weren't able to influence the desires of the crowd to leave."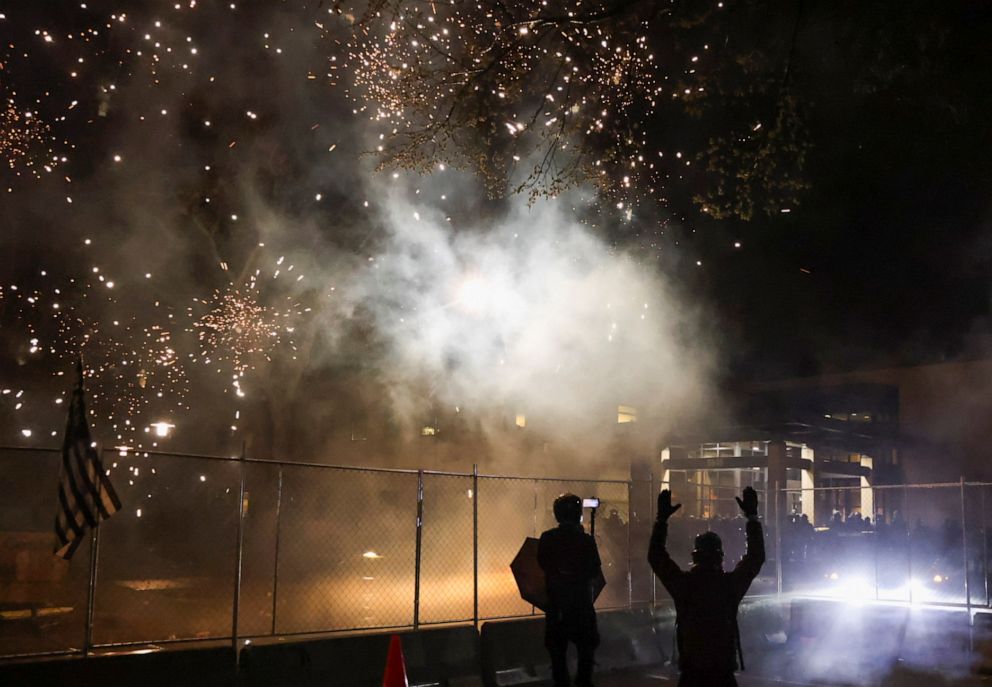 Law enforcement officers set up a perimeter around the Brooklyn Center Police Department headquarters and "courageously" defended the building from rioters, Langer said. The officers were "shelled pretty significantly with objects by the crowd" and some suffered minor injuries, according to Langer. There were no reports of injuries among protesters.
"At one point, the crowd was pushing against the fence and the fence gates swung open. There was some fireworks, there were lasers and there was enough activity to certainly go well against what we've been saying all along that we would not tolerate," Langer told reporters. "And so, decisions needed to be made to push that crowd back from the fence and to begin to disperse the crowd and make arrests for the criminal activity that was putting people in harm's way and prohibiting those that were there to assemble peacefully and, on top of all of that, of course in violation of the curfew order that had started at 7 p.m."
About 40 people were arrested in Brooklyn Center on Monday night into early Tuesday. Some were cited while others were booked in jail "for things all the way from curfew violations to riot," according to Langer.
"Order was restored for the most part," he said. "There were some occurrences of looting around the Brooklyn Center area and the city of Minneapolis -- it was pretty limited and sporadic in nature."
Another 13 people were arrested in Minneapolis, including four for burglary and six for curfew violations. There were burglaries at five businesses in the city, according to Amiela Huffman, deputy chief of professional standards at the Minneapolis Police Department.
Protests over Wright's shooting also erupted in Portland, Oregon, where police declared the situation a riot on Monday night. The Portland Police Department said in a statement that its officers were "defending themselves against a violent crowd" of about 200 people who had gathered outside a government office. The group was "acting aggressively toward police" and "throwing objects" at officers.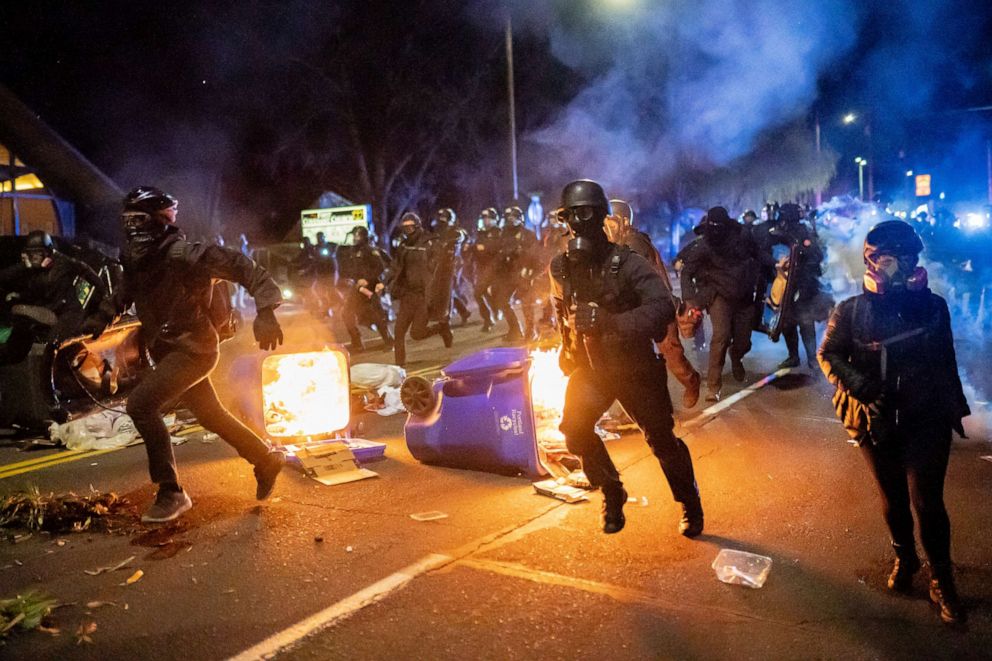 Earlier Monday, the Brooklyn Center City Council voted 3-2 to approve a motion giving the mayor's office command authority over the police department.
"At such a tough time, this will streamline things and establish a chain of command and leadership," Elliott tweeted.
The mayor also announced that the city manager was relieved of his duties and that the deputy city manager will be assuming those duties from now on.
"I will continue to work my hardest to ensure good leadership at all levels of our city government," Elliott tweeted.
The mayor said he has spoken to some peaceful protesters and assured them the city is working "collaboratively with all involved agencies" to wrap up the investigation into the deadly shooting.
Metro Transit, the main public transportation operator in the Minneapolis-Saint Paul area, announced Sunday that it was shutting down public transit in Brooklyn Center at the request of law enforcement. Meanwhile, Brooklyn Center Schools held classes virtually on Monday.
The National Basketball Association, the National Hockey League and the Major League Baseball all announced that games scheduled for Monday night in Minnesota would be postponed due to the shooting. All three leagues issued statements expressing condolences to Wright's family.
ABC News' Alexandra Faul, Will Gretsky, Will McDuffie, Stephanie Ramos and Matt Stone contributed to this report.