Aug. 26, 2012— -- When Edith Lee-Payne celebrated her 12th birthday just steps away from the Rev. Martin Luther King Jr. as he delivered the most acclaimed and prophetic message of the civil rights movement, little did she know she would become the face of the March on Washington.
The Aug. 28, 1963, image of her face, as she listened to King deliver his "I Have a Dream Speech" framed by a protest banner, captured a slice of the demonstration in a way that still evokes the spirit of the march for both Lee-Payne and the photographer who stumbled onto her that late-summer day.
"I had a great sense of what was going on," Lee-Payne, now 61, told ABC News. "I knew I was at something important because Dr. King was there, but I couldn't yet say it was historical."
Watch the 50th Anniversary of MLK's "I Have a Dream" speech LIVE Wednesday 11:30 a.m. ET with Social Soundtracker.
King had spoken two months earlier in her hometown of Detroit, and her mother, a "domestic" worker, had brought young Edith along as King urged others to join him in Washington.
"Dr. King wasn't just a speaker, he was a minister and he included Scripture in his message," she said. "He always spoke the truth. He had a very commanding voice and you kind of hung on to every word he said. He was very eloquent, not just how he said it, but the meaning behind it."
"I always felt within myself that no matter what the situation, if something was not right, I would say it's not right." -- Edith Lee-Payne
Lee-Payne's mother had been a professional dancer in the 1930s, traveling the South as an opening act for top black stars like Sammy Davis Sr., Cab Calloway and Duke Ellington. At the Washington monument, singer and activist Lena Horne recognized Lee-Payne's mother. They had toured together throughout the South and experienced Jim Crow laws and lynchings.
"It was the first time I learned she had experienced any kind of racial problems," Lee-Payne said. "She discussed going to theaters and having to go through the back for 'colored-only' singers and what they had seen in their travels how people were treated."
Civil rights had "not yet hit the history books" when Lee-Payne was a seventh-grader in an integrated school in Detroit, but she had followed the black press, magazines like Jet and Ebony.
"They had a lot of stories and graphic things in the news about people being mistreated and children not being able to go to school and people couldn't vote," she said. "All that was very contrary to the way I lived."
As a young adult, Lee-Payne would experience discrimination when she applied for executive secretary jobs in Washington, D.C.
"You were supposed to be type 60 words a minute, but I exceeded that," she said. "But when interviewers came into the room and they'd see a black person, they would tell me the job was filled or I wouldn't like the job.
"One person did sit me down and took the time to give me a test on the transcription machine, which at the time had earphones and foot pedals. She said, 'you should get it because black people have rhythm.'"
"My parents had been worried about violence. But the march was so dignified ... It provided a different type of aura to the civil rights movement ... a message to the larger society." -- Stephen London
But it was the 1963 march that fortified Lee-Payne's social conscience. Before she moved back to Detroit in the late-1970s, she fought to keep schools integrated in Prince George's County, Md.
What brought her as a 12-year-old to hear King speak was a "reverential respect of God," Lee-Payne said. "I always felt within myself that no matter what the situation, if something was not right, I would say it's not right."
Rowland Scherman, a 26-year-old photographer for the United States Information Agency, captured such commitment to justice in Lee-Payne's face that day on the mall. She was standing at the front by a fence, just to King's left as he looked out from the stage on an estimated 250,000 marchers.
"It was astounding," Scherman, now 76, said. "Here I am a cub reporter, and literally my first real assignment turns out to be the biggest event in American history."
Lee-Payne said she only learned of the existence of the photo five years ago when her cousin was looking through a catalogue of calendars and recognized Payne's childhood photo on the cover of one.
"I didn't know it had been taken," Lee-Payne said. "Why would a picture of me be on a black history calendar? I thought she was joking. I was in absolute denial because I couldn't believe that was me."
When King took to the stage, Scherman was whisked away, but it was then he saw Payne.
"I turned around and saw this beautiful young woman listening to Dr. King," he said. "She was so interested and enrapt by the events. I didn't realize how terrific the picture would be."
Learn everything you don't know about Martin Luther King Jr.
The BBC brought the pair together in April to walk around Washington's reflecting pool where marchers stood their ground.
"I didn't even know who she was or her name, but when I met her, she was like an old friend," said Scherman, who now does portraitures after a career in journalism and lives on Cape Cod, Mass.
That day in 1963, he said, he used 30 to 40 rolls of film: "thousands of photos."
"A lot of photographers just took positions and that was the spot where they stayed all day," he said. "I had amazing access to everything because I was an official U.S. government guy. I ran everywhere, took photos of Joanie [Baez] and Bob [Dylan] and Martin Luther King when the march started. I climbed up the top of the Lincoln Memorial and took the big shot."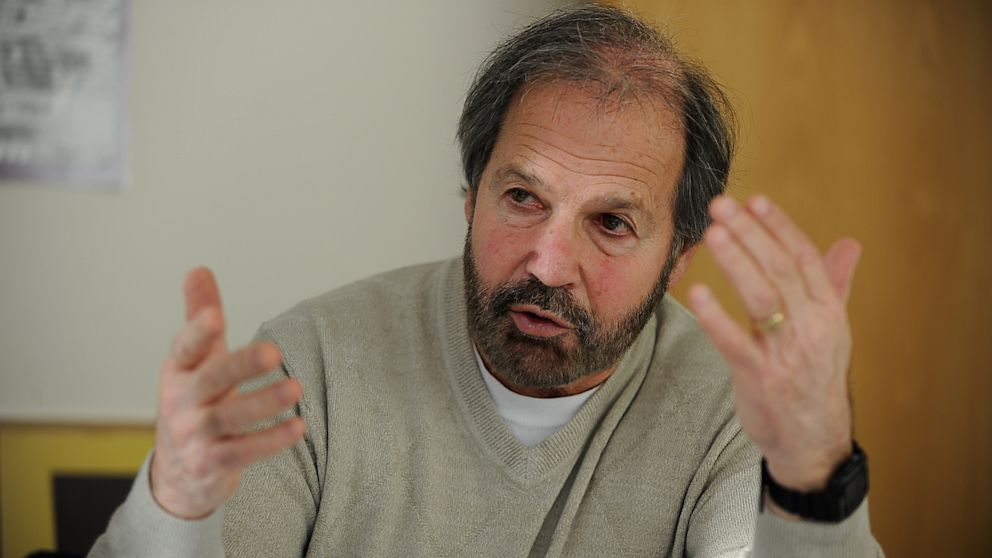 That shot captured hundreds of thousands of peaceful demonstrators whose consciences had called them to Washington. One was Stephen London, a 20-year-old student from Bowdoin College in Brunswick, Maine. He boarded a bus organized by the NAACP that was filled mostly with white protesters.
"For me, it was a very emotional experience," said London, who is now 70 and a sociology professor at Simmons College in Boston. "I had come from a somewhat isolated university in Maine where I was often the lone voice on these issues. And here, I was surrounded by thousands and thousands of like-minded students."
London was positioned relatively close to the monument itself and remembers King's "incredibly moving" speech vividly, not knowing "its significance over time."
"I remember being just overwhelmed with the magnitude of the scene and the numbers of people," he said. "The most significant impression of the march was the engagement of the clergy. For me it has always been not just a social justice issue, but a moral issue."
The spring after the march, London met King at his college. "Someone asked him the significance of the march and I remember him saying that before the march, he didn't have access to the White House," London said. "Afterward, he did through Kennedy's brother [Robert F. Kennedy], the attorney general."
London went on to volunteer for the Southern Christian Leadership Conference in the mid-1960s when the civil rights leader moved to Chicago, when black power groups were challenging his notion of peaceful integration.
Historians say the "I Have a Dream Speech" was a turning point in the civil rights movement. Later that year, in November, President John F. Kennedy was assassinated and in 1964, his successor, Lyndon B. Johnson, was able to push through the Civil Rights Act. The law banned segregation in all public venues and ended legal discrimination in employment.
"My parents had been worried about violence," London said. "But the march was so dignified and the speech was the capstone of the day. It provided a different type of aura to the civil rights movement and not just to those like me who were supportive, but a message to the larger society."
Although he later fought for integration of the Boston schools, a turbulent time in one of the North's most liberal cities, London said King's mark is indelible.
"If I had been asked way back in 1963, what it would look like, I could never picture what it looks like today," he said, living in Massachusetts with a black governor and nation with its first black president.
For her part, Lee-Payne is still involved in political activism, fighting against corruption in the city of Detroit, which just recently declared bankruptcy. Her oldest son was killed in a crossfire shooting in 1992 and she now promotes organ donation through a foundation created through his name.She still has the banner that she held: "March on Washington for Jobs and Freedom."
The same photo is on the program of the National Park Service for the 50th anniversary of the event and on the cover of a new book by photographer Scherman, "Eye on the Sixties."
They both plan to return for this week's anniversary.
Scherman got the negatives of his photos of the March last year from the National Archives, which owns the copyrights. Both Lee-Payne and Scherman are now part of a Robert Redford documentary that will be aired Tuesday by PBS, "The March," marking the 50th anniversary.
ABC NEWS INTERACTIVE ON THE 50TH ANNIVERSARY OF THE MARCH
On April 4, 1968, escaped convict James Earl Ray assassinated King standing on the balcony outside his room at the Motel Lorraine in Memphis. Many say he had predicted his death in his last speech, the day before, "Because I've been to the mountaintop. … And I've seen the promised land. I may not get there with you."
But on the stage at the Lincoln Monument in 1963, those like Lee-Payne, who were riveted by his presence, said, "He was just fearless.'
"As I got older, I realized he was a true man of God," Lee-Payne said. "I had increasingly more respect for him, standing being pulled and yanked by police. … But when you stand up for something, when you fulfill your purpose, you are fearless and you are not afraid of whatever happens.
"What I saw that day was a courageous man with a message from God."