— -- The mother of a 12-year-old girl seen on video appearing to be body-slammed by a school district police officer in San Antonio, Texas, said today "she couldn't believe" what happened to her child.
"She's my daughter, and I just want justice for her," Gloria Valdez told ABC News' "Good Morning America."
"I was upset. I was angry because I still couldn't believe he had done that to her and then she told me, 'Mom, I wasn't fighting. Why did he do that?'"
Gloria's daughter, Janissa Valdez, told "GMA" today that she was "still bruised" from the alleged incident that school officials said happened on March 29 at Rhodes Middle School.
Pointing to discoloration above her eye, Janissa said the bruise actually got "bigger" the day after the incident. And though it has "gone down" since then, it's still visible, she said.
School district officials are now conducting an investigation into the incident, which they say they only became aware of after cellphone video of it was posted on YouTube Tuesday, according to Leslie Price, spokeswoman for the San Antonio Independent School District.
The beginning of the video appears to show a school police officer, identified by the district as Joshua Kehm, lifting Janissa from behind before turning and slamming her on the floor face-down.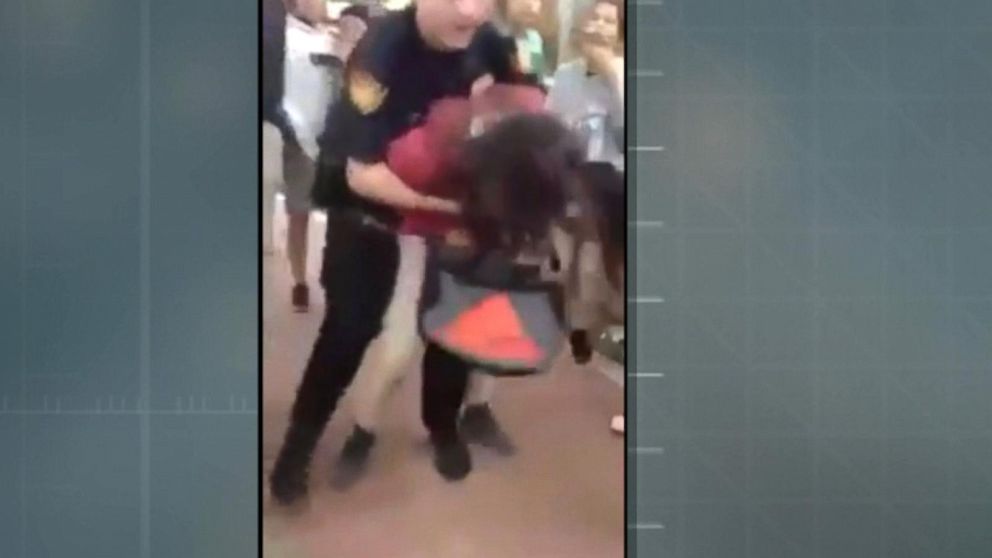 Price told GMA that the video was "very concerning."
"We will not tolerate excessive force in this district, but I can also say we need to find out all the details as to what occurred," she said.
Kehm has been working as a police officer for the school district since February 2015, Price said. He has been placed on administrative leave pending the outcome of the district's investigation, she added.
The Combined Law Enforcement Associations of Texas, which is representing Kehm, said, "There is an ongoing investigation and Officer Kehm fully intends to cooperate with the investigation."
As of this morning, it was still unclear what happened before the video was shot.
"All we know at this point is it seems like the incident began with two students having a verbal altercation," Price said.
Janissa said she admits to having a verbal argument with another student but that it didn't escalate beyond that.