— -- Flight crews in Texas spent around 18 hours Thursday and today evacuating 10 medically-fragile newborns out of the path of Hurricane Harvey.
The babies, all of whom were born in the last few weeks, were evacuated out of Driscoll Children's Hospital in Corpus Christi, which is directly in the path of what is expected to be the worst hurricane to hit Texas in nearly two decades.
The 10 newborns, who were in Driscoll's neonatal intensive care unit, were flown on specially-designed planes to a Fort Worth airport, then transported by ambulance to Cook Children's Hospital in the city, a hospital spokeswoman told ABC News.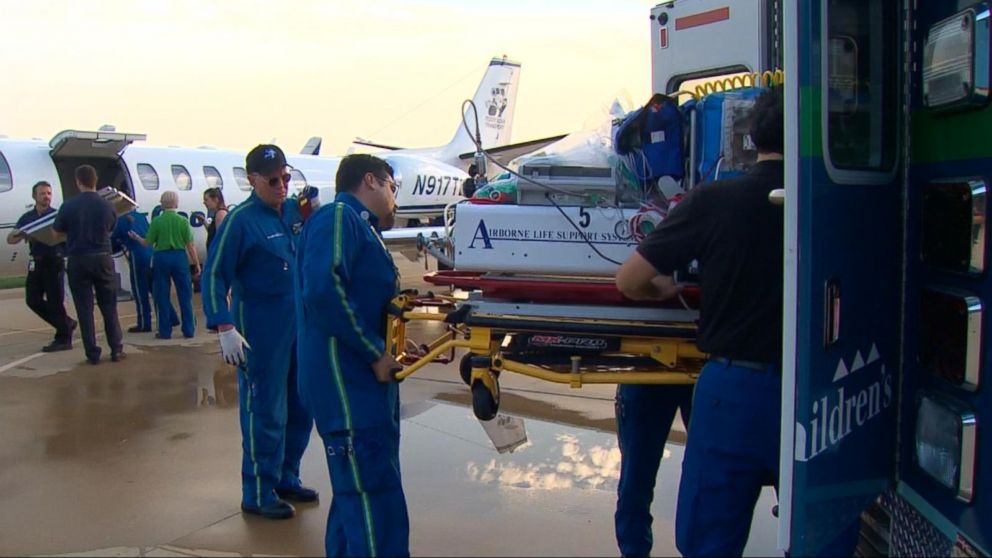 The babies, the last of whom arrived early this morning, are now under the care of doctors and nurses at Cook Children's. They will stay at the hospital until officials deem it safe for them to return home to Corpus Christi, according to the spokeswoman, Winifred King.
"Our NICU department has 106 units so we had available room," said King. "We had to call in more staff but they were happy to do it."
Hurricane Harvey was predicted by the National Weather Service early this morning to hit the Texas coast around midnight on Friday. All seven counties on the Texas coast have ordered mandatory evacuations of tens of thousands of residents.
Another North Texas hospital, Children's Health Dallas, partnered with Cook Children's and Driscoll Children's to fly the babies to safety. Cook Children's calls their specially-outfitted planes for children the Teddy Bear Transport.
The babies' parents were not able to travel with them on the approximately one-hour flight due to the equipment – including IVs, breathing tubes and ventilators -- needed to travel with the babies on the small planes. The parents, most of whom were driving to Fort Worth, are expected to arrive today, according to King.
Once the parents arrive in Fort Worth, they will be able to stay in their children's hospital rooms or at a Ronald McDonald House on the hospital's campus.
The partnership between Cook Children's and Driscoll Children's hospitals came via a direct call from the CEO of Driscoll to the CEO of Children's, King said.
"This was a real collaborative situation and we're just glad that those kids are here and we're able to take care of them," she said. "The primary goal is to have those children where they need to be and safe."
ABC News' Morgan Winsor contributed to this report.