— -- O.J. Simpson has been granted parole after nine years in prison for a Las Vegas robbery, a group of four Nevada commissioners decided today. The imprisoned former NFL player could be released as early as Oct. 1.
After learning he would be released, Simpson, 70, was emotional, showing visible relief. As he left the hearing room and went back inside the prison, Simpson could be heard saying, "Oh! God! Oh!"
Simpson delivered a rambling account of the case to the parole board earlier today, maintaining that he didn't intend to steal but "wish this would have never happened."
Simpson was at times jovial and combative with the members of the parole board, expressing his remorse and saying he's humbled by his incarceration. Simpson was sentenced to prison following an arrest in 2007 during a botched robbery in Las Vegas, when he led a group of men into a hotel and casino to steal sports memorabilia at gunpoint. He contended the memorabilia and other personal items belonged to him.
Simpson told the parole board today, "I take full responsibility."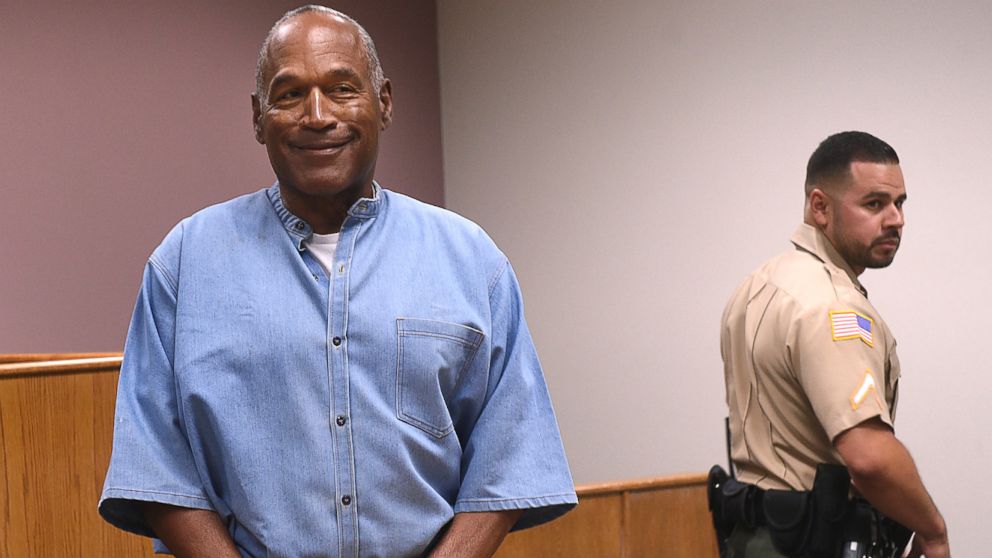 Simpson's account of the botched robbery
Simpson appeared remotely via video conference from Lovelock Correctional Facility in Nevada, where he's serving time for kidnapping and armed robbery. Simpson began by explaining what he said led to crime, telling the board how he learned that some "some guys" were trying to "fence" what he said were his personal mementos in Las Vegas.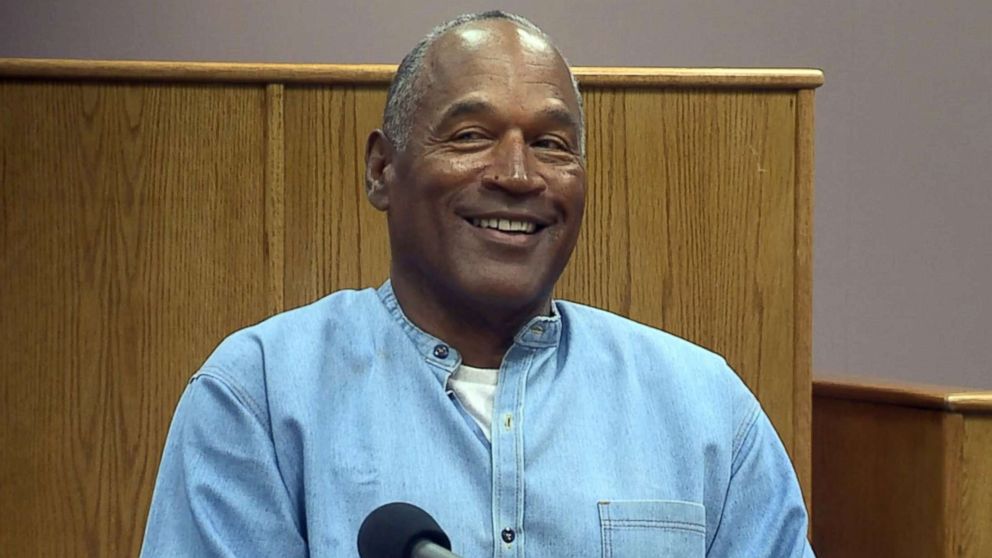 "As a perfect storm we all ended up in Las Vegas, you know? I was there for a wedding and [was told that] the property was there."
He later continued, "I said, 'Of course I would like to get the property.' He told me the names of what he thought were the people in the room, and I realized these are friends of mine. You know? Actually guys who helped me move, helped me move and store some of this stuff."
Simpson explained, "When I came into the [hotel] room I noticed spread out everywhere was my personal property."
"The only thing I saw that was on display that wasn't mine was some baseballs, and I made it clear to everybody those are not mine. All I want is my property. ... I wasn't there to steal from anybody."
"I would never, ever pull a weapon," he said.
Simpson added, "I haven't made any excuses in the nine years I've been here and not trying to make an excuses now."
When asked if he believed that the property was his, Simpson replied, "It's been ruled legally by the state of California that it was my property and they've given it to me."
Simpson: 'I was always a good guy'
Simpson reassured the board he would be successful meeting the conditions of his parole before it was granted, saying, "I'm not a guy who lived a criminal life."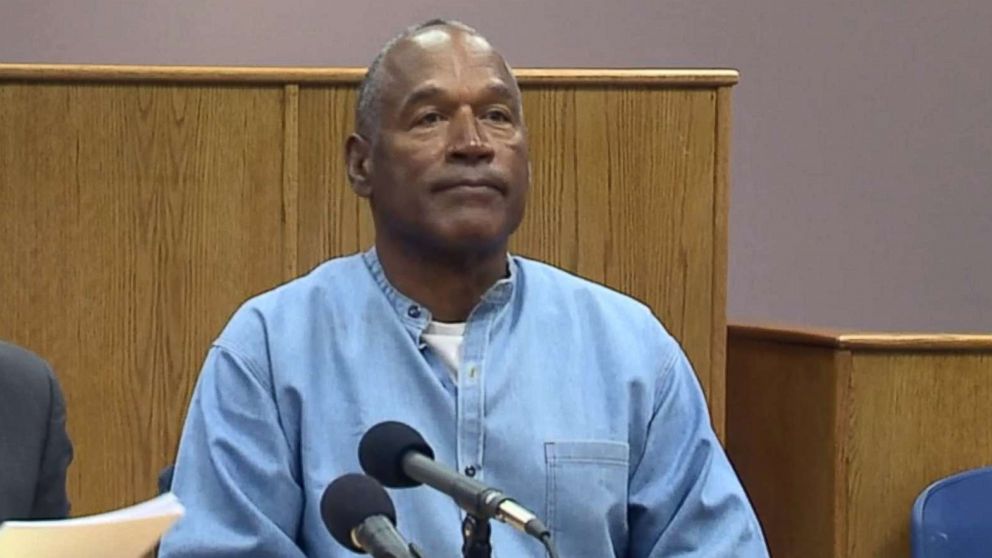 Simpson said in his nine years behind bars, he's been "a good guy."
"I was always a good guy, but could have been a better Christian, and my commitment to change is to be a better Christian."
He said he took an "alternative to violence" course in prison, calling it "the most important course anybody in this prison can take because it teaches you how to deal with conflict through conversation."
"I had some problems with fidelity in my life, but I've always been a guy that pretty much got along with everybody," he said.
Simpson said he's missed 36 birthdays with his children while behind bars and missed their college graduations. Once released, he said he wants to spend as much time as he can with his family.
Simpson's lawyer fumbles letter
During the hearing, Simpson's attorney, Malcolm LaVergne, planned to read to the board a letter Simpson wrote to a Nevada assemblyman, but LaVergne had difficulty finding it and asked Simpson in front of the commissioners, "Did you take the letter? I can't find it now."
He then located the letter and read it to the board; in the letter, Simpson advocates for state funds to go toward education for inmates.
LaVergne then argued to the board that Simpson's letter didn't ask for special treatment or an early release, but instead showed how Simpson wants to help other inmates have "a better life."
Simpson's daughter: 'We just want him to come home'
Simpson's eldest daughter, Arnelle Simpson, also spoke at the hearing, appearing emotional as she told the board her father is her "best friend" and her "rock."
"No one really knows how much we have been through, this ordeal in the last nine years," she said, noting that "he didn't make the right decision" on the day of the robbery.
"We just want him to come home," she said. "This has been really, truly hard. ... I know that he is remorseful."
Robbery victim speaks: 'O.J. never held a gun on me'
Bruce Fromong, one of the robbed memorabilia dealers and a victim in the case, spoke in Simpson's favor at the hearing. He admitted the hotel room did contain items that belong to Simpson, but said that on the day of the robbery, "Simpson was misguided."
Fromong continued, "He was led to believe that on that day, there were going to be thousands of pieces of his personal memorabilia, pictures of his wife from his first marriage, pictures of his kids. He was told there were going to be possibly his wife's wedding ring, thousands of things. He was misled about what was going to be there that day."
"O.J. never held a gun on me," Fromong said. "O.J. is my friend, always has been, and I hope will remain my friend."
The parole order
The parole order gave these reasons for granting parole: Simpson has no or minimal prior conviction history, he has stable release plans, he has community and/or family support, he has a positive institutional record, he participated in programs specific to addressing behavior that led to incarceration, and his victim is in support of his parole.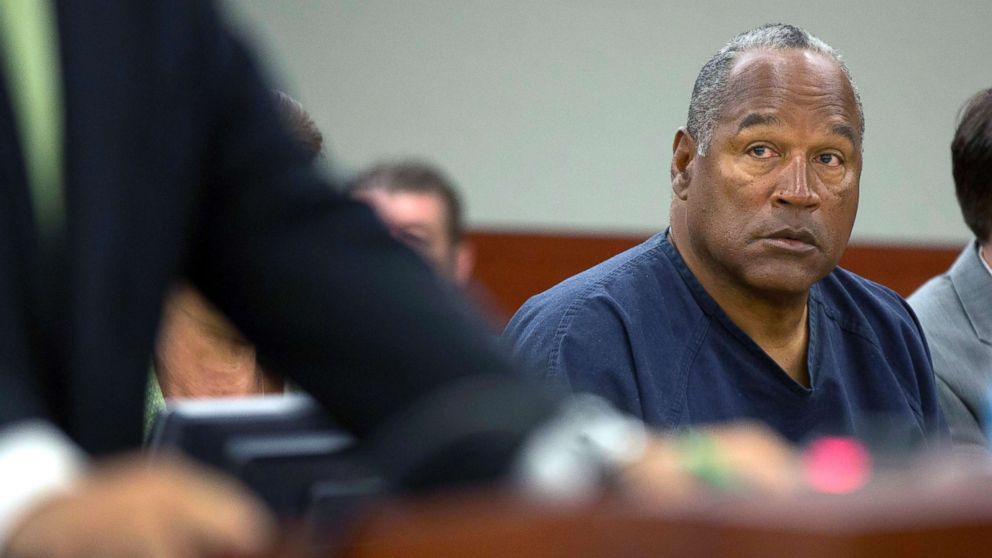 Key moments in Simpson's life
Simpson's football career took him from the University of Southern California to the Buffalo Bills. Following his retirement, his celebrity status catapulted him to movie stardom and a cushy Brentwood, California, mansion.
More than 20 years ago, Simpson went on trial for the killing of his ex-wife, Nicole Brown Simpson, and her friend, Ron Goldman. On June 12, 1994, the two were stabbed to death at her Los Angeles home. On Oct. 3, 1995, at the end of a televised trial that captivated the nation, Simpson was acquitted of all criminal charges. He has always maintained his innocence.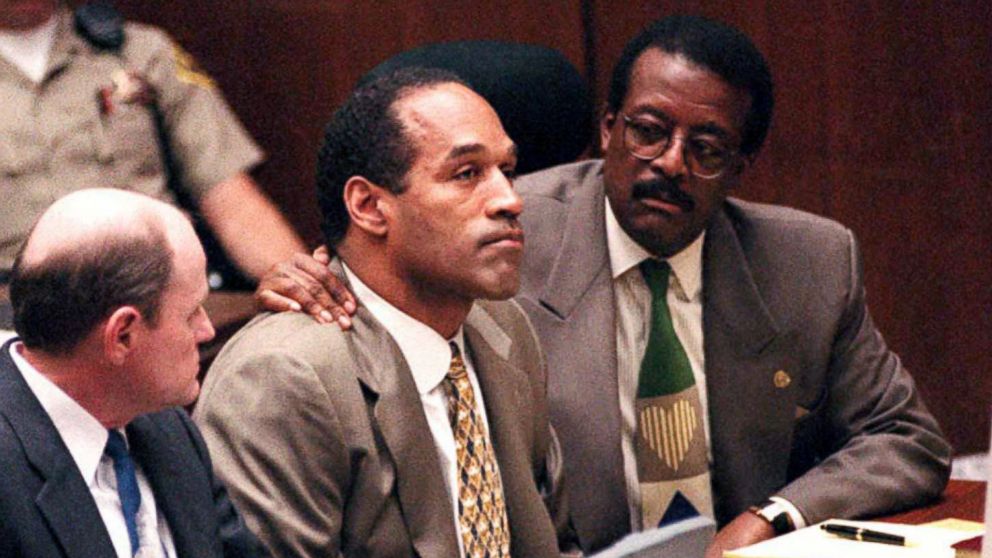 A civil jury later ordered Simpson to pay $33.5 million in damages after finding him liable for wrongful death in the double murder.
For the 2007 robbery, Simpson was charged with a number of felony counts, including kidnapping and armed robbery. He was found guilty and sentenced to up to 33 years in prison.
His bid for a new trial in the case was rejected in 2013, but he was granted parole that same year on some of the charges, based on good behavior. He was not released from prison at that time, since his prison sentences were set to run consecutively. Simpson had to wait until this year to appear again before the parole board.
Simpson's friend, Tom Scotto, told ABC News earlier this year that Simpson is "hopeful." Scotto said if Simpson is freed, he would want "to just keep a low profile, be with his kids, be with his family, play golf."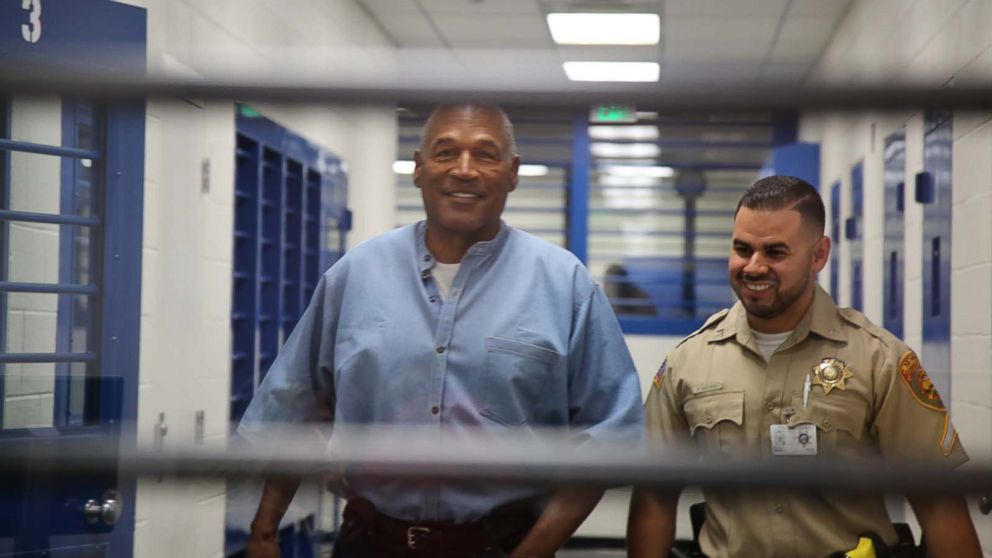 Ron Goldman's family speaks ahead of parole hearing
Hours before the parole hearing, Ron Goldman's father, Fred Goldman, told ABC News Chief Anchor George Stephanopoulos on "Good Morning America," "What's troubling to me is not only him, but the whole system gives second chances to violent felons or, for that matter, anyone in jail. ... Ron doesn't get a second chance.
"Ron never gets to spend his life doing what he wanted to do," Fred Goldman continued. "We'll never get to share his life, and the killer will walk free and get to do whatever he wants."
Fred Goldman said the parole board should take into account that Simpson was found liable for the killings in the 1997 civil trial.
"I think his whole history of violence, ignoring the law, no respect for the law, no remorse for virtually anything he's ever done is an indication of who he is as a person," Fred Goldman said. "I don't think there's any reason to think that he's going to be a decent human being in society. I think he's proved otherwise."
Added Ron Goldman's sister, Kim Goldman, "We lived our life with [Simpson] walking the streets and sharing the same roads that we did."
"With him being locked up in Lovelock, it's been a chance for us to kind of reclaim some control over our life and have some glimpse of sanity," she said. "I'm preparing myself for that to be changing come October."
ABC News' Jenna Harrison and Sabina Ghebremedhin contributed to this report.