— -- After an incident in which hundreds of headstones at a cemetery were found broken and overturned, the head of The Jewish Federation of Greater Philadelphia said the local Jewish community is feeling threatened.
Police have not yet attached any specific motive to the destruction of the headstones, which occurred at Mt. Carmel Cemetery in the Wissinoming section of the city, but the incident follows a series of bomb threats at Jewish day schools and centers in Philadelphia, according to Naomi Adler, the federation's CEO.
Those incidents, coupled with a similar incident that took place at Chesed Shel Emeth Cemetery in University City, Missouri last week, have shaken the city's Jewish population, according to Adler.
"Our community definitely feels threatened," Adler said. "This incident, coupled with the St. Louis episode last week, brought with it a lot of anxiety."
Representatives of Mt. Carmel Cemetery did not immediately respond ABC News' request to speak about the incident. Some volunteer reports have said that several hundred headstones were damaged.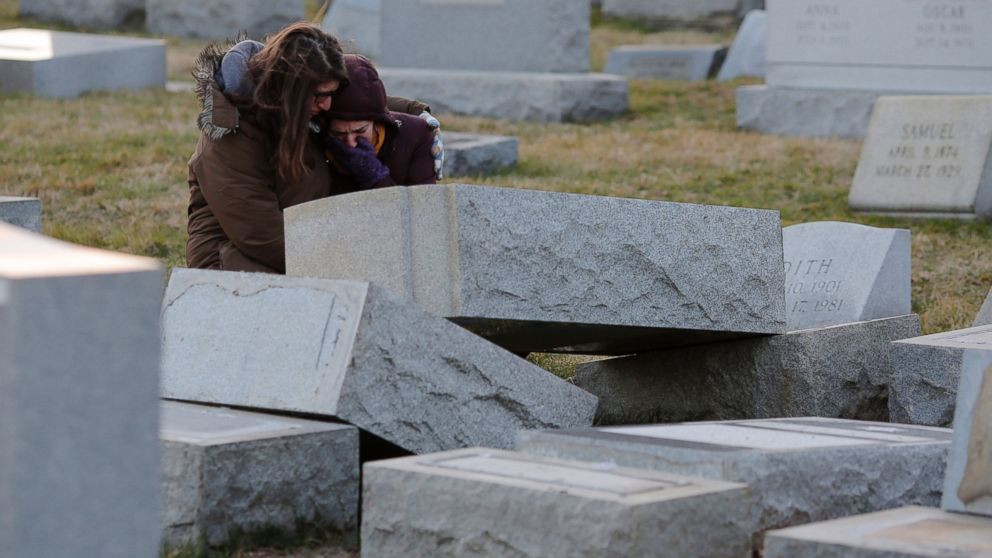 The Philadelphia Police Department said that more than 100 headstones were affected in the act of apparent vandalism and the discovery was made after one family reported their relatives' headstones had been toppled.
"On Sunday, February 26, 2017, at approximately 9:40 AM, 15th District officers responded to a radio call for a report of 'Vandalism' at Mount Carmel Jewish Cemetery located at 5701 Frankford Avenue," a police statement read. "Upon their arrival at the listed location, responding officers were met by the complainant, who reported that three headstones belonging to his relatives were damaged, due to being knocked over."
According to ABC station WPVI in Philadelphia, Aaron Mallin of North Jersey discovered the fallen stones on Sunday when he came to visit his father's grave.
"It's just very disheartening that such a thing would take place," Mallin told WPVI. He said he hoped that the incident was a reckless act by teenagers and not part of a more targeted attack against the city's Jewish community.
Adler said he would not yet tie the incident to anti-Semitism until an investigation by police had been completed, but said that it brought up unpleasant memories for many Jewish people in the area.
"We have hundreds of holocaust survivors who are still alive, and when things like this happen they can bring out horrific trauma in people," Adler said.
She added that her organization is rallying with other Jewish groups in the city, including the Anti Defamation League (ADL), to show solidarity, raise money and help repair the cemetery.
For now, however, she's urging people not to visit the cemetery because the damaged stones are at risk of falling on people.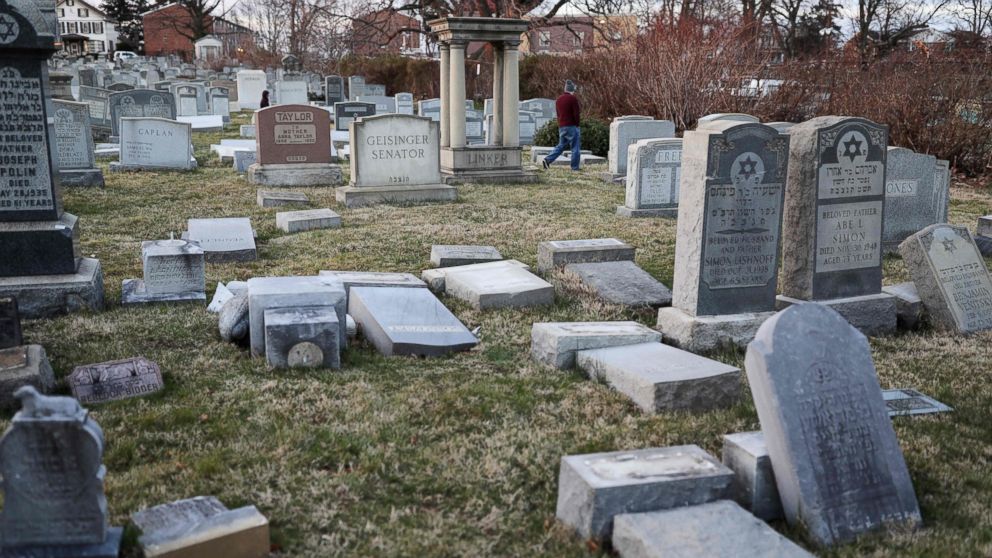 The Philadelphia ADL has offered a $10,000 Reward for information leading to the arrest and conviction of the person responsible for the incident.
Jonathan Greenblatt, ADL's CEO, said the incidents in University City and Philadelphia were perpetrated by "cowards" in a statement.
President Donald Trump denounced an apparent rising tide of anti-Semitism last week, following criticism that he had not come out strongly enough against it as threats to Jewish centers throughout the country were occurring.
"The anti-Semitic threats targeting our Jewish community and community centers are horrible and are painful and a very sad reminder of the work that still must be done to root out hate and prejudice and evil," Trump remarked after touring the Smithsonian's National Museum of African American History and Culture in Washington, D.C.